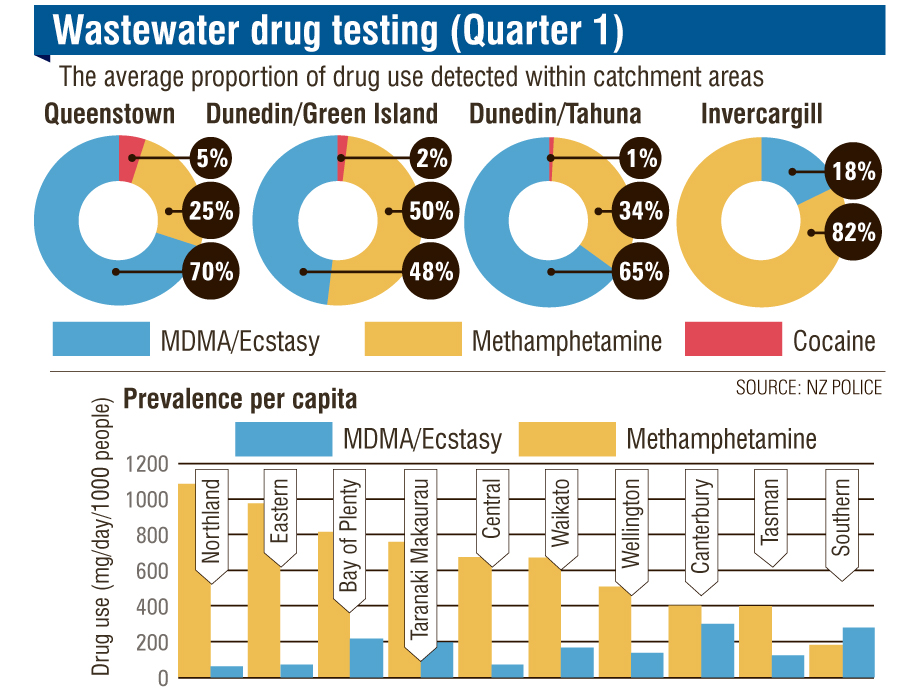 Queenstown and Dunedin have a higher proportion of MDMA/ecstasy use than anywhere else in the country, police wastewater testing has revealed.
Police this week released results from the first three months of their National Wastewater Testing Programme, from November 2018 to January this year and covering about 80% of New Zealand's population.
Wastewater was tested for methamphetamine, cocaine, heroin, MDMA/ecstasy and fentanyl.
The testing found the Southern district (Otago and Southland) had the lowest prevalence per capita of methamphetamine in the country, but the second highest of MDMA/ecstasy behind Canterbury.
MDMA is a stimulant and the active ingredient in ecstasy, according to the Drug Foundation.
Ecstasy usually refers to pills consisting of MDMA mixed with other drugs, such as amphetamine.
Queenstown had the highest proportion of the party drug MDMA detected in New Zealand among the five tested drugs, at 70%, compared with 20% or lower across Auckland.
Dunedin was close behind in the MDMA stakes, at 65% prevalence at the Tahuna Wastewater Treatment Plant, the second highest nationwide, and 48% at the Green Island plant, the third highest in the country.
Queenstown's proportion of methamphetamine usage was correspondingly the lowest in the country, at 25%, compared with upwards of 80% at many testing sites in the North Island.
However, down the road in Invercargill, the prevalence of methamphetamine among the five drugs tested was 82%.
Drug-testing group Know Your Stuff managing director Wendy Allison said by far the most common drug her organisation tested at events was MDMA.
The fact the drug had a far higher prevalence in Queenstown compared with methamphetamine was unsurprising, she said.
''It's a party town, it's a place where people are quite well-to-do.
''Methamphetamine is a drug that is nowadays most commonly used by poor and marginalised people, whereas MDMA is a white middle-class drug.''
In her view, the high prevalence of MDMA in Dunedin was related to the large student population.
In a statement accompanying the release of the data, police said the most commonly detected drug overall was methamphetamine.
About 16kg was estimated to be consumed on average each week, leading to an estimated weekly social harm cost of $20million.
Methamphetamine was most prevalent per capita in Northland.
Heroin was not detected at any of the testing sites between November 2018 and January 2019.
Cocaine was detected in low quantities, but was significantly more prevalent in Auckland than elsewhere.
Police Commissioner Mike Bush said the three months of results were only an early indicator of illicit drug use levels in New Zealand, and cautioned against drawing any firm conclusions before the full 12 months of nationwide testing was complete.