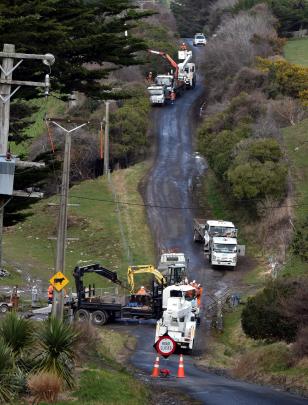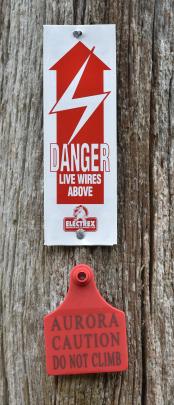 Electricity linesmen say it is only a matter of time before someone is killed by Dunedin's decaying power network, after several poles and lines were downed by strong gales last week.
But a Delta spokesman said there was no need for alarm and the company was in the process of replacing potentially dangerous poles around the network.
A person from the industry, who declined to be named, said he and his colleagues were becoming increasingly concerned about the safety of the city's network, particularly following the strong gales which buffeted the area on Wednesday.
"It's not a case of if, but when, a member of public gets seriously hurt or killed.
"There's been some very lucky escapes over the last few years, I tell you."
He said in recent years, many of the rotten power poles around the city had been held up by large concrete blocks until the poles could be replaced.
But that practice had stopped because there were not enough concrete blocks to cover the number of rotten poles, he said.
"It's caused by years of neglect and lack of maintenance."
Another anonymous person, who appears to work in the industry, agreed.
They sent an email to the Otago Daily Times expressing grave concerns about the condition of the city's ageing power poles and lines, which were being severely damaged by "years of under-investment in the Aurora network".
"Although we have high winds today, the lines network should be able to cope easily with 120kmh winds.
"The fact is, there are hundreds of poles that are due for replacement in Dunedin and they are not being replaced quick enough."
The writer said rotting poles were given a red tag by an inspector, which meant the pole had been identified as unsafe and must be replaced.
"Some red tagged poles are not being replaced for years... "
Delta Asset Management general manager Derek Todd said Dunedin experienced severe weather conditions on Wednesday and last Sunday, and trees and branches brought down power lines and poles.
"All electricity networks risk damage from extreme weather.  This week, customers in Dunedin, Canterbury and Wellington all experienced power outages after high winds brought down trees and power lines."
Mr Todd said Aurora Energy managed the electricity network in Dunedin and Central Otago, and Delta's role was to build, maintain and operate the network assets.
Each year, Aurora Energy invested more than $45million in the electricity network in Dunedin and Central Otago on maintenance and improvements, he said.
"Much of the Dunedin network was built in the 1950s and 1960s, and those older assets are coming up for replacement in the next 10 years.
"Peaks in asset renewal are typical for large infrastructure networks when there has been a rapid expansion of the network in the past.
"Over the next 10 years, we plan increased capital and maintenance spending of $417 million, to renew assets and cater for growth."
Mr Todd said at any given time, a small percentage of Aurora Energy's power poles were scheduled for regular life-cycle renewal, and it planned and prioritised replacement based on asset condition.
"Many of the 29,300 poles on the Dunedin network were installed during the 1950s and 1960s. Wooden power poles generally last 50-60 years in Dunedin conditions.
"As a result, there is a higher than usual number of poles coming up for renewal in the next 10 years.
"That's a big job and we're putting more money and resources into pole inspection and replacement to meet that challenge."
He said on average, Delta replaced 350 poles a year in Dunedin.
It also had a regular pole-testing programme to check the condition of power poles and their remaining life.
Last year, 2300 pole inspections were carried out in Dunedin.
"We use pole tags primarily for the information and safety of our line workers as a visual reminder to exercise caution before climbing or working on an asset.
"A red tag on a pole can indicate one of several situations — for example, that part of the pole structure (such as a cross arm) needs repair, that it is not safe for line workers to climb, or that the pole is due for replacement."
Mr Todd said Delta used concrete blocks as temporary reinforcement for power poles identified as requiring replacement.
"We use these on occasions when we are unable to replace the pole immediately.
"The temporary pole support, typically for around two weeks, ensures the public's safety while a permanent replacement is designed and installed."