Ruby Anderson, Rosemary Richards and Susan Videler (Dunedin International Airport)
This month, three Dunedin female artists are displaying their approach to portraiture. Ruby Anderson presents portraits of children in which each child looks directly at the viewer, their large eyes dominating the face, enticing the viewer to take a second look.
Naturalistic colouring and a soft brush style portray an innocence only seen in childhood. Their rather formal attire adds another dimension to the work.
Rosemary Richards' style has been influenced by the effect of stained-glass windows, her love of Art nouveau and the feminine form, creating work that is heavily outlined and worked up in blocks of bright colour and pattern. The work displayed features women set against a dark background, their exotic attire, wild hairdos and confrontational poses encouraging a voyeuristic approach to the work.
Susan Videler's work is again very different. She has a fascination for glass, self-reflection and an interest in catoptromancy, an ancient method of clairvoyance in which black mirrors were used to connect with the past, present or future.
The artist presents nine glass oval portraits of her own face with each work presented in a different pose, some veiled while others are not. Each image is worked up in layers of paint on the back of the glass, an intense process that involves painting backwards. A layer of black paint is applied after the image is completed, creating work reminiscent of the black mirror used in ancient times.
•
"The Abyss: Where Truths Hide from the Warming Light of Day'', Jason Greig (Brett McDowell Gallery)
Jason Greig is exhibiting another fine series of Gothic monoprints portraying the darker side of the human mind. The subject matter for this collection consists of fine figure studies and portraits but also encompasses old ships, tumultuous seas and decaying figures of authority.
Many of Greig's subjects are dark and draw on the influences of popular culture, music, horror movies, gothic literature and 18th- and 19th-century printmakers.Among the work displayed, there are three very large prints, clearly demonstrating Greig's technical skill as a printer.
One of these works, The Deathship has a New Captain depicts the artist himself as a mad-like captain at the helm. The work set amidst turbulent seas and dark stormy skies evokes an image cold and sinister in character.
Greig's figure studies and portraits are also fascinating. The male figures are presented as brutal and menacing, such as in Pagan Altar and Attack on Derwin, an image that has been collaged as an attack by Greig on Charles Darwin. Others are small exquisite portraits, the most colourful being Persian Rug. The female figures in The Terratorials are presented as ghoulish half- animal, half-woman creatures, otherworldly and dangerous. The smudgy, ink-blot effects of the background enhance the features of Greig's characters and add to the mood of the work, as do the superb hand-made frames also crafted by this accomplished artist.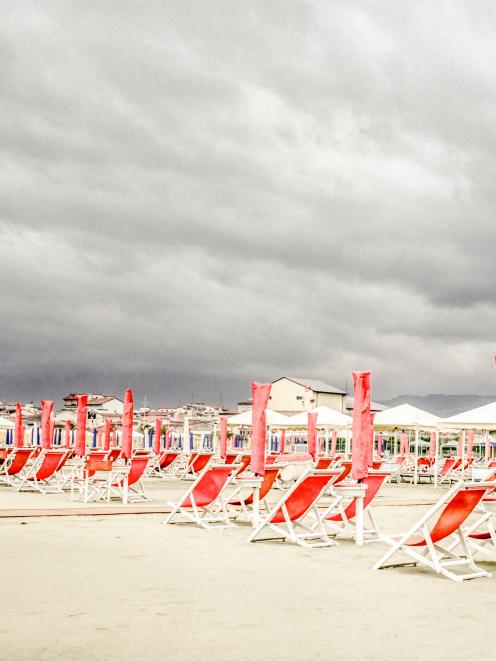 •
"They Could have Stayed Forever/Still Life and Still Hope'', Kate van der Drift (Mint Gallery)
Kate Van Der Drift's exhibition consists of two series of photographic works. The series, "They Could Have Stayed Forever'' are large-scale scenes of abandoned holiday resorts, while the second series "Still Life and Still Hope'' is a response to the first.
The photographer uses contrasting subject matter and photographic techniques to aid her messages.The photographer explores the idea the world has changed or shifted in a new direction.
It would seem people have left this world or migrated, leaving all behind them, yet van der Drift describes her work as not an exploration in sadness, but one of hopefulness. She aims to convey although it is the end of one thing it is also the beginning of something new.
In the series "I Could Have Stayed Forever'', the subject matter is finely detailed and softly coloured with highlights of striking coral-pink set against large pale skies, creating a collection that is soft and cohesive. Facing this display is the second series, "Still Life and Still Hope'', which is a contrast by using still-life subjects such as shrivelling fruit and bright flowers set against a black background - a response that there is hope for regeneration after all is abandoned.
The subjects are photographed inside and under false lighting, giving an image that is reminiscent of a hologram. Both series of photographs are quiet and still and convey a beautiful eeriness.