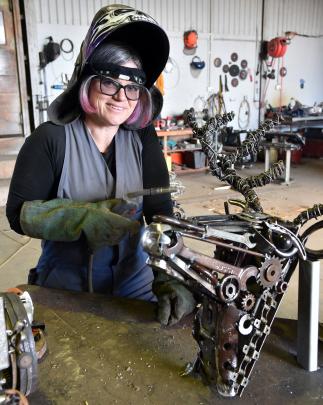 Sara Gillies has taken over part of her husband's shed as she turns her hobby into a passion. She talks to Rebecca Fox.
Tucked away in a shed in a wood yard off the beaten track in Milton, Sara Gillies fires up her welder as she prepares to make her next metal creation.
The design of the creation probably came to her while lying in bed the night before. It is where all her best thinking is done, she says.
The ideas have led her to move on from her ''summer job'' - selling plants at fairs and shows around the region - to indulge her passion for creating sculptures from vintage metals and junk.
''I like seeing old stuff revamped. Things that are no longer useful, becoming a piece of art.''
Her husband helped her to set up an area in his work shed so she could try her hand at some welding.
''I had never welded. I'd watched my hubby, but I decided I could give it a crack.''
Learning to weld also justifies her ''magpie ways''.
''I go to recycling yards, clearance sales, second hand shops - sometimes I buy too much.''
Gillies says that she does always know what an item will become, often figuring it out only after she has picked it up and had a good look at it.
''Like that bike seat could make a good dog. Those fire hydrants, I reckon, could make a cool penguin.''
Making dogs is a particular favourite.
She started out creating garden ornaments and small sculptures - her fantails made from old cutlery are very popular - under the label Round2art but she is now hoping to get more creative and have her work seen as art not craft.
''I have so many pieces in my head. I can't wait to get started.''
One of her larger pieces was a stag's head and she already has an idea to make a pig's head with tusks.
Gillies says there is nothing more satisfying than seeing a piece come to life.
''I like to be able to achieve character in a piece.''
Her larger pieces take three to four days to make. She lacquers them to give them a gloss finish.
''I don't want them polished. I want people to see the rusty bits.''
She hopes with more time to devote to her work, her style will develop further.
''I want to draw people in.
''I get a lot of interest from men who see the farm implements and bits repurposed.''
Gillies' aim is to see more of her work in galleries and to travel further afield to showcase her art.