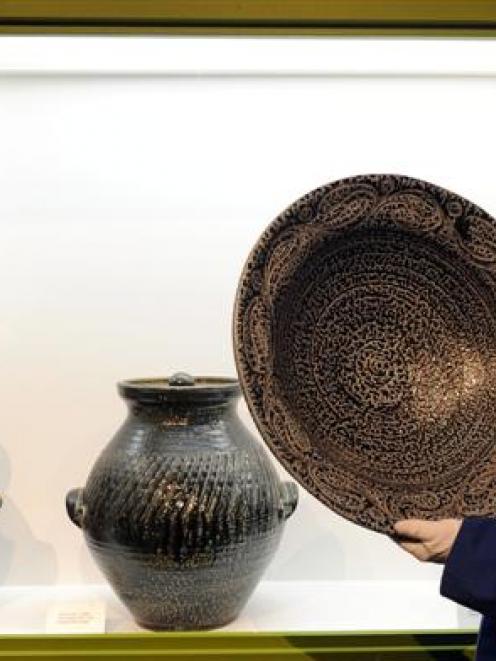 Sixty pots created by Czech-born master potter Mirek Smisek have gone on display at Otago Museum.
The free touring show, "Mirek Smisek: 60 Years 60 Pots", is in the People of the World gallery until September 2.
Smisek, now in his late 80s, lives at Kapiti, near Wellington, and created more than 600 pots, including tankards and bowls, for The Lord of the Rings films.
The Lord of the Rings items are not in the show, but the exhibition does reflect 60 years of sustained accomplishment from one of New Zealand's pioneering studio potters.
Museum humanities collection co-ordinator Scott Reeves said he had enjoyed working closely with the pots in their display preparation.
A "huge depth of tradition" lay behind them, and the works included some "particularly lovely" pieces.
Smisek's pots reflected strength and elemental earthiness, but also showed "quite an elegance", he said.
The show features a cross-section of the life of Smisek, who emigrated to New Zealand in 1951, after World War 2.
Born in 1925, and subject to the German occupation of his homeland and three years as a political prisoner, he left Czechoslovakia to pursue his ideals of freedom and democracy, museum organisers said.
In New Zealand, he has built three pottery studios on the Kapiti Coast over the past 41 years.
Also travelling widely, he worked with pottery master Shoji Hamada in Japan and with potter Bernard Leach in England.
To honour Smisek's achievements, Kapiti's Mahara Gallery has produced this exhibition, featuring works from both private and public collections throughout New Zealand. Curator Gary Fremantle selected the works to reflect Smisek's main forms, including vases, jugs and yunomi (Japanese tea-bowls), organisers said.