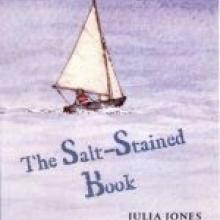 "Here, beside the water, his life had changed. He forgot about school: about the foster home, the bullying policeman."
It is fairly standard nowadays for British juvenile literature to slag off school, the cops and the social services (though usually not in the same sentence).
It is one of several conventional devices around which this story is built, as are the uncanny set of coincidences, the happy ending and the central message that adults almost can't stop themselves from writing in books for young people: that by Being Brave you will always Win in The End.
There is a select readership for whom this is a very special book indeed, for The Salt-Stained Book is a homage to Arthur Ransome's beloved "Swallows and Amazons" series.
Ransome seems to have had a profound influence on Julia Jones from her earliest days, both through his books and through the sailing ketch Peter Duck (a Swallows and Amazons title) which Jones sailed on as a child, and now owns.
Ransome's sailing yarns thread through The Salt-Stained Book almost as characters in their own right. Jones has leant shamelessly on her forerunner's works, but somehow she has pulled it off. Her book does not seem derivative; it rather sparkles compared with Ransome's stodgy prose.
Ransome readers will appreciate the depictions of the tactile and emotional side of sailing: a mainsheet rope "pulling like a puppy on a lead", all the boats referred to as "she", the awe at the beauty of a wooden yacht, the Harry Potter-like incantations of sailing terms like halyards, gunwales, daggerboards ... It's pure yachtie goodness, which non-yachties might not get, but Jones ticks enough boxes to make this book a good read for an all-round young audience.
  • Peter Dowden, of Dunedin, is editor of online reference website Arthur Ransome Wiki.