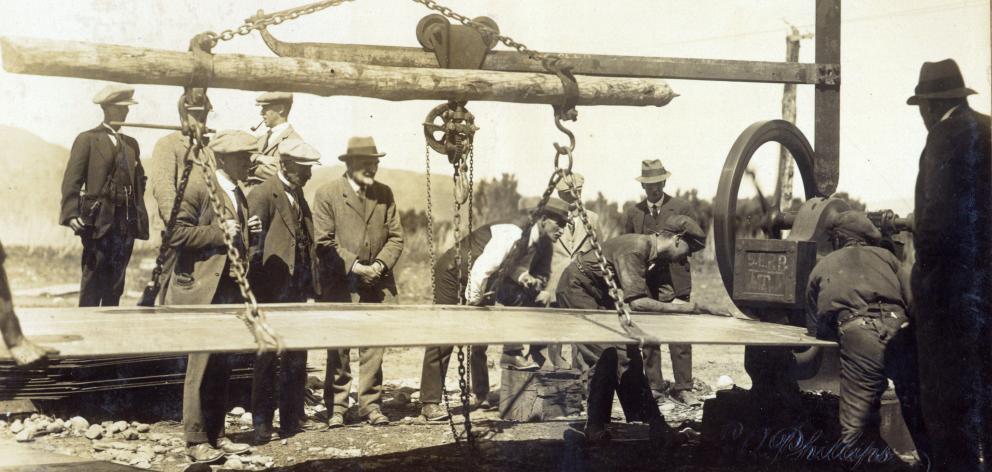 Author Gay Buckingham captures the drama and invention involved in the construction of the power station at Lake Monowai between 1921 and 1925.
THE GRAND ELECTRIFICATION
OF THE SOUTH
Gay Buckingham
The Power Company
By JIM SULLIVAN
Histories from Southland inevitably tell of the fierce independence of that province and the story of electric power in the South is no exception.
The early years from the formation of The Southland League in 1914 produced local heroes, such as Alexander Wylie Rodger, and physical achievements such as the building of the power station at Lake Monowai.
The Southland Electric Power Board of 1919, formed on legislation suggested by The Southland League, was the first of its kind in New Zealand, if not the world.
The drama of building the Lake Monowai power station between 1921 and 1925 tells a story of a small community working on the international stage, importing cement from England, poles from Australia and workers from where they could be found, even leading to a suggestion that an entire ship be chartered to bring labour and electrical gear direct from England to Bluff.
It was the power board which not only built the dam and powerhouse, but also constructed and maintained the roads to the remote site, as well as running power lines on poles over 2000 miles throughout the sparsely populated province; the holes being dug by shovel-wielding hard men who lived in conditions which would be seen again in the 1930s Depression work camps.
"It might take eight hours to dig one hole,'' recalls one of the men whose memories form part of the book's extensive oral history.
The chapter on life at Monowai village from 1921 to the 1970s is a superb slice of social history. The furious fight with government to preserve independence in the 1930s was a battle lost and the tangled wires of the power reticulation story of the last 30 years are tidily unravelled.
Yet the early years are by far the best time for great stories, as when the impact of electricity is described by a boy on a farm: "I recall the thrill of a life time to see not only the house, but also the stables, the barn and the woodshed, in fact every light possible, burning. No more candles, kerosene lights, hurricane lanterns, little use for the dirty coal range; we could even read in bed!''
Of necessity, many illustrations have had to taken direct from newspapers and, despite their grainy quality, the story, in both words and pictures, is told with verve.
Jim Sullivan is a Patearoa writer.