It all began for Elizabeth Smither with
Here Come the Clouds
(Alister Taylor, 1975).
The Blue Coat is her 18th volume of poetry. Once again she stirs up trouble, uses a wide-eyed humour and turns ordinary and overlooked moments into wonderfully articulated poems.
Smither was New Zealand's first woman Te Mata Estate Poet Laureate (2001-3) and received the Prime Minister's Award for Literary Achievement in Poetry in 2008.
The Blue Coat contains more than 60 poems that are accessible, domestic and alive with the minutiae of everyday life. Over the years Smither has negotiated life's large events such as birth, death and marriage. Many of her poems have been translated into foreign languages. This latest lot are delightful, snappy and fast.
This latest collection contains the brilliant poem ''Cole Dresses His Mother''. The removal of Elizabeth I's clothes for gynaecological examination is placed alongside a 2-year-old dressing his mother. The little boy's gracious gestures merit solemn thanks.
... And she, laughing
like an hysterical queen - She can conceive
the august Elizabethan doctors say
She is found fertile still and can produce an heir -
bra over her shoulder - Cole has brought two -
jeans hastily pulled over knickers, undoing
his precedence - hugs him to her, her delight
who returns delight to her everyday
in the reciprocity of mutual dressing.
A reader can feel the sense of speed as lines are flung out like limbs being inserted into armholes and legs into knickers.
Smither has a unique sense of humility. This latest collection finds her being adventurous and charming. There is nothing polite here. The Blue Coat is sometimes smooth, sometimes upbeat, even trippy. Smither continues to make a significant contribution to New Zealand literature.
• Therese Lloyd's poems have appeared in a number of places.
Other Animals
is her debut collection of poems. Lloyd certainly has spark. Like Smither, her poems are simple, spare and beautiful. But rather than hitting on the soft things, Lloyd develops a lyrical pathway through some thorny issues.
She uses everyday lives in her poems. People rummage through rubbish and compost. Mice, rats and flies make regular appearances in these 38 short poems. '
'Proof'':
...You trapped the mouse in the wall by nailing a
square over the hole. For days afterwards I thought I heard
it desperately scraping, its claws worn down to stumps. As we
slept cramp seized your leg. You leapt out of bed clutching
your thigh. You looked enormous in the strange morning half-
light. The way things morph - shapes forming imagined shapes
- I thought I saw the mouse squeezing through a gap and you
reaching down to carefully, slowly, crush him in your hands.
It is impossible not to enjoy this new work from the get-go. Lloyd adds bile, bite and a few surprise twists. She tells us what is on her mind. Other Animals will intoxicate the reader. Lloyd was awarded the Schaeffer Fellowship, which enabled her to attend the acclaimed Iowa Writer's Workshop.
She has produced a little book that is watchful, armed with warning and observations of people who are sometimes totally out of their depth. I like how this is new and exciting.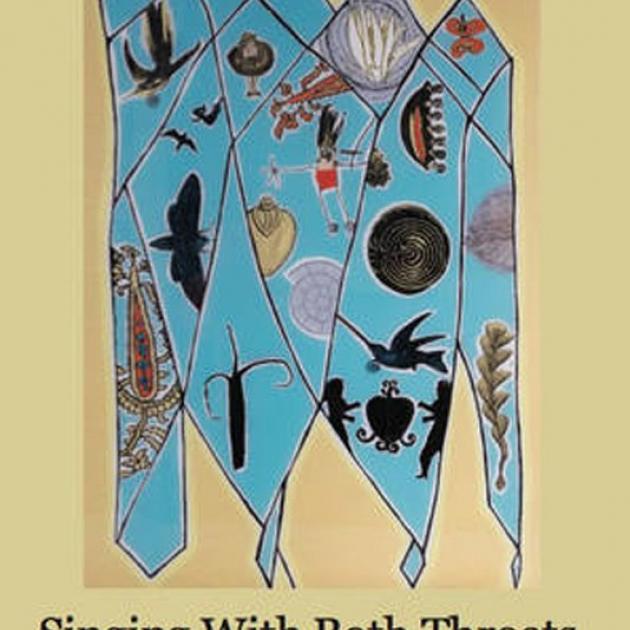 • Maris O'Rourke's debut collection of poems also has a heap of doomed, lost and sad individuals trying to cope.
Singing With Both Throats
is potent and uncompromising in its approach and delivery.
''Fire Alarm'':
After your cremation
he built a bonfire
a small things pyre
our school reports
your clothes
family photos
curls from first haircuts
handmade cards
old letters from Scotland
my cross-stitch tray cloth
three flower paintings
nothing much too much
and then he killed your dog.
Seedy, treacherous, emotionally bruised characters come and go in these poems that are violent, thoughtful and moody. Some of the titles illustrate this: ''Spells to Tame Children'', ''Kiss and Kick'' and ''War Survivors''. ''Heartbreak'' concludes ''When the black flowers appear / silence falls.'' Whales are killed, the dead are remembered and loss is mourned.
O'Rourke avoids cheesy poetry and develops a number of powerful, cruel and rich poems. She seems to have a bit of a cocky attitude which keeps her energy levels high. The world is not a pretty place as she gives voice to political, professional and personal lives.
If you like your poems gritty, Singing With Both Throats could be the answer.
• Denys Trussell is a musician, writer, environmentalist and poet.
The Blue Marvel
is his eighth book of poems. He has gathered together his shorter poems from 1993-2012.
Trussell has been passionate and caring in his verse. He has always been inspired by the world shaped from just outside the windows of his home - especially Auckland. His parents and grandparents have helped him.
Trussell often intertwines human culture and the natural environment in his poems. Sometimes he can be difficult to understand.
''Analogy Made By a Peach Tree'':
That night is a tree
of the dark
cosmos branching
in black energy
linking clusters of stars
is remembered
by the crooked tree
beside me growing
star-branched in spring.
Its pale, cool
fire of flowering.
Trussell can become bogged down by his own experimentation. Things can become kind of bland. Trussell finds it tough at times writing poems that are clear and concise. The Blue Marvel does not offer anything really memorable. Trussell needs to try harder than this.
- Hamesh Wyatt lives in Bluff. He reads and writes poetry.