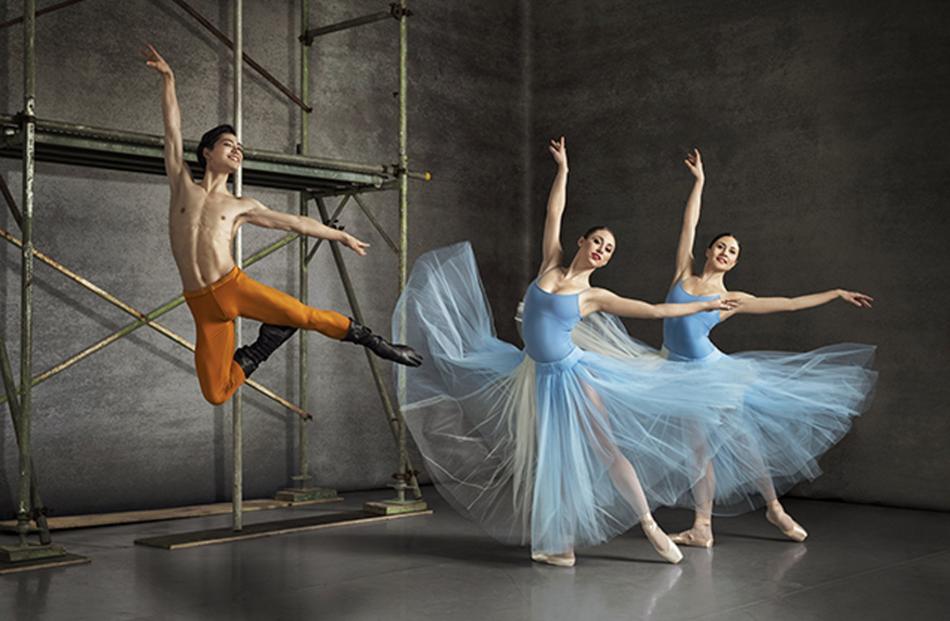 As we start a new year, it is good to look at what's in store on the arts scene in Otago. Rebecca Fox looks at the highlights for 2019.
There are some classic productions coming to stages in Dunedin this year, from Shakespeare and Stravinsky to Andrew Lloyd-Webber and the brothers Grimm.
Theatre
With the abrupt closure of the Fortune last year, 2019 will be the first year without a professional theatre in Dunedin.
However, there is still a keen group of theatre professionals and practitioners in the city who are determined to see theatre carry on in Dunedin in all its shapes and forms.
Many of those - such as Arcade Theatre Company and Prospect Park Productions - are working hard on productions for Dunedin's Fringe Festival and beyond.
Arcade Theatre Company spokesman Angus McBryde says seasons of its plays will be longer this year to cater for demand after a promising first year of productions.
Stage South, a steering group formed after the closure of the Fortune, has established a charitable trust to serve as a advocacy, resource and service trust for professional theatre in Otago and Southland. It is chaired by Hannah Malloy.
The Dunedin City Council has also brought in consultants to look at the issues and possibilities for the city's arts future and will work with groups such as Stage South.
The Globe, Dunedin's long-time amateur theatre, is still ticking along and its 2019 season features works such as Arthur Miller's Death of a Salesman, directed by Paul Ellicott, and Shakespeare's The Tragedy of King Richard II, directed by Keith Scott.
There will also be a reworking of Shakespeare's Hamlet, by Jean Betts, Ophelia, directed by Lynn Keen, and a drama based on the story of William Larnach and his family, Larnach - Castle of Lies, by Michelanne Forster and directed by Emmett Hardie.
It is also bringing back its Toybox children's theatre programme for the July school holidays.
Festivals
The 2019 Dunedin Fringe Festival opens a few weeks later this year, on March 20, with a ''grand spectacular'' at the Regent Theatre before the official launch the next day.
While the programme is still under wraps, the festival did let slip the Lines of Flight experimental music festival will return and there will be four nights of musical acts curated by singer Nadia Reid.
In May, the Dunedin Writers and Readers Festival is back with an international line-up, including Irish novelist John Boyne and Australian children's laureate Morris Gleitzman.
The programme, which is out in March, will also include New Zealand writers and events covering fiction, poetry, drama, children's literature, social history, politics, feminism, Te Reo Maori, outdoor adventuring and illustration.
Music
The focus for the Dunedin Symphony Orchestra will be a series celebrating the University of Otago's 150th year and its link with the DSO plus a third Tally Ho! concert.
The concerts aim to showcase the talents of the conductors, composers and performers with university links such as pianists Michael Houstoun, Terence Dennis and Tom McGrath, flautist Bridget Douglas, singer Anna Leese, conductor Tecwyn Evans, violinist Tessa Petersen and cellist Heleen du Plessis.
Work by composers Anthony Ritchie and Peter Adams will also feature - in particular Ritchie's From the Southern Marches featuring four soloists, a choir and a full orchestra. It is a work that filled Dunedin Town Hall, twice, in 1998.
Adams' work Huriwa, a story of forbidden love associated with the headland of Karitane peninsula, will be performed to celebrate Matariki.
Tally Ho! 3 - The Essential Dunedin Sound will bring together Adams (conductor) and Graeme Downes (arranger and performer) and feature songs of the Dunedin Sound era with contemporary music from the likes of Anthony Tonnon.
The New Zealand Symphony Orchestra starts its Dunedin visits with Enigma, a programme of Brahms, Richard Strauss and Elgar, featuring pianist Joyce Yang and conducted by Edo de Waart.
Winter Daydreams then brings Russian conductor Dima Slobodeniouk to the city. Slobodeniouk opens the concert with Angel at Ahipara from Northland Panels, by Christopher Blake, and then German violinist Carolin Widmann joins in to perform Stravinsky's only violin concerto.
It's followed by Transfiguration, featuring Israeli conductor Asher Fisch, principal conductor of the West Australian Symphony Orchestra, and French-Canadian pianist Louis Lortie.
The NZSO's final concert of the year in Dunedin is The Great, featuring American violinist Jennifer Koh and conducted by de Waart.
In July, the orchestra will also be in Dunedin with Voices New Zealand chamber choir for a mid-winter Yulefest, which will showcase newly-commissioned arrangements of Christmas carols from five New Zealand composers.
In February, Bach Oboe d'amore presented by The Baroque Music Community and Educational Trust of New Zealand, comes to St Paul's Cathedral in Dunedin and Rippon Vineyard in Wanaka.
Featuring American Brandon Labadie on oboe and oboe d'amore performing concertos by Handel and Bach in addition to Pachelbel's cannon and music by Vivaldi. The international ensemble includes soloists Hungarian Szabolcs Illes (violin), Czechoslovakian Edita Keglerova (harpsichord) and New Zealander Tomas Hurnik (cello).
Musicals
The New Zealand tour of a new production of Andrew Lloyd Webber's Cats is coming to Dunedin's Regent and Oamaru in April.
It is produced by Ben McDonald, choreographed by Stefano Olivieri (Dancing With The Stars) and directed by Geraldine Brophy (Shortland St) and is expected to star a mix of New Zealand and Australian actors.
Dunedin's very own musical, Wicked, directed by Doug Kamo and starring Anna Langford and Hayley Lyndom, will hit the Regent's stage in May.
It is the second-highest grossing musical in Broadway history, with more than two million people attending the New York season to date.
Wicked tells the story of an unlikely friendship between two girls who first meet as sorcery students - the blonde and very popular Glinda and a misunderstood green girl named Elphaba. Following an encounter with Wizard of Oz, their friendship reaches a crossroads and their lives take very different paths.
Opera
Opera Otago will produce The Mikado in the middle of the year. The Mikado is a Gilbert and Sullivan work - the ninth of their 14th operatic collaborations. Set in Japan, the comic opera was a way for Gilbert to satirize British politics and institutions.
Dance
Footnote New Zealand Dance opens the year with Hemispheres, a joint production with Chinese contemporary dance company Guangdong Modern Dance Company, in February.
Footnote dancer Joshua Faleatua said the knowledge exchange between the dancers was hugely rewarding.
''I am really interested in the way we are able to communicate with each other and share movement without a common verbal language.''
Two of the works - (Mass Solitude and Elliptical Fictions) - are choreographed by Kiwis Sarah Foster-Sproull and Zahra Killeen-Chance, while the final work, The Spring Tide, is by WU Jianwei.
The Royal New Zealand Ballet is bringing a reimagined version of Swan Lake - Black Swan, White Swan, by Mario Radacovsky - to Dunedin in July.
It is also bringing its mixed programme Bold Moves, featuring ballets by George Ballanchine (Serenade), William Forsyth (Artifact II) and Andrea Schermoly's (Stand to Reason) to the city in September.
To celebrate Christmas this year, the ballet is performing Hansel and Gretel, a version by one of its own dancers Laughlan Prior. It comes to Dunedin at the end of November.
It is RNZB artistic director Patricia Barker's first season and her aim is to commission works by the ''brightest of choreographers'' while ''meticulously'' maintaining the highest standard of classics.
''My goal continues to be the elevation of our homegrown artists while attracting outstanding artists - dancers, designers, choreographers and musicians - from all over the world.''
The American is intrigued by her dancer's explanation of New Zealand's No8 wire mentality, the can-do, inventive attitude.
''I like that idea.''
She believes the works will challenge the company's dancers and help them grow just as Prior's Hansel and Gretel gives a young choreographer a chance to shine.
''It'll be exciting to see it unfold.''
RNZB's Tutus On Tour is coming to Oamaru and Gore.
Melbourne's City Ballet brings Alice in Wonderland to the Regent in April.
The company's artistic director Michael Pappalardo and associate Brendan Bradshaw pay homage to the well-known Lewis Carroll novel with an enchanting ballet complemented by one of Tchaikovsky's most famous scores.
On a faster note, Rhythms of Ireland returns to Dunedin, also in April.
Celebrating its 10th anniversary, the dance company blends the ancient traditions of Irish dance and music with modern choreography and production values.