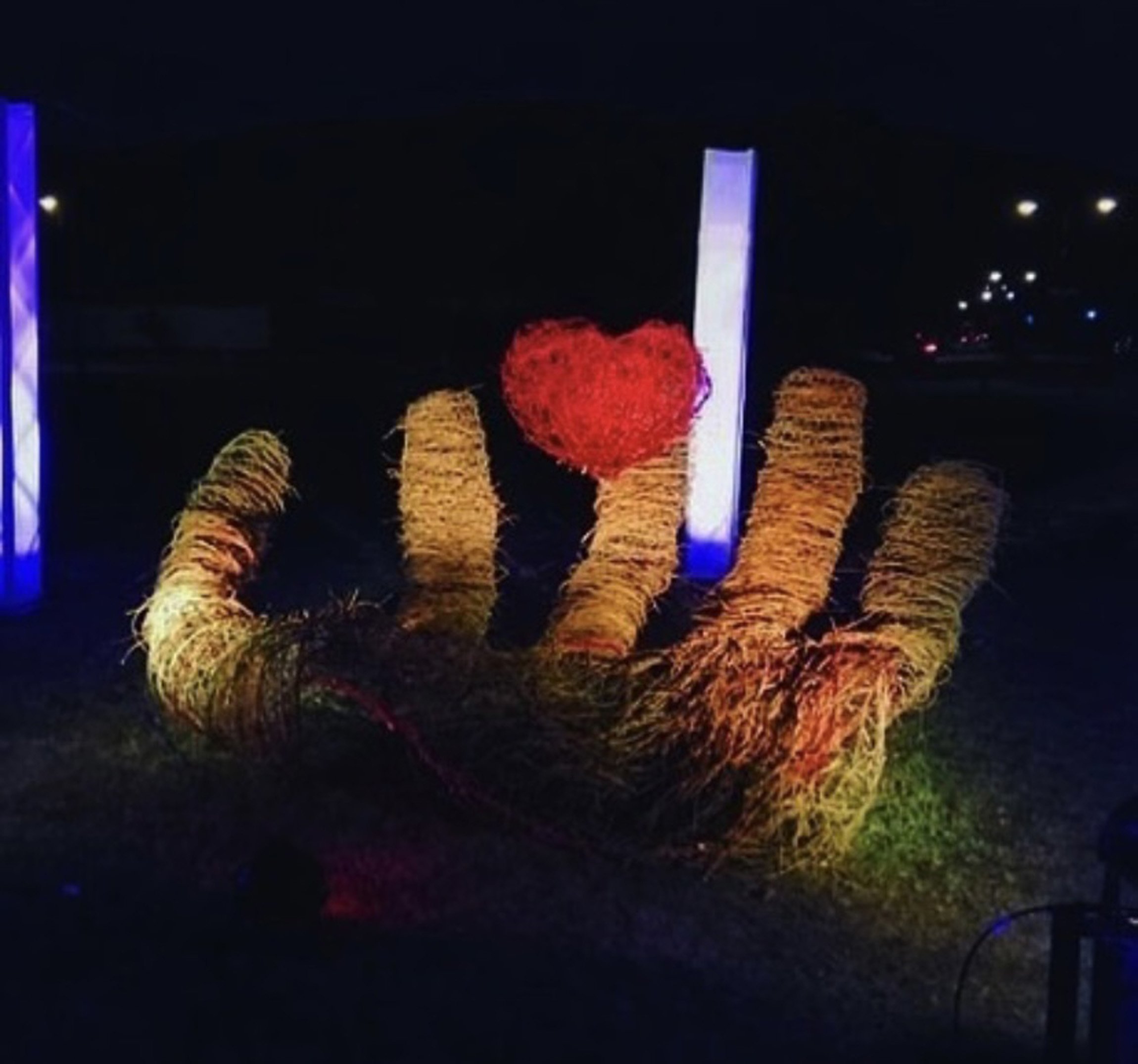 Art, light and music  will come together in Queenstown this weekend at LUMA 2021 and the inaugural Wakatipu Music Festival. Rebecca Fox finds artists and musicians alike are excited about the Queen's Birthday Weekend events.
From an oversized willow hand clutching a heart to notes of classical music ringing out as young musicians perform, Queenstown will be alive with lights and music this weekend.
The Luma Southern Light Project at the Queenstown Gardens will showcase light installations from around New Zealand, including that of Lake Hayes women Debbie Townsend and Kylie Burnell, while the Wakatipu Music Festival will showcase and develop the talents of 12 young classical musicians, such as Eli Holmes, as well as offer workshops and performances for Central Otago musicians and training for back-of-house music professionals.
Luma
An activity to bring the community together has given two Lake Hayes women an opportunity to exhibit their work on a much larger stage.
Debbie Townsend and Kylie Burnell's "hand", called Heartfelt, will be exhibited in the emerging artists section of Luma.
It is exciting for the pair, who originally created the work as a light installation for a central roundabout in their Lake Hayes community last year.
"It'll be amazing. I can't wait to see the hand at Luma — it'll be a special moment for Kylie and I," Townsend says.
A local lighting company sought out Townsend, who is a ceramics artist, to see if she could help design an installation for the roundabout as Covid meant people could not travel to see Luma in 2020.
"It's a big square roundabout that is the heart of the community."
Townsend, in turn, sought out Burnell, a travel broker known for her creativity, to see if she had any ideas.
"She came up with the idea of a hand holding a heart signifying all that the community had been through with Covid."
Burnell says the concept came from how people stuck together and supported each other during lockdown.
"She had in mind this little hand and heart and I went giant," Townsend says.
So in less than three days, the pair had created the heart from chicken wire and willow, which was then illuminated.
"I don't really know how we did it. We'd never done anything like it before."
This year, Luma asked if they would like to create it again.
"We're taking more time to do it properly this time."
They sought permission from Remarkables Park to use its willow, which was then stripped and washed before being threaded through the wire.
"The best time to use it is when the leaves have fallen off. It's a really good yellow colour and gets more and more yellow as time goes on."
They have created the heart out of red dogwood, which contrasts well with the yellow willow, she says.
As the hand will be on display at Luma, the pair, with the help of the community, are also creating a Mad Hatter's tea party-themed display, complete with recycled plastic mushrooms, Cheshire Cat and ceramic lanterns, for the roundabout.
Wakatipu Music Festival
A Covid refugee, bassoonist Eli Holmes is making the most of the opportunity to perform and learn in New Zealand.
Holmes spent the first three years of his life in Dunedin before his family moved to New York, where he grew up.
Last year, he was studying philosophy and musicology at Harvard University and the Boston Conservatory when Covid hit and Harvard closed.
After a month attempting to study at the conservatory online, he decided to
take a leave of absence from his studies and moved to Wellington, where he has been freelancing since August.
"It's been going well. I'm having a good time. At some point I'll go back to Boston and finish my last year."
Holmes is taking part in the Wakatipu Music Festival after it was suggested to him by a friend. It will be his first visit to Queenstown.
He will get to perform at a recital and concert as part of the young artist programme as well as attending coaching and career development workshops with professional artists performing at the festival such as NZTrio, clarinettist Jonathan Cohen, pianist Stephen De Pledge and Dunedin-based soprano Anna Leese.
He says it is "too good an opportunity to miss", as it will be a chance to meet new people and get to work closely with professional musicians.
He will play works by Brahms and Schubert that were not originally written for the bassoon. The solo repertoire for bassoons is very limited, he says, so he has rewritten them.
Holmes has a soft spot for the nostalgia and romance of Brahms' and Schubert's work.
The bassoon has been a part of Holmes' life since he picked it out in fifth grade band class. Until then he had been singing in opera and doing solos.
Although he has no idea why he chose the instrument, he now thinks it was because of a poem he had learnt as a child, The Rime of the Ancient Mariner by Samuel Taylor Coleridge, which mentions the bassoon.
"I must have had that word floating about my head."
To see
• Luma Southern Lights Project
Queenstown Gardens, June  4-7
• Wakatipu Music Festival
Various venues around Queenstown and Arrowtown
June 4-7