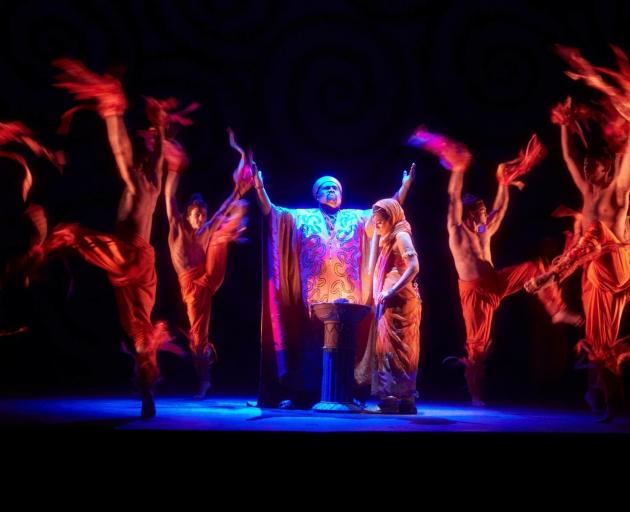 Many Dunedin-trained opera singers living in Europe are facing the toughest times of their lives. Rebecca Fox asks some how they are coping in a Covid-19 world.
Their savings are gone and their futures are uncertain.
Covid-19 has ripped the livelihoods out from under many Dunedin-trained, freelance opera singers based in London and Europe leaving many experiencing "dark times".
Whether emerging or established artists, the past year's work has been cancelled and there is little work on the horizon.
Their goal at the moment is to be able to keep a roof over their heads and food on the table.
"It's devastating. We're in survival mode, to be honest," former Dunedin singer Jonathan Lemalu says.
It is a stark contrast to 12 months ago when these musicians were at the top of their games, travelling the world and performing at some of the top venues.
"This is our job, it is what we have spent our lives training for, and we are good at it. Many of these New Zealand opera singers here sing at the world's greatest opera houses, music festivals, have won the biggest competitions, represent New Zealand at world-class conservatoires and young artist programmes around the world, and we have all been silenced," former Dunedin singer Julien Van Mellaerts says.
Even for established former Dunedin artists such as Lemalu and Martin Snell, the past eight months have had a massive impact.
Lemalu, who has spent the past 21 years based in London, has found the impact of Covid-19 and the following lockdowns to be mentally "brutal".
Since March, he has lost all contracted work and given it is estimated opera houses in the United Kingdom and Europe will not open until Spring 2021, he is looking at 14 months without work.
"The creative outlet, the identity of who I am — a man, husband, father, breadwinner — have all been affected; sometimes singing conjures up too many memories that I can't experience right now. I feel quite lost at times."
The loss of income is difficult when you live in an expensive city and live from gig to gig.
"Contingencies and savings are drained. The rainy day funds have come and gone. So many unknowns."
He has even considered quitting, but to do what, he does not know — "to stack supermarket shelves, I guess".
Snell, who lived in Switzerland for 25 years, moved a year ago to Germany to take up a position with the Solo Ensemble of the Bayerische Staatsoper, which comes with a modest state-funded salary.
So while most work has stopped, he has enough to keep the wolf from the door.
" I am very fortunate. Many of my freelance colleagues have earned little or nothing since February-March. Had coronavirus struck a year earlier, when I was still working freelance, I would have probably faced financial ruin. Few, if any, colleagues and friends have sufficient or significant reserves to draw upon in such circumstances."
Tough times are not new for Snell, who nearly gave up performing in 2017 as he struggled to recover from the impact of the Global Financial Crisis in 2008, which caused work to become increasingly sporadic and poorly paid.
Alongside this was the huge amount of competition in the market combined with less activity and the desire to discover the "next, best, youngest thing" at the least price, he says.
"I was forced, possibly foolishly, to draw on accumulated reserves to the point of exhaustion and more. In a way, since I have moved to Munchen, I am back to square one again."
While he has been keeping his spirits up through regular social media contact with friends and family, it has been difficult.
"The hardest thing this year has been the rapid loss of external engagements, one after the other, like dominoes falling, which, as mentioned, accounted for more than half of my projected income.
"Parallel to that, it has been soul-destroying and sobering to learn from friends and colleagues how their lives have been abruptly curtailed to the point of financial ruin. The open-ended nature of the pandemic and the recent rise in infection numbers here in Europe does not give one any confidence of a recovery on the horizon, even in the medium term."
Former Dunedin conductor Tecwyn Evans says apart from missing a trip home to conduct the Dunedin Symphony Orchestra in May, he has been insulated from the effects of Covid-19, due to starting a new job in August as artistic director of Denmark's Aalborg Symphony Orchestra, but for emerging artists such as Van Mellaerts, Clinton Fung and Sophie Sparrow who rely on freelance gigs and work associated with performing to make ends meet, it has been difficult.
Van Mellaerts, who grew up in Dunedin and trained at the University of Otago, has been working from London since 2013.
Before the Covid-19 lockdown, he was enjoying a "fantastic career internationally" working with leading conductors, directors, pianists and festivals around the world.
"It was an incredibly exciting point in my career where things had really taken off, and I was regularly giving recitals at the top concert venues in Europe-UK, touring a great deal, plus performing lead roles in operas all around the world."
But that has come to a grinding halt.
Luckily, he was eligible for a grant from the United Kingdom self-employment support scheme.
"It is only a fraction of lost income, but it has kept me afloat. I also have had to use savings. Dreams of saving to buy a house or flat have obviously disappeared now, but I am still able to pay rent and eat."
He has also been supported by the Kiri Te Kanawa Foundation, which is helping 18 young singers in the United Kingdom, United States, Germany and New Zealand through this time.
Developments in online teaching have allowed Van Mellaerts to teach students from home and he has recently been offered a teaching position at the Royal College of Music in London from next year.
"That is a very exciting new opportunity and I am thrilled to be going back as a member of staff."
Fung, who has been studying in Europe for the past three years, most recently at the Wales International Academy of Voice under the guidance of Dennis O'Neill, also felt as if his career was just starting to take off before Covid.
"I had two operas and a few recitals cancelled. It is not ideal, but I am using this time to recharge and upskill. It really was difficult at the beginning receiving those cancellation phone calls. Once I started embracing the pain and disappointment, I used it as a motivation to be better for the next available performance."
He has had to return to his previous part-time job as a barista in a cafe.
"I am grateful to be able to work and have a little income."
Fung admits it has been mentally tough.
"At times I found it difficult ... with very little happening in the industry, I feel restless. I've had to self-motivate while still reminding myself to take breaks and have some self-care time by making dumplings (way too many dumplings)."
But it is not just dealing with the loss of income, there has been the threat to their health as well.
Lemalu and Van Mellaerts have had Covid-19.
Lemalu contracted it in April and spent 10 days in an uncontrollable fever, while wife Sandra called paramedics as she had breathing problems. Their children had only mild symptoms.
"So it's not a case of hoping not to get it, it's hoping not to get it again. Physically we can't go to the mall, movie theatres, cafes (takeaway only) or restaurants.
"We walk a lot together in the parks alone in our bubble and try to avoid public transport."
Van Mellaerts struggled with the virus in March and was ill for five weeks. It has taken him several months to regain strength and stamina in his voice, fitness and breathing.
"It was a solid three-four months before I was back on form. Mentally, I struggled. It was a dark time for so many of us. How do you see light at the end of the tunnel if there is none?"
Then it hit again just as he was to perform Mahler's Des Knaben Wunderhorn in Lisbon last month, causing him to miss that opportunity because he tested positive for the virus a second time.
"I needed a negative test to travel to Portugal, so went to get one, and to my shock it came back positive. Luckily, I had no symptoms the second time, but had to isolate for 10 days and therefore missed that contract."
However, both artists have looked at ways to not only boost their incomes but their spirits.
Lemalu has recorded a four-part biographical series Before and After Summer in London recently, detailing his musical journey from a 10-year-old Dunedin chorister to a Grammy Award-winning operatic bass on the international stage and the effects of the pandemic.
It includes 17 songs and arias as well as interviews and questions and answers.
He has posted it on arts crowd-funding platform Boosted in an effort to raise funds to support his family. Lemalu said he was "humbled" when people supported him by donating more than $20,000 in 10 days.
He is also taking a higher education teaching course online to boost his employability as a teacher.
Van Mellaerts was a key organiser of the recent Whanau London Voices concert at the Royal Albert Hall for all the United Kingdom-based New Zealand opera singers who are out of work.
The concert was recorded and streamed last month through Radio NZ Concert and YouTube. Donations made are given directly to the singers.
"It has given us all a purpose. It is a huge pleasure to be working for my fellow friends and colleagues on this massive concert."
Many of the artists have not been able to get home and see their families and friends and for some the concert was the first paid job since March.
"It was as if we had gone home for the day. What started as a simple idea just to get us performing again, has grown into something enormous, brought us all together to make and share music and our experience with the world, and created a community — our own London opera singing whanau."
It was also important for the singers' mental health.
"It was a taste of home for a day, and it has given us so much hope and positivity to get through this next difficult chapter."
SOPHIE Sparrow, another University of Otago-trained classical singer who also took part in the concert, says having the whanau of singers on the other side of the world makes being away from home that much easier.
"The proceeds will help us with living costs, paying rent, food, bills; it will help keep us afloat for a little while."
Sparrow knows how tough it can be.
She came back to New Zealand in March, continuing her Guildhall School of Music master's studies online, to wait out the lockdown as she could not sustain living in London after planned performances and stewarding which helped keep her going were all cancelled.
"Being home in a safe environment, being more financially secure as there was some opportunity to work and get support from the Government that I couldn't get in the UK, during those six months took some stress off."
She was able to do her final recital at the Auckland Opera Studio in front of family and a few friends. It was recorded and sent to London to be marked.
However, she headed back in September to attend the Royal Academy of Music where she is on a full tuition and maintenance scholarship, but it does not cover all her living costs. Without the possibility of work to subsidise those costs she needs funding so the concert came along at the right time.
She is preparing for the role of Titania for the Royal Academy of Opera in the hope that by March they will be able to perform.
"Some of the hardest things is the uncertainty of everything — not knowing when things will get back to normal, when and whether the arts industry will recover, if you'll be able to perform the opera you have spent months rehearsing, when you'll see your family again."
COMING home is not an option for most performers.
Lemalu had planned to come home this year for three concerts with the New Zealand Symphony Orchestra and DSO but they were all cancelled or postponed.
They were also planning to meet family in Australia for a week.
"Mum and Dad were devastated not to see us and their grandchildren, in particular."
He, his wife and children all have studies and commitments in the UK that meant coming home was not feasible.
"Quarantine is a factor, as is the worry that I could infect my parents if I have latent symptoms."
Van Mellaerts has thought about coming home a lot — he missed his grandparents' 70th wedding anniversary in April — but decided returning was not that easy, especially with the cost of flights, quarantine charges and a lack of income in New Zealand.
"Opportunities are opening up here now and as things are happening last minute, artistically speaking it makes more sense to be here and at least be available for these chances.
"Having not worked and earned a proper wage in eight months, I simply can't afford [to come home]."
Snell was also due to come back to New Zealand in September to perform and catch up with friends and family, but the concerts were cancelled due to the Auckland lockdowns.
Apart from their fundraising work, many artists have had the occasional job but the performances are just not as before Covid.
Lemalu has done a socially distanced La Boheme in the car park of Alexandra Palace with English National Opera in London.
"Watching a love story where people can't touch each other was unique. The audience loved it and were in their cars listening to the opera on their radios and watching us on stage, sometimes in the rain with window wipers on."
Van Mellaerts even managed to tour in between lockdowns, with the English Touring Opera (ETO) in October, and performed a "socially distanced opera" in France for a small audience and accompanied by piano instead of an orchestra.
"To adapt to Covid, ETO formulated a series of monodramas with one-act operas and staged song cycles, all performed with piano, and some with a dancer. It was a genius programme."
Snell has also performed with his colleagues for an online production.
Coming back to New Zealand meant Sparrow was able to perform some Winter Gala Concerts and small house concerts with Reo Takurua — Winterless Opera in Whangarei.
Back in London, she has performed in the concert version of the opera A Midsummer Night's Dream as Titania, conducted by Sian Edwards and directed by Amy Lane.
FUNDRAISING
For further information on the fund-
raising campaigns visit 
whanaulondonvoices.com (to watch 
the concert which has a link to 
GoFundMe page) or 
jonathanlemalu.com