The fear of the unknown may have pervaded the first cross-over classical-Dunedin Sound concert, but this time round the nerves are steadier, the musicians involved in Tally Ho! 2 tell Rebecca Fox.
Two years ago Dunedin musicians proved that you can successfully combine classical and popular music.
They had the full house, standing ovation and rave reviews to prove it.
So it came as no surprise that the Dunedin Symphony Orchestra and Dunedin Sound musicians were keen to revisit Tally Ho!
This weekend's concert, Tally Ho! 2, again features the orchestra, conducted by Peter Adams, beefed up by a bass section and singers sopranos Anna Leese, Molly Devine and Metitilani Alo, as well as Graeme Downes (The Verlaines), Martin Phillipps (The Chills), David Kilgour (The Clean) and Shayne Carter (Straitjacket Fits).
Joining them this year is Apra Silver Scroll finalist Nadia Reid, from Port Chalmers, and ex-Dunedinite Anthonie Tonnon.
For Downes, who orchestrated the first concert, the second is a chance to continue to delve into the Dunedin Sound archives.
''It's a bit different. Last time I didn't know how it would go.
''It's a big deal for a city this size to do one of these concerts, let alone two.''
The second concert spans the best part of 40 years of creative output of the Dunedin Sound era and will open with a rendition of The Clean's Tally Ho! and close with Submarine Bells, by The Chills.
''Here are a collection of songs that are bulletproof - they still live and speak clearly and brilliantly as they did when they were first written.''
It also enables the city to continue to nurture new artists, such as Reid and Tonnon, he says.
''We have built a tradition and people are rising to the challenge just as we did in our day and we're going to try our darndest to keep it that way.
''It's a tremendous celebration of this.''
For Downes, it has also been a chance to further hone his orchestration skills.
''I've got a lot better at orchestration with the experience of the last one.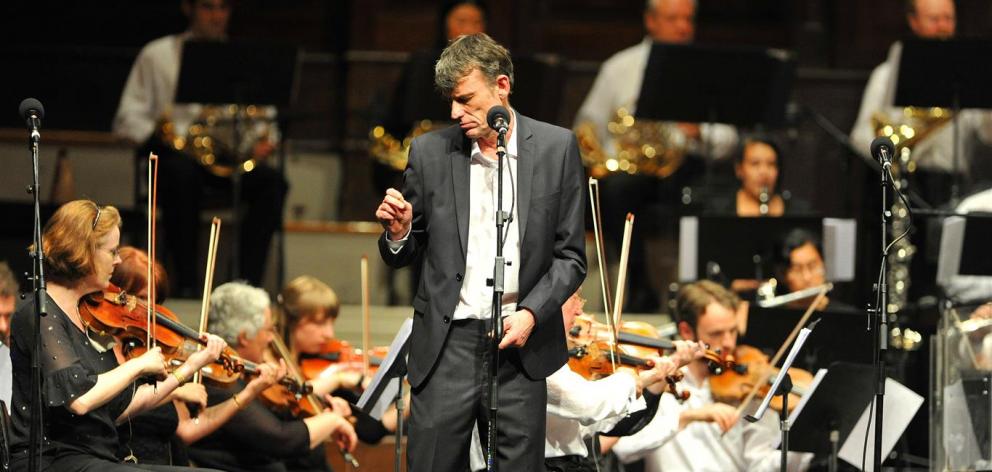 ''Every song has its own properties and how to turn this song written for voice and guitar into something an orchestra can play brings new challenges.''
It helps the songs are very symphonic, he says.
''The way they were put together for a three or four-piece rock band was poverty speaking.
''The songs are not pop music, they are far too complicated than that. They lend themselves to the ebb and flow of different orchestral colours.''
Downes took a week off after the first Tally Ho! before starting work on the second concert with the help of the late Roy Colbert.
He finished the final orchestrations only about a month before the concert.
''It's a long time to put your life on hold for just one night. It's pretty spacey.''
On the night, just like last time, he will be backstage.
''It's a very unusual place to be in. It was a blur until the end.''
Peter Adams, the man whose job it is to pull it all together, is particularly calm.
Not only does he have the usual 50-piece orchestra to conduct, but he is also integrating the two-piece rhythm section and nine soloists.
''It is challenging, this year even more so with the increased number of singers.''
Each singer has to feel comfortable and feel they have enough rehearsal time, he says.
''It's a balancing act. They're all fantastic people and there were no artistic tantrums or egos [last time].''
He admits when the first Tally Ho! was proposed, it was a ''fairly daunting'' prospect.
This time round the orchestra knows what it is getting itself into and the style of music they will be playing, whereas last time there was an aspect of ''seat of the pants''.
It helps that the music is ''really good'' and the concerts had been a chance for Adams to learn more about Dunedin music as he had missed a lot of it while he was overseas.
''The words are everything and Graeme [Downes] has managed to allow that wit and cynicism to come through.''
Phillipps agrees:
''They're like our little babies - it was a bit like putting them in childcare. But he did a marvellous job.''
He understood the scepticism from the classical music fraternity prior to the first Tally Ho!, as there had been many failed attempts at this kind of show overseas.
''But we have someone who crosses both worlds, which has helped smooth out the process.
''It's meant this time we've focused on the music, with less trepidation and much more excitement.''
He will be performing three songs, including Submarine Bells.
''I'm honoured. It's a good show closer. I was very moved by the response the song got; this time I look forward to doing it again.''
It would have extra meaning this time round as Submarine Bells was Colbert's favourite and Phillipps had sung it unaccompanied at his funeral.
''He'll certainly be on my mind on the night and it's a shame he won't be here to see it, but maybe in some way he will.''
Working with an orchestra has also been an interesting experience.
''We are two different worlds. I admire their ability to cross frontiers.''
Kilgour also found it to be a tough proposition the first time round - ''there was a lot of pacing back stage, thinking don't mess it up'' - but knew Downes was ''the right guy to do it''.
''I never dreamt of singing with an orchestra.''
With ''one under his belt'', he believes he will be more ''chilled out'' this time.
''It's lovely to sing and not play - it's hard singing and playing all the time.''
The concerts had pushed the Dunedin Sound back into the limelight in recent years, which he was ambivalent about.
''Like Luke Skywalker from Star Wars saying 'I like ice cream but I don't want to talk about it every day'. I'm not fighting it.''
Kilgour also believes the concert will be poignant because of Colbert's death.
''It was Roy's vision to do this. It's so lovely he got to see Tally Ho!.''