United States musician and playwright Amanda Palmer had a stroke of luck this year when Covid-19 struck - she was touring New Zealand. She tells Rebecca Fox of her "mixed bag" of a year half a world away from her home.
Amanda Palmer is about to rip up her business script.
The musician and playwright from America, who people seem to either love or hate, has decided to take advantage of being in New Zealand at this time with her young son Anthony (Ash).
"I want to watch the summer roll in. I feel singled out and blessed that this is where I get to be with my kid right now."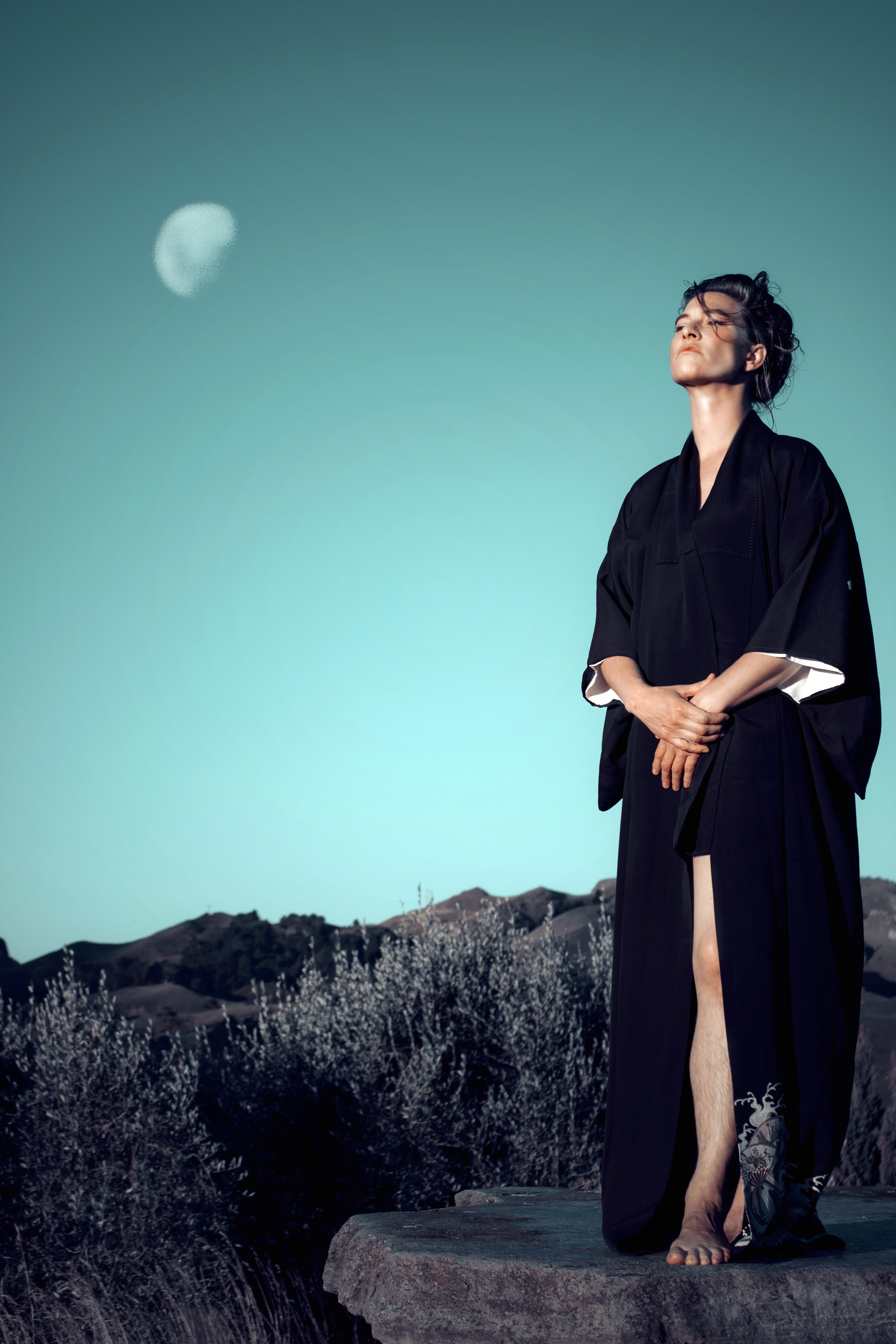 Palmer has been holed up in a rental in the Hawkes Bay since the Covid-19 lockdown hit at the tail-end of her world tour There Will Be No Intermission.
It was not part of the plan. Instead she was to have headed home to New York for a well-deserved six months off after 80-odd gigs and 14 months on the road.
The theatre show, described as "dense, heartfelt, shocking, hilarious, and thoroughly arresting" by one American reviewer, took a lot out of her, she says.
It went for more than four hours and featured not only songs from her latest album of the same name but stories on intense subjects such as life, death, abortion and miscarriage.
"It was like a freight train. I spoke from the heart every night ... After the show people were crying and telling me their secret stories, thanking me for changing their lives. It was a real ride every night."
Due to its intensity and having now had time to reflect due to the lockdown, Palmer has decided to "put the show to bed".
"It emotionally pulverised me. The whole show was a cry from my heart, basically, about women's rights, human rights and abortion rights. It's served its purpose. "
She did not perform that show as scripted in Auckland as the stories of abortion and miscarriage were not what people needed a going into lockdown, she says.
"I looked into the terrified eyes of people in this country on March 15 ... I went completely off book and took requests and tried to connect and entertain as a solo performer."
So when the opportunity to do her upcoming concerts arose, she decided a different approach was needed. She will probably just walk into each show and take her cues from the audience.
"I haven't written a set list, there is no plan. Every show will be quite different."
She is very aware of how "privileged" she is to be doing the shows, given many of her colleagues in the United States are losing their jobs, the ability to make a living and their homes.
"To be able to sit on stage in front of flesh and blood people is so unprecedented. I can only imagine being on stage will feel quite overwhelming."
The concerts will also end the "break" she was supposed to be having, but she couldn't resist the opportunity.
"I know myself as a performer, a human being, now as a mother, that getting a mainline injection of stage performance can be incredibly positive even when I'm struggling with schedules, child care and all of the struggle of the mundane.
"I think at the end of the day I'll look back at this and say its the right decision."
Just as she firmly believes her decision to stay in New Zealand was, with her husband, English author Neil Gaiman, and her son, when it went into lockdown.
"I have never been waylaid in a foreign country before for more than a couple of days. I've been waylaid in a few foreign countries, always because of some kind of natural disaster, I've been waylaid in Napier because of an earthquake in Christchurch, a volcanic explosion in Iceland — I've been waylaid in a lot of places but I've never been waylaid in a foreign country so far from home for so long."
It has required Palmer to develop a "whole new relationship with place and a bunch of people".
"I'm staying in this place by choice and I'm taking refuge in this country and my desire to physically get on to a stage and thank people for the kindness their community has shown me is vast."
In the end, staying in New Zealand came down to ensuring the safety of her 5-year-old son and enabling him to have as carefree a life as possible without the pandemic hanging over him, she says.
"I'm not an idiot. Hawkes Bay is safe but I'm not for a second taking that for granted."
That meant appreciating the everyday activities her son could take part in, such as going for a swim, having pizza parties and playing on a bouncy castle with his friends.
"There are a lot of places on the planet where this isn't even close to happening at the moment. It's a real bizarre ride."
Unfortunately, it has not come without dramas. Social media went wild with rumours of her marriage breaking up when Gaiman left New Zealand for the United Kingdom and then there was a media storm about him travelling during lockdown in the UK.
"I've had some mixed bags in my life, but I've never had a bag quite this mixed."
"It almost feels like someone scripted this. The playwright said right, we are going stick this women and her kid in the midst of a global pandemic and we're going to rain fire on her personal relationship."
It is a dilemma Palmer faces on a daily basis given she uses the internet to fund her career.
"It's a complicated multi-faceted thing. You find the most wonderful, intelligent supportive community through the internet and you can be on the end of the most vicious character attacks imaginable. You can't get one without the other.
"I'm a big believer in the good side of the internet. If the good people abandon the internet then it will fall into the hands of the vicious."
She is a proponent of patronage and four years ago created a Patreon community online. It enables people who want "to help sustain my ability and freedom to make what I want, when I want — liberated from commercial interests — by paying me a set amount of money every time I create something".
It has generated some controversy for Palmer — "it's exhausting" — but the most important thing to her is the ability to be free of commercial constraints and the opportunity to extract herself from the "machine".
"My writing can be more honest, more direct. I can release things as they come in my own time. That is good enough for me. It is not dirty, it is not begging, it is not charity."
Crowd-funding is also a "powerful feminist tool" as it allows female artists to take control of their own work and schedules, especially when they have children.
"The incredible thing is I'm making a better income now than almost all of my indie colleagues, because I created such a safety net of patronage."
Her crowd-funded work Theatre Is Evil made a top 10 debut on the Billboard 200 in 2012 and remains the top-funded original music project on Kickstarter.
In these uncertain times, it is a system that has meant Palmer still has an income from her 15000 supporters.
"That is what is floating me now. They've put their hands up saying they'll cover me. That's massive."
The lockdown has enabled her to get a long-awaited podcast series off the ground. She has been interviewing the "greatest minds" on everything from climate science to sex work and death and dying.
"These conversations are fascinating and so timely, even though I recorded them before Covid."
She has also been writing a "big epic ballad" which she describes as so "giant and sprawling" she is good if she does not write anything else for months. It is a collage of her lockdown time in the Hawkes Bay and has been released only to her patrons.
"I think it's the best song I've ever written. It'll be the crown jewel of the set list as I tour the country telling the story of lockdown."
It is a long way from Palmer's early days in New York where she started out in theatre.
Throughout her teens and college years she worked and studied how to put on plays, direct and write them.
"I was always writing songs in the background."
She had a dilemma in her early 20s when she had to decide which one to embrace — songwriting or theatre.
About that time she met Brian Viglione, with whom she formed punk cabaret duo Dresden Dolls.
"It answered itself. I could have just as easily found myself making weird performing art or making it as a director in the fringe festival set.
"A big part of my passion was putting on events, making spaces where people could lose themselves. It was more important in the early days than songwriting, it was the vehicle to get to put on a show."
Palmer still has a soft spot for theatre, hence the nature of many of her shows. She has also enjoyed recently taking in Fringe Festival and Arts Festival shows in Hawkes Bay.
"I sat in the opera house in Hastings with tears flowing down my face, being able to sit in that great space watching performers move around. My friends from the States were supposed to be performing there but they can't get here, they can't get work."
Once the New Zealand concerts are finished she will reassess what she is doing but has no plans to leave the country at the moment.
"The election in America will determine a lot of what will happen."
In the meantime, she is trying hard to "downshift the vehicle of her life" to be a good mother to Ash. That means "ripping up a lot of my business script" and trying to reduce her workload.
"I want to take advantage of where we are. That feels like the work of my life right now. Making sure this kid feels safe and secure and loved. That is job number one."
They both have their fingers crossed that Gaiman might be able to join them in New Zealand for Christmas.
"Every day I wake up and look out at this grand expanse of mountains ... and I feel I have won the jackpot.
"Even though I am going through my personal battles and dramas I am one of the luckiest people on earth right now because I'm here."
TO SEE
An Evening with Amanda Palmer, 
Regent Theatre, November 6, 7pm.