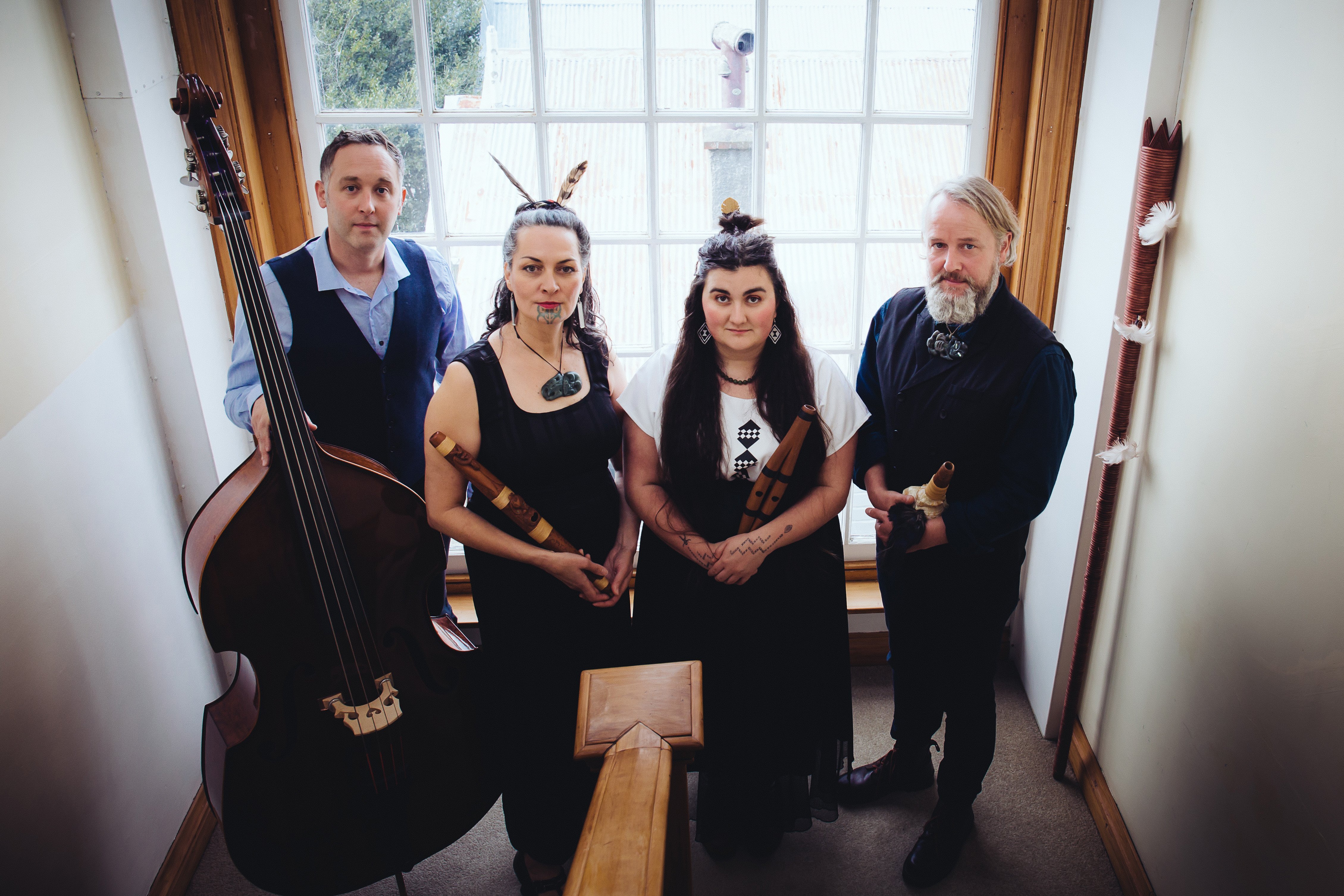 Whakatipu Music Festival brings professional musicians, emerging performers, local talent and backstage professionals together in a long weekend of music. Rebecca Fox talks to an emerging backstage practitioner and two taonga puoro performers.
There is a whole lot more to taonga puoro (traditional Maori musical instruments) than being performed on stage, performers Ariana Tikao and Ruby Solly say.
That perception came about as the revival of taonga puoro in the mainstream had been led by the late Richard Nunns, often described as the "unlikely hero" of the instruments which had nearly been lost to te ao Maori before he came along.
"Now people like us have come along and are starting to change that perception of what a taonga puoro player looks like," Tikao says.
For Tikao and Solly it is important for Maori to understand the taonga are there for them to use.
"There are as many ways to engage with taonga puoro as there are players of taonga puoro or enthusiasts of taonga puoro," Solly says.
Solly is doing her PhD on the ways taonga puoro has been used in health. It is believed they were used in connection with wairua, the spiritual health as well. Different instruments were used in different situations.
"You might use the putangitangi to bring out crying and sadness, use it in that way to give that moment more depth and connect it with that."
They hope to see its use in homes normalised again.
"If it is someone who plays taonga puoro in their house for children with asthma is just as valid as someone getting up on stage and playing with an orchestra.
"By normalising all those things we hope to bring it into households as well as on stages," Solly says.
"I feel there is a lot of work to do in that area," Taiko says.
In the past women were seen as the Kaitiaki of taonga puoro often playing the instruments and bringing them into families to ensure the knowledge was treasured and passed down.
There is a lot of work going on at the community level such as with taonga puoro practitioners working with midwives to help women understand they can be used in pregnancy and childbirth but it could work within many different spheres of health.
"There are taonga puoro players especially women playing in stroke rehab, special needs working in pregnancy and birthing and mental health in a collaborative way with Maori around Aotearoa."
Taiko says music and performing is still an important use of taonga puoro especially around educating the next generation.
They also want to show young Maori women that playing taonga puoro is an option for them too.
"If they see us and it sparks something in them, we hope it might lead to them having an interest in playing," Taiko says.
"The removal of fear is crucial as there was some thought women should not play but that did not come from tikianga — it is not true and not where we are at this point and time. It is a safe practice to engage in for all Maori," Solly says.
In the meantime the pair perform in Tararua (meaning "two peaks'), along with Wellington-based taonga puoro player and composer Al Fraser, and double bassist Phil Boniface.
The group is performing this Easter weekend at the Whakatipu Music Festival alongside fellow New Zealand musicians Madeleine Pierard (soprano), Robin Wilson (violin), Bridget Douglas (flute), Andrew Joyce (cello) and Stephen de Pledge (piano).
They will be playing music from their album released last year Bird Like Men, which combines taonga puoro, waiata, karakia and purakau (story) with a strong southern Maori influence, partnered with the Western instrumental elements of the cello and double bass.
"It incorporates a lot of themes about modern Kai Tahu identity as well as themes around landscape which a lot of New Zealanders will identify with," Solly says.
Solly and Tikao wrote lyrics for the album and the group as a whole collaborated on the music, drawing inspiration from Maori rock art depictions of bird people at the Maerewhenua site in Otago, whanau manuscripts of Tikao and korero from Ngai Tahu.
"As we're writing the lyrics it comes from the perspective of being Kai Tahu women as well," Taiko says.
The process took longer than expected due to Covid-19 but that allowed them to build a more comprehensive sound world and extend content.
"We were able to use that lockdown time to wananga with ourselves and each other to create something that was very holistic," Solly says.
The members of the group have all worked together at different times and ways over the years and in different combinations have recorded together in the past as well.
"It made sense for us to all mash up together into one group. We joke it's a supergroup," Solly says.
Central to that is a sense of trust in each other which is integral to working as a group.
"It's bringing new sounds or new ideas. There's a lot of vulnerability we need to have but we can have that as we've all worked together in different ways and know each other really well and given ourselves time to make things what they need to be."
Taiko says with that comes an ease with the group often starting out just playing. "It becomes quite intuitive but the trust needs to be there."
Solly's introduction to taonga puoro came via a teacher at a very small primary school where she learnt to play koauau alongside the guitar.
"I was always called out to do all the singing jobs."
Being exposed to Maori and Western instruments at the same time influenced her a lot more than she realised.
She picked up the cello when she was 8 years old and as she grew up moved into playing jazz at tertiary level.
"I was always playing around with found sound, taonga puoro in that way."
It was not until she was about 20 that she began to take taonga puoro seriously. Meeting Fraser in a band where she played cello and he guitar, Solly soon had a mentor in learning it.
"Something I really like about working with this band and Ariana as well is lines with taonga puoro and composition are all really blurred there is no clear-cut lines between those things which makes it a completely different skill you can use in other parts of the arts."
Tikao had a completely different introduction to the Maori instruments.
While in school she took part in kapa haka and musicals and then she went to university to learn more about the history of colonisation in Maori Studies.
"I wanted to know more about my cultural identity that helped inspire me to write songs with wiata, poems around those themes. I still feel that I'm on that continuum. My song writing started through poetry."
Tikao taught herself how to perform, rather than formally studying music.
"I felt like an imposter to start with."
She began with a group of Canterbury University women in a folk group Pounamu in Christchurch.
"I still felt a bit like a fraud at times as it was just something I did without knowing how or why but it was an exploration of my identity, it was how I expressed it."
It was when having children that Tikao met Nunns and became interested in playing taonga puoro. Both Nunns and taonga puoro maker Brian Flintoff were very supportive of her learning to play, and became mentors.
"I really wanted taonga puoro to become part of my musical identity. It has become a massive part of my life not just musically but in other ways as well."
Recently a lot of players have begun playing the instruments in other capacities not just in music.
Realising the original place for taonga puoro within Maori culture as healing instruments and for health and people's everyday lives, is important, she says.
"It can be an everyday ritual and way of being. It's a change in thinking," Solly says.
Back stage support
Behind the scenes helping the performers such as Taraua and the young emerging classical musicians taking part in the festival is Karis Vernon.
Alongside enabling emerging performers to receive guidance from top professionals, the festival aims to do the same with arts management professionals in an effort to address the shortage of professional level and artistically experienced management staff in the region.
Last year Vernon was selected for the stage and production manager apprenticeship programme and this year is back as the festival's operations manager.
"To get this promotion to a professional roles is amazing. Prior to the festival I was struggling and after Covid-19 could not get my foot in the door."
Part of the problem was that her experience as a dancer did not translate into the experience she needed to get into arts event management.
Vernon had been working as a dancer in Australia, England and the United States, most recently with the Walt Disney Company on one of its cruise ships.
"I was really good at dancing with Mickey Mouse but it didn't translate. So it was hard at first."
She had always planned to come back to New Zealand and the retirement age for a dancer is around 30 but Covid hit first.
"It happened a bit earlier that I was hoping so I didn't have a back-up plan ready yet."
Originally from Levin, Vernon chose to move to Queenstown when she returned because she wanted to retain some of the travel vibe she was so used to.
"It wasn't my choice to come home, so I still wanted that travel, international experience and Queenstown is a resort town where it feels like you are on holiday all the time."
Having lived on a cruise ship for three years, she also wanted to retain that sense of community which is similar among locals in the visitor town.
Vernon knew she wanted to stay in the arts industry somehow and thought her years of performing gave her a good insight into the backstage needs.
"It seemed a natural progression."
But she struggled for others to see that so the apprenticeship opportunity with the festival came at just the right time.
It gave her the opportunity to discover the role was the right fit for her.
"I always knew I had the skills and I love being involved."
To have a role developed for her to continue to extend her skills this year was exciting. She was involved in festival planning and the practical side of getting performers and artists to where they needed to be on stage and the necessary Covid planning and precautions.
Her experience means she knows and can predict what an artist might need or want or what their concerns might be.
"It translates so well."
She has not totally left her dance roots behind as she is still taking part in classes and doing some teaching.
"There is more than enough going on for me to get my fix."
To see
The Whakatipu Music Festival, Queenstown's Memorial Centre, April 15-18; Tararua Friday, 7.30pm; Tararua members, Alistair Fraser and Ariana Tikao, public talk Understanding Taonga Puoro, Saturday 10.30am, Hotel St Moritz. Also performing in Dunedin Bird Like Men, Glenroy Auditorium, May 27, 7pm
OTHER FESTIVAL HIGHLIGHTS
Community Showcase, Saturday, 12.30pm
Wakatipu High School has had to postpone its production of Footloose, but the cast has been working to get it stage-ready, and are giving a sneak preview as part of a Community Showcase which also includes TUMT Concert Band, local singer-songwriters Billie Carey and Matilda Metcalfe and classical singers Emma Gardner, Violet Hirst and Tallulah Penitito.
Easter Celebrations, Sunday morning
Acknowledging the glorious music written for Easter, many of the festival's professional and young artists are playing for Easter Sunday services at ABA Church and St Peter's Anglican Church.
Young Artist Chamber Concert, Sunday, 7pm
Twelve of New Zealand's top emerging classical music talents have been selected to participate in the festival's Young Artist Programme, receiving coaching and performing chamber music with one another, and participating in career development workshops to hone their professional skills.
They will each perform recitals during the weekend, and then on Saturday night a chamber music concert, featuring Schubert's Shepherd on the Rock and Dvorak's Piano Quintet No 2.
Festival Grand Finale, Monday, noon
Festival artists Robin Wilson (violin), Andrew Joyce (cello), Bridget Douglas (flute), Madeleine Pierard (soprano) and Stephen De Pledge (piano), Alastair Fraser (taongo puoro) are to share some of their personal favourites and in honour of Easter music finish with Bach's aria, Seele, deine Spezereien, from his Easter Oratorio.