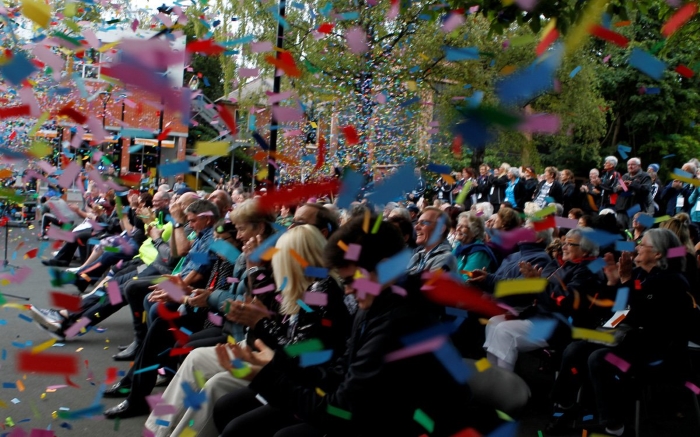 A LOT has changed in the almost 30 years that Mark Bishop has been attending the New Zealand Masters Games in Dunedin.
But one thing certainly hasn't - the enthusiasm the Cantabrian has for participating in the event.
Previously his volleyball team has looked forward to their biennial trip south, but in 2022 a number of them are entered in the Twilight 400 fun event.
''There are about five of us coming down,'' Mark says. ''We're all getting past playing volleyball for whatever reason- we've had a few injuries, two deaths, and between us we've had four knees and one hip, and two breast cancer and two prostate cancer survivors. It's a bit of a joke that the only way to get out of our team is to die.''
The 2022 Otago Community Trust New Zealand Masters Games will be held in Dunedin from February 5-13. It is the largest multi-sport event held in the country, the games alternate between Dunedin and Whanganui.
Dunedin will host more than 5000 participants in over 60 sporting codes over those nine days of competition. While the age at which at athlete becomes a master differs depending on the sport, with participants ranging from 18 to 95 and beyond there are opportunities for everyone.
Participating in the New Zealand Masters Games has become a ''big, warm addiction'' for Mark and his team mates. They've long enjoyed coming to Dunedin and spending some bonding time together.
''It's a nice addiction to have,'' he says. ''It used to be camaraderie as a team - having a boozy long weekend. Now it's just getting together as a team. And getting into the village vibe, we've always enjoyed that I must say.''
Mark's mixed team from Christchurch has previously always entered the competitive volleyball tournament. While he says there are always the very competitive teams that are trying to win, they were always there to have fun primarily.
Of course winning a gold medal in volleyball one year is among his favourite New Zealand Masters Games memories.
''But they've all been good experiences,'' Mark says. ''That social side of staying in the same motel - that's what makes it great, and it's just good to bond again.''
* Otago Community Trust New Zealand Masters Games: Dunedin, February 5-13, 2022.