Dunedin's Beds R Us is very much a family business - and a growing one, in a number of senses.
Owners Ricky and Kimberley Proctor have recently welcomed son Harry, and have already introduced him to the shop.
While the next generation is still a bit young for helping customers decide upon the right bed, he's definitely got his parents working harder.
Life is pretty full on right now, Ricky admits, but it's driving them to keep pushing Beds R Us forward in the region.
The store, at 505 Princes St, Dunedin, currently has some huge savings available.
There's the massive Black Friday sale, with savings of up to 50% until Monday.
And there's also a new clearance area in the store, with some mind-blowing savings of up to 70%. So if you're looking for a new bed Beds R Us is certainly the place to visit. And the store also has a fantastic selection of furniture on offer, which is definitely worth checking out.
There is a truly amazing selection, and great stock levels, as Ricky has been buying up large for the sale.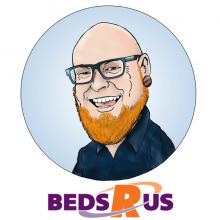 He and the staff at Beds R Us offer a friendly face for the sometimes daunting task of purchasing a new bed, or other furniture. They can offer great advice and help you through the process.
And it's always good to know you're buying from local people, who actually care about the region.
Having won Beds R Us 'Store of the Year' award early in 2018, the Proctor's are keen to keep improving and keep growing the business. The family have plans to expand within the region in the coming years.
"At every conference we get called 'the future of the group','' Ricky says. "We want to keep trying new and different things, and just push forward.''
And Harry, of course, will eagerly watch developments until he's able to be involved in a more active way.
Beds R Us: 505 Princes St, Dunedin. Phone (03) 477-7199, email dunedin@bedsrus.co.nz, or see www.bedsrus.co.nz for more information.