As we get into the colder months there are new things we need keep on top of to keep ourselves and our families safe. Winter brings a unique set of fire dangers that you need to be aware of.
Follow these fire safety tips to help keep yourself and your family safe, no matter the season.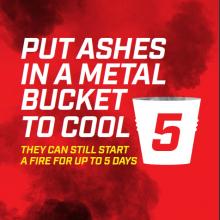 Fireplaces and chimneys
Always use a fireguard or spark-guard when using an open fire.
Never throw rubbish into the fireplace – particularly batteries and aerosol cans.
Always empty ashes and ashtrays into a metal bin and pour water over them before disposal. Remember that ashes can take up to 5 days to cool.
Keep matches, lighters and anything else that can create fire out of reach of children.
Heaters and clothes dryers
Remember the heater-metre rule – always keep furniture, curtains, clothes and children at least 1 metre away from heaters and fireplaces.
Never cover heating appliances or store objects on top of them.
Don't overload clothes dryers and clean the lint filter after each load cycle.
For more fire safety tips and our up to date fire safety checklist visit our website at www.fireandemergency.nz

Also see: Is your Otago business ready for the tightening Heath & Safety rules?

Your Otago Health and Safety Experts: