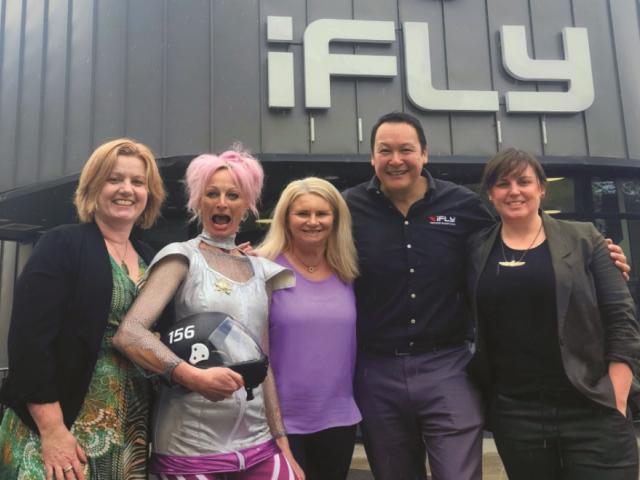 A targeted programme to improve the mental wellbeing of Whakatipu school children is taking off thanks to an unique community-business partnership and funding from Te Hau Toka Southern Lakes Wellbeing Group.
Since 'iFLY Whakamana' launched in late 2021, more than 100 local school children aged 11 and 12 (Years 7 and 8) have completed the pilot programme that helps address the increased anxiety, lack of confidence, and associated behaviours affecting the school community.
iFLY Whakamana is the brainchild of iFLY Indoor Skydiving Queenstown business owners Matt and Amy Wong, Whakatipu Youth Trust General Manager Jacqui Moir and Epic Living youth empowerment and wellness coach Sunny Sky.
The long-time locals were concerned about the rising mental health issues in under 14-year-olds, particularly those transitioning to high school.
After listening to parents and education sector leadership, Sunny Sky took the lead in co-designing a community-based programme for tamariki. Combining their skillsets and resources, she developed tools and experiential learning aimed at helping tamariki understand and manage their emotions, build self-esteem, develop healthy relationships, and care for their wellbeing.
Sunny also facilitates the innovative one-day programme, which is held at iFLY Queenstown Flying Academy. 
CHECK OUT OUR OTHER STORIES:
The Engineer who learnt to walk twice
The lowdown on legionnaires disease
Unsure where to go for help?
Dunedin mental health crisis respite care home opens
Te Whatu Ora staff reconnect during mental health awareness week
She says the combination of activities, which include youth-specific wellbeing, creative art, team building and communication, active movement, and personal reflections, "is designed to help tamariki experience a deep sense of body connection, confidence and courage as they overcome their fears and learn new skills".
Whakatipu Youth Trust's Jacqui Moir says her team has loved being involved in the collaboration and the feedback so far has been outstanding.
"The outcomes for these kids are nothing short of spectacular and we're totally invested in continuing to support them to thrive. For me, this collaboration has taken the concept of 'ít takes a village to raise a child' and made it real. It's a fantastic example of the positive impact we can make as a community.