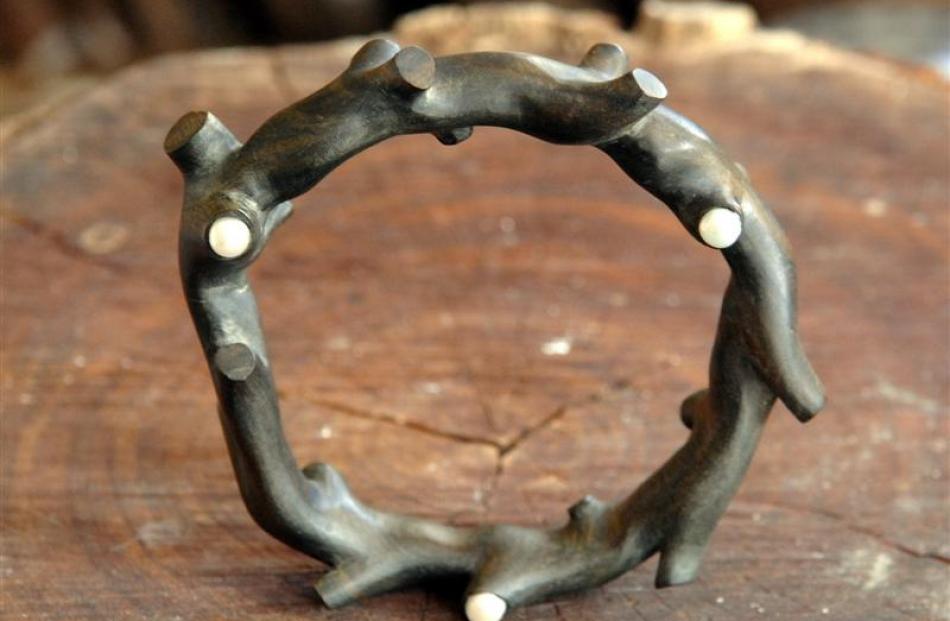 Jane Dodd's latest jewellery collection was inspired by ideas of fairy tales gone awry and animals seizing control from humans. Ellie Constantine took a look at the somewhat macabre pieces and found beauty in their intricacy.
An investigation into new materials, techniques and scale continues in the latest collection of Dunedin jeweller Jane Dodd.
"Blood Sports", a collection designed to worry and disarm, will open at Lure on March 27, during iD Dunedin Fashion Week.
It is "fantastic" to be part of the fashion event, she says.
"I think some of the work will be quite big, which works quite nicely in a fashion context."
The collection will contain about 12 pieces - necklaces, brooches, rings, earrings, and bangles - made from a range of materials.
"The thing about Lure is it's quite a compact spot, so you don't need to have heaps of stuff.
"There will be a little bit for every part of your body, but not toe rings. It's not appropriate in Dunedin; you don't get your toes out enough," she says with a laugh.
The collection shows a development of her investigations into working with different materials.
"Ten years ago I worked solely with metal, but now I've been using wood and shell and pearls and gemstones. My palette has been evolving."
Everything from books, to imagery, art history, crafts and furniture are "pulled together" to inspire her work.
"I am an avid reader and I always work from research," she says.
"Blood Sports" came from "ideas about turning the world on its head and the human race no longer having the upper hand".
"It's kind of a slightly macabre idea, slightly apocalyptic. I'm trying to get a sense of mystery and a sense of the fairy tale, without getting too literal.
I'm hoping it sort of has a resonance with people in terms of childhood stories, or movies and film."
The work has a slight sense of "foreboding" and a Gothic feel, she believes.
When asked what she hopes the public will take from her work, Dodd says: "I hope they are slightly shocked. I hope they are intrigued. I hope they find them beautiful".
The one-off, experimental pieces take "hours and hours, a stupid amount of time, really", to complete but are "increasingly" becoming the way she makes her living, alongside more commercial items.
Dodd spends about 30 hours a week "actually making" jewellery, about 10 hours drawing and researching, and another 10 on the administration side of her business.
The former Verlaines bassist and her partner returned to Dunedin about two years ago after a long hiatus in Auckland.
"I grew up here and moved away when I was in my early 20s," she says.
Family brought them back and, despite missing aspects of working for 16 years in the combined jewellery space of Workshop 6, in Auckland, the move has been "great".
"I think we always had it in our minds to come back. It's a whole different thing to be working by myself, rather than with five or six other women."
However, her partner has become "really good to bounce ideas off".
Her love of the job often comes back to scale.
"I've always kind of imagined that it would be good to work big ... but I always tended to just go small. I think it's a natural scale for me."
The ability to use a wide range of materials is also attractive to her.
"I love the fact you make really personal pieces for people. They become intensely attached to pieces that you make and they wear them on themselves. You have an attachment to people which is beyond what a lot of art forms can get."
---
See it
"Blood Sports" exhibition

• Dates: March 27 to April 14.
• Times: Tuesday to Friday 10.30am to 5pm, Saturday 11am to 2pm.
• Venue: Lure, 130 Lower Stuart St, Dunedin.
• Cost: Free.
Jane Dodd's work is available in Dunedin at Lure, other galleries throughout New Zealand and in Melbourne.
iD Dunedin Fashion Week runs from March 27 to April 1. For more information, and event details, visit www.idfashion.co.nz
---