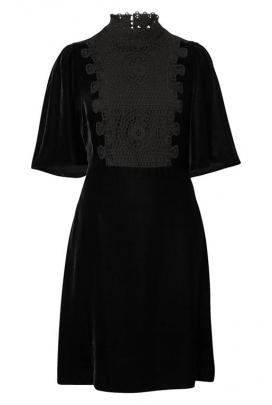 The quality of fabric a garment is made of is paramount to any buying choice but do we know what we are buying? Rebecca Fox asks the experts what to look out for.
Viscose, polyester, acetate, elastane, nylon - the list of man-made fibres listed on the tags of clothing are seemingly endless.
Developed in the early 1900s, synthetic fibres came into their own in the mid-1900s when "permanent press'' technology was developed so the need for the labour-intensive activity of ironing could be reduced.
These days, the world's consumption (2013) of manmade fibres is 70% of the total, whereas natural fibre consumption is just 30% and wool under 5% of all natural fibres.
There are two categories of manmade fibres - synthetics, typically made from petroleum-based material such as nylon and polyester, and cellulosics such as viscose or rayon. Viscose is made from many types of cellulose including wood pulp, put through a chemical process which turns it into a variety of filaments.
The University of Otago centre for materials science and technology acting director Raechel Laing said there were three considerations when talking about fabrics - the fibre itself, fabric structure, and the finishing processes applied to the fabrics.
Previously, cotton and linen fibres in woven fabrics had a tendency to crease, so adding a synthetic fibre/filament allowed the fabric to be heat set and thus more resistant to creasing.
Other synthetic fibres such as elastane (Lycra is a brand of elastane fibre) could be added to wool or cotton to improve the elasticity of fabric to help retain the shape of trousers for example or nylon reinforcing the toes and heels in wool socks to reduce abrasion leading to holes.
"Blends aren't undesirable at all. If you put one fibre with another, you can enhance the overall performance.''
A small amount of polyester in men's shirts, which are primarily cotton, allows them to be washed in a machine and worn without ironing. Most wool fibres have been treated to prevent shrinking.
After the fabrics are woven or knitted, they will be exposed to varying processes including washing, coloration (dyeing, printing), decatising, napping and pressing.
Prof Laing said it was also important for people to be aware of the fabric structure of the garment, whether it has been woven, knitted or non-woven, and the fabric properties such as its thickness, permeability to vapour and permeability to air.
"The focus on fibre content often dominates thinking, whereas fabric structure typically has a more dominant effect on performance.''
Structure typically influences extensibility of a fabric, which in turn influences end applications. Wool could be woven to create a fine knit fabric for a cardigan or a heavy woven or tufted carpet.
As manufacturing processes continue to develop and fibres are used in more varied ways, there is a continued move to designing fabrics to fit the purpose.
The volume of fibre produced worldwide has almost trebled in the past 30 years, with most growth from man-made fibres (mostly synthetic).
"We know that as per capita income increases, so too does fibre consumption per capita. Several countries have an increasing middle class, and world population continues to grow. So it is reasonable to assume there will be increasing demand for fibres.''
At the same time, many issues related to sustainability in the textiles sector are being addressed, such as water use, management of dyeing and finishing, recycling, disposal at end of product life, government and international agreements.
Fashion
Fabrics and their origins also play a big part in the training of the next generation of fashion designers.
There are detailed government regulations in New Zealand about the labelling of clothing, its country of origin and content of fabrics.
Otago Polytechnic School of Fashion senior lecturer in design Tracy Kennedy said as a general rule cloth made of natural fibres was of a better quality and lasted longer than its synthetic counterparts.
But that was not to say synthetics did not have their place, as mixing them with natural fibres could make them fit more comfortably (for example, Lycra) or hold their shape better.
"A bit of knowledge can go a long way.''
Like Prof Laing, she believed the way the fibres were woven or knitted also had a lot to do with the quality of the finished garment.
"That can be the difference between a cheap cotton T-shirt which twists after the first wash.''
The quality of some viscoses and polyesters had improved with the feel of them created to mimic natural fibres like silk.
However, if you held one in each hand the silk one would feel smooth and cool and the polyester one dry and sticky.
"With certain fabrics you get that static polyester, stick together.''
Man-made fibres were being used increasingly in the sports and active wear markets to help improve an athlete's performance and comfort.
"They're developed in such a way that it wicks sweat away from your skin and hugs the muscles, giving support.''
When it came to buying a garment, fabric was just one part of the equation, she said.
"You want it to feel good, to fit well, drape well, and be fit for purpose.''
She believed it was better to spend money on natural fibres in garments that will last than owning eight garments that do not wear as well.
"The main thing is that clothes fit properly. Ill-fitting clothes are the worst thing you can do for yourself.''
The other important thing was to read the care labels on clothes as they were there for a reason, she said.
"Read and adhere to them.''
Some delicate garments for which it is recommended to dryclean only could be gentle machine washed, but before doing so, do some research first, she said.
"Find out how to care for your clothes.''
---
Word of advice
Tracy Kennedy says when choosing fabrics consider the following:
•What is the occasion? Is the garment for day, night, wedding, ball?
•What is the season? This will determine the weight and content of your fabric, e.g. cool cottons, silks, linens for summer; warm wools, merino, wool blends for winter.
•The quality of the fabric, e.g. don't use a cheap satin-look lining fabric made out of acetate for your ball gown as it will cling (be full of static) and will pucker at the seams.
•Choose the correct type of fabric to work best for your style or proposed use.
•Better quality fabric and construction usually means a garment will last longer.
•Natural fibre v synthetic/manmade? Consider if sustainable/organic options important to you?
•Be aware that a natural fibre such as cotton is not necessarily better for the environment than a manmade fibre - it really depends on the processing, such as water usage, dyes or use of chemicals.
•Take note of care labelling. Wash your garments to the instructions to keep them looking good for longer.
•A good-quality woven fabric is best for outerwear such as jackets and should be lined to give structure to the garment.
•Children's wear requirements include fabrics to be non-flammable.
•Choose colours that suit you and fabrics/prints that will flatter your figure type.
•If you can't find a fabric you like, consider creating your own fabric through up-cycling/reusing fabrics, weaving, knitting, dye, print.
---