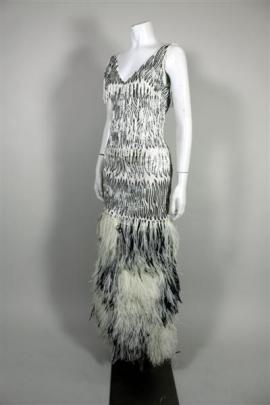 The international guest for this year's iD Fashion Week, Doris Raymond, has a passion for vintage clothing that has opened doors to glamour and glitz, paved the way to a Hollywood store and prompted a television show. In short, taste and tenacity have helped put her above the pack, writes Shane Gilchrist.
Doris Raymond might be described as ''the fairy godmother of fashion inspiration'', but the vintage clothing expert provides a less welcoming description of herself: pit bull.
It's mid-morning on Good Friday (our time, not hers).
Raymond is on the line from Los Angeles, ''about 300 feet away'' from her shop, The Way We Wore, which, on upmarket La Brea Ave, serves as a fashion honey pot for everyone from Hollywood A-listers to more humble fans of vintage couture.
The reason for the conversation is Raymond's impending visit to these parts for iD Fashion Week (April 18-26), during which she will present items from her vast collection of vintage wear as part of the Dunedin International Airport and Air New Zealand International Guest Designer section (she will also join the judging panel for the iD International Emerging Designer Awards).
Having almost completed packing for the upcoming trip, Raymond offers a hint of what will be on show: ''We have everything from the 1920s and '30s, pieces that could have been worn to an awards ceremony, all the way up to the early 1990s.
''There are pieces from Gianni Versace, Jean Paul Gaultier and Christian Lacroix. Not everything is labelled, but everything has wow factor.''
As interesting as some of her collectors' pieces are, Raymond's rise from an op-shopping teenager to a curator of classic and, sometimes, curious clothing deserves to be unpicked, too.
For the past three decades she has made herself and her cache of vintage, antique and designer pieces available to a coterie of celebrities: British singers Adele and Florence Welch, pop princesses/pariahs (Miley Cyrus) and hip-hoppers (Kelis) have been known to frequent her store and, although Raymond specialises in women's wear, the stylist for American rock veteran Lenny Kravitz is also a customer.
Yet Raymond's taste extends well beyond showbiz glitz (even if she does have a soft spot for sequins).
Details gleaned from her collection have shown up on runways from New York to Milan, and she has worked with a number of high-fashion designers, including Michael Kors, John Galliano and Tom Ford, as well as mass-market labels.
And, since 2013, she has been front and centre of the Natural History New Zealand-produced L. A. Frock Stars, which airs on the Smithsonian Channel in the United States and has completed its second season.
The show follows Raymond and her team as they travel across the US in search of garments, a quest that typically involves fierce bidding at various auctions.
Hence her self-assessment as a ''pit bull''.
''If you take a look at the first episode of L.A. Frock Stars at [auction house] Whitaker, I intentionally sit in the front row so I don't get the evil eye from people as I aggressively bid.
''I know the game and how to play. If you want something, then bid higher; if you don't, then don't complain that I get everything.
''I'm a New Yorker first and foremost. And, as gracious and kind as I can be, I can also turn on a dime.''
Yet L. A. Frock Stars offers more than hand-in the-air hostility: often, episodes will include something of a history lesson on designers (Oscar de la Renta), celebrities of the past (Peruvian soprano Yma Sumac) as well as an insight into the broad range of Raymond's clientele including, importantly, Hollywood costume designers (a couple of names: American Horror Story's Lou Eyrich, and Mark Bridges, who won an Academy Award for his work on The Artist).
So what separates Raymond from the pack? After all, there are vintage fashion shops all around the world. And let's put buying power aside, too, because there are plenty of people with enough money to buy rare or highly prized clothes.
Experience and instinct are obviously key to her business model, yet more important, arguably, is Raymond's ability to interact with all manner of people, from a Ukrainian husband-and-wife sewing team to those red-carpet types.
''People are people,'' she says.
''And if you are going to create a hierarchy, then there's a problem.
''Of course, I can admire someone for their accomplishments, but that doesn't put them on a level that's better than the next person. And those people who feel otherwise need to do serious self-evaluation.
''The most important factors in a business are your sources and your customers. I've been blessed to have a business that gets as much attention as mine does and I don't take that for granted.
''Before the internet it wasn't as easy, but now I get inquiries from all around the world, people wanting to sell me things.
''On a grand scale, I think it's really about supplying elements that inspire. It doesn't have to be an entire garment either. The space next door is filled with wee elements,'' Raymond says, referring to an area adjacent to her main shop, where access is by invitation only.
''I love being able to feed bits and pieces to designers and have them integrated into their collections. It's exciting to see some of this stuff have a second life.
''An Australian designer, Nicki Zimmerman, who is a delight to work with, goes into the inspiration area and purchases prints and what we call `surface designs', things such as beading, sequins, embroidery or piping that creates a pattern.''
Raymond says a designer might take such a ''surface design'' and place it, say, in a neckline and then build the silhouette of a garment around that. Likewise, a pocket detail or a closure could provide the initial building block.
''Take any garment and there will be dozens of elements that, collectively, define a particular piece.''
• Raised in Long Island, Raymond has been in her particular form of treasure hunting since she was 8, when she joined her mother and sister in rummaging through an old woman's estate in a New York apartment.
''There is an affection for things that have history and a back story,'' Raymond says.
''Add to that a level of quality that you just don't see any more.
''The seeds were planted when I was very young. Then, when I was a teenager back in the '60s buying clothes from thrift shops, I would be attracted to pieces that were well-made.
''My evolution continued through college through buying items and finding out information about the pieces, either by luck or kismet.''
Perhaps not surprisingly, Raymond went on to study anthropology (at Boston University) before heading to San Francisco in 1974, where she started selling vintage clothes and other items at flea markets.
In 1981, The Way We Wore was established in the Northern Californian city.
''In 1974 you could still see remnants of the Haight Ashbury movement. Being something of a hippie myself, I had an interest in acquiring beautiful old things.
''My treasure hunting was really accelerated because I lived in a neighbourhood surrounded by five really good thrift shops. I found myself investing all the money I made in waitressing, which I did for the first two years I was in San Francisco.''
By 2004, however, Raymond had moved south to Los Angeles, where she opened her current boutique in the heart of Hollywood. Yet, despite her location, the job is far from glamorous, the 59-year-old insists.
''A lot of it is physical work, so on those days when I know I'm going to be working next door - in the inspiration room - I tend to wear things that are comfortable and casual.''
Now into her fourth decade of buying and selling vintage fashion, Raymond still finds it a thrilling business, from that moment when she spies a piece that could well be a one-off by a famous designer, to witnessing the smile of a bride-to-be rummaging through the racks of her shop.
''After 34 years, I still get an endorphin release where my heart races. To me, it is a form of art and also anthropology, a document of where we were at a certain moment in time.
''It is a multi-layered thing. It's not as cut and dried as going to a department store and acquiring something that has no soul or history. Some of these things have survived wars.
''Whatever, it is about the experience. Someone put their energy into something in a way that can't be duplicated these days because it is too expensive to do so.
''It is counter to a disposable world.''
Still, not everything Raymond acquires is for sale. Some pieces, including several by renowned French designer Madeline Vionnet, are worthy of a museum rather than a mannequin.
''In an ideal world, I'd love to have a storage facility where I could keep my `museum pieces'.
''I think anything iconic, heavily photographed in the day or by designers who had notoriety would fall into the category of `borderline museum-worthy'.
''When you get into the greats such as lifetime pieces by Chanel or Dior or, going further back, the House of Worth from Paris ... I don't have a lot of that. A large percentage of items are not of that quality. I really want to invest in things that are more wearable than collectable.
''I gravitate to things that have whimsical elements, such as Moschino, or things that are so great they evoke a visceral response. And a smile is a good response.''
---
Doris in Dunedin
• Doris Raymond is the international guest of iD Dunedin Fashion Week, from April 18-26. She will be part of the judging panel for the iD International Emerging Designer Awards on Thursday, April 23, and will showcase some of her collection of vintage red carpet-worthy gowns at the iD Fashion Shows on Friday, April 24, and Saturday, April 25.
• Meet Doris Raymond and view one-off collection items at the iD Hub, Golden Centre Mall, on Thursday, April 23, at 3pm (free).
• Doris Raymond will also host a question and answer session at the Dunedin Public Art Gallery on Friday, April 24, at 12.30pm (gold coin entry).
• Tickets to the iD fashion shows can be bought from TicketDirect outlets (including the Regent Theatre, Dunedin) or online at www.ticketdirect.co.nz.
---