Wanaka chef Lucas Parkinson wants to share his passion for sourcing organic, ethical, local, sustainable, seasonal ingredients and creating good food. In this column he talks about simplicity.
Summer is over, but it's still nice, nice enough to daydream about roast lamb, zucchini and tomato, thinking about all the things I could do with them.
One of Ode's local growers from Lake Hawea, Lorne from Pirate Produce, arrives with box upon box of different types of heirloom tomatoes all coming ripe at once, later than usual but very welcome in our home.
I pop a yellow baby pear tomato in my mouth. It explodes with a perfect balance of sweetness, acidity and flavour.
"How dare I manipulate this wonderful creation of the grand architect," I think.
I am compelled to toss them in extra virgin olive oil and a pinch of Marlborough sea salt, no more, no less. Simplicity is key when working with the finest organic ingredients.
Some pretty young green and yellow zucchini are nestled on top of my mountain of tomatoes,  just crying out for a clean slice down the middle and a fry in the skillet, golden brown, finished in the oven, again olive oil and salt.
I think my Italian DNA is getting the best of me today - not such a bad thing.
It is a hard task finding lamb from an ethical farm, which raises lamb naturally and takes care of our waterways and rivers.
Luckily there  are  a few South Island champions of organic cattle-raising, farms such as Washcreek and Milmore Downs and organisations like Organic Futures Aotearoa, linking ecologically ethical farmers to the right supply chains.
I am using backstrap today, pricey but worth every penny,   to be covered with a delicious parsley-laden salsa verde, from our enormous parsley patch.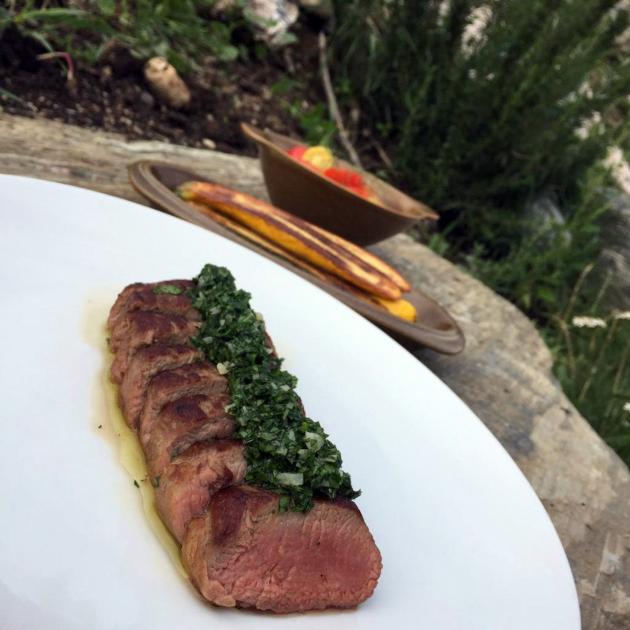 Lamb backstrap with a parsley salsa verde
SERVES 2
3 zucchini
250g mixed cherry tomatoes
small handful of parsley
5 cloves garlic, lightly sauteed
50ml extra virgin olive oil
15ml red wine vinegar (most vinegars or lemon will do)
500g organic lamb backstrap
salt
METHOD
Heat oven to 180degC fan bake.
Pat the lamb dry and set aside. Cut the tomatoes in half, and set aside. Cut the zucchini lengthways and set aside.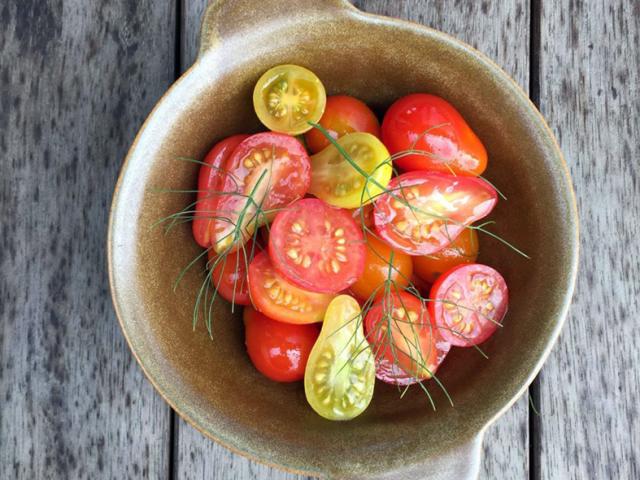 For the simple salsa verde
Chop the parsley finely with a knife until it is small. Then cut the garlic into small chunks and saute lightly in a little oil, add garlic to parsley, add olive oil,  vinegar, pinch of salt and a drop of honey and mix it all up.
Get a pan nice and hot. Fry the zucchini face down in some oil (about 1mm across the pan) until face is golden then flip and fry for another two minutes on its backside. Set aside.
Wipe the pan out and add oil again. Get the pan hot, add oil and fry the lamb until it gets a nice brown caramelisation. Try to be equal on both sides - it should take a minute or so each side -  then rest meat for a few minutes.
After resting the meat, put zucchini and lamb on an oven tray and cook in oven for 3 minutes. The backstrap should be medium-rare or, as I prefer with lamb, almost medium. The  zucchini should be cooked and hot throughout with a little crunch in the centre.
While that is cooking, dress the tomatoes in a little olive oil and salt, toss and put in a bowl (or on the plate).
I like to slice the lamb and spoon the salsa verde over top.