As we (hopefully) banish the cool days of winter and transition into the longer daylight hours of spring, there is definitely a place for full-bodied white wines that can complement a meal, yet also offer generosity of flavour when sharing a glass with friends.
It wasn't all that long ago that many were mindful of their ABCs (Anything But Chardonnay) as the grape was distinctly low on the popularity polls, while mention of the words "oaky" or "buttery" could see you cast as a social pariah.
However, the wheels of fashion have turned, and Chardonnay is well and truly in favour again as people rediscover its food-friendliness: It equally complements vegetarian dishes or white meats, and is heaven-sent with a variety of fish dishes.
Chardonnay is far from a "one size fits all" wine with a raft of offerings from unoaked, fruit-driven variants through to decidedly fat and rich styles. "Oaky" and "buttery" are no longer mentioned in hushed whispers as fans of these styles eagerly hunt them out.
A significant driver of this trend is the range of Californian chardonnays flooding the country.
The United States is the fourth-largest wine producer in the world, with California producing nearly 90% of that total, meaning California itself comfortably sits in fourth spot. In the US domestic market, chardonnay is king, accounting for roughly 20% of all wine sales, with cabernet sauvignon second at around 13%.
When thinking of California's climate, words such as hot, sunny and dry spring to mind, but with nearly 1350km of coastline from its northern border with Oregon to Mexico in the south, there is plenty of diversity. It is typically wetter and cooler in the north and drier and sunnier in the south, moderated by the coastal sea fogs which regularly blanket coastal areas and inland valleys.
Overall though, the climate is typically Mediterranean.
That warm Mediterranean climate leads to powerful wines, showcasing ripe, tropical fruit flavours, supple, low-acid palates, backed by vanillan, toasty oak seasoning - summer sunshine in a glass.
The exchange rate against the greenback means that these are never going to be dirt cheap, but sitting in a range from the high teens into the mid-twenties and up means that many are certainly affordable, while their typical power and richness offers reliable bang for buck.

2017 Matchbook Old Head California Chardonnay
Price: $19-$22
Rating: Very good to excellent
Rich tropical fruit, hints of banana, baking spices, nuts with a stony, mineral hint; light oak seasoning too.
Sweetly fruited entry, fruit syrup, pineapple lumps and tropical fruit, oak a little more evident.
Richly viscous and oily, nutty and caramel elements evolving, with a little sawdust and a chewy, grainy feel.
Generously flavoured, open and ready for business.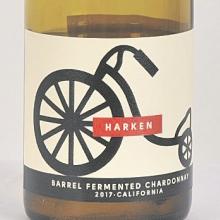 2017 Harken Barrel Fermented California ChardonnayPrice: $20-$23Rating: Very good to excellent
Sweetly fruited nose of tropical fruits, dried pineapple, confectionery, ripe banana and smoky oak.
Lush, rich, almost syrupy with great flavour intensity in that ripe fruit spectrum with oak in support.
A little lactic note grows as the wine becomes less sweet, more savoury, and gains structure.
This exudes the warmth of the summer sun in a glass.
2017 Bogle Vineyards California Chardonnay
Price: $20-$23
Rating: Excellent
Attractive nose, balancing ripe peach, tropical fruit and butterscotch with fresh citrussy notes; developing lovely florality.
That balance is evident on the palate with juicy fresh pineapple, peach and banana, yet with crisp freshness and structure too.
Real zing and brightness, a minerally touch builds, with a long fruit salad-like finish.
Lots of flavour and huge appeal.