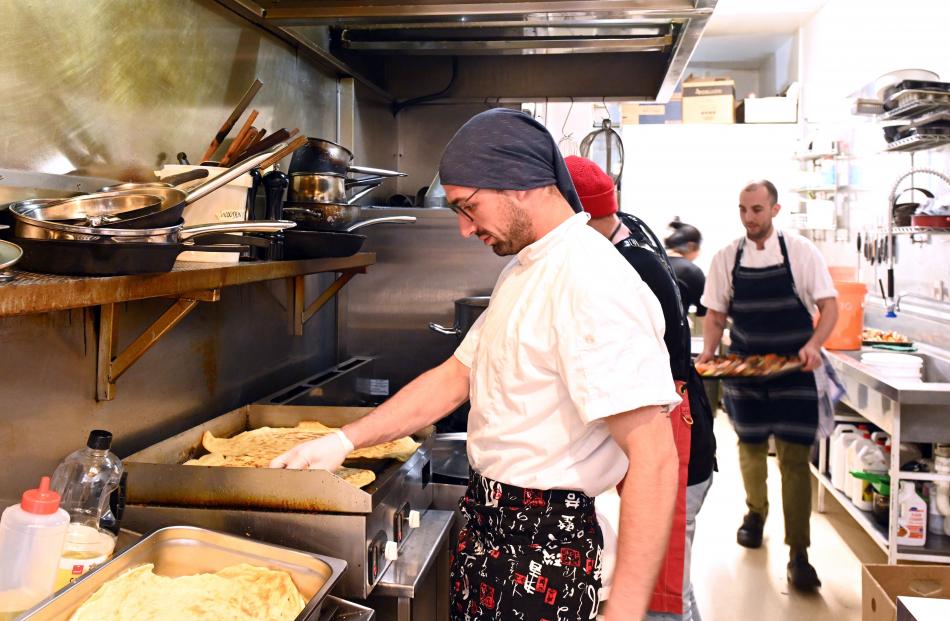 Auckland restaurateur Nick Loosley brought his Everybody Eats concept to Dunedin last week, creating an upcycled dinner in conjunction with University of Otago Food Waste Innovation's Upcycled Food Lab. Rebecca Fox finds out what drives these initiatives.
Never knowing what ingredients you are going to have to cook with each day is usually a cook's worst nightmare, but that does not stop chefs queuing to take part in Nick Loosley's Everybody Eats restaurants.
Everybody Eats is a pay-as-you-feel dining experience available in Auckland and Wellington. It provides three-course, restaurant-quality meals using food that would have been wasted.
It is the brainchild of Loosley, who first saw the enormous amount of food going to waste while doing research for his master's degree in green economics.
"And the quality of food that is wasted."
He volunteered at and visited 12 projects, including a couple working with rescued or surplus food in the United Kingdom and Spain, along the way discovering different ways those initiatives were changing the food system.
"I saw the impact they were having socially rather than just from an environmental and food point of view. I thought I would really like to create some version of this back in New Zealand, as we have similar food waste and food poverty problems as the UK."
So when he came back to New Zealand he started working at KiwiHarvest, founded in Dunedin in 2012 and in Auckland in 2015 by Deborah Manning to rescue good food from food businesses - including supermarkets, wholesalers, producers, cafes, restaurants, and hotels - that they are not able to sell, and distribute it to those with low food security or in poverty.
"I didn't want to reinvent the wheel and I wanted to work with people doing similar stuff."
However, he soon realised his concept needed to stand on its own.
"It was never going to come to fruition within another organisation so I went and did it myself."
Everybody Eats works with food rescue charities like KiwiHarvest and collects some of its own food as well, and with the help of a few staff and volunteers turns it into restaurant quality meals.
It has a five-night-a-week restaurant in Onehunga, a pop-up in central Auckland once a week and a three-night-a-week restaurant in Wellington. They also hope to reopen a restaurant in Tauranga soon.
"We invite the community to come along and enjoy and pay what they like. We feed a lot of vulnerable people, people experiencing homelessness, single parents, the working poor, mental health-substance abuse people and they come and eat; some pay, some don't and it's generally a really nice communal atmosphere where people from all walks of life get to know each other and share stories around the table."
In Auckland they serve about 280 people a night and in Wellington about 180. In Onehunga, which is more suburban, they serve about 90-100 people.
"The plates look like what you'd be served in a restaurant."
Securing food waste has become increasingly more difficult since Covid-19 hit, as there are more organisations trying to access the surplus food supplies available, he says.
"We've actually struggled a little bit lately with the amount of food we've received so we could always do with more."
As they do not know what food will be available to them on a daily basis, they have to be "extremely" creative with their menus.
"Our menu changes every single day in every location."
The organisation is a charity so relies on grants, fundraising and donations to keep going.
Loosley, who has two restaurants in the Bay of Islands, says his front of house experience has been invaluable in this endeavour, "although I've become increasingly involved in chefing".
The kitchens are manned mostly by volunteers who are the "backbone" of the organisation, he says.
He tries to make it fun and fulfilling for the volunteers, and is oversubscribed at the central Auckland and Wellington restaurants.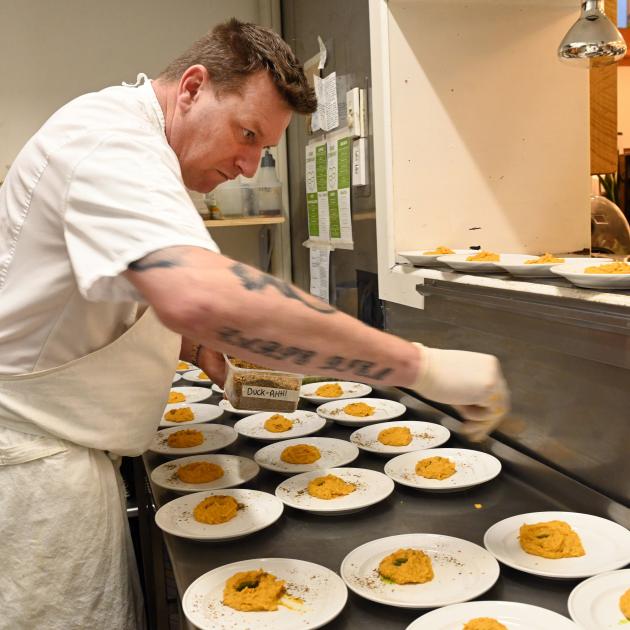 No 7 Balmac chef Greg Piner was one of the chefs that took part in the Dunedin event - along with his colleague Logan Wilson, and Jack Gould and Nicolo Mollica from the Esplanade - as he saw it as a way to give back to the community and an extension of the restaurant's own waste and recycling management.
"You would be amazed what people are throwing out, and personally it was a real eye-opener for me."
The challenges of the event were to ensure the food not only looked good, but tasted great, like the "amazing carrot hummus and baked apple with chickpea meringue".
"It was great to be involved and we would love to do it again."
Loosley says New Zealand has vastly improved in the past five or six years thanks to changes in food legislation that allow use of food that is safe for human consumption to be donated or re-purposed when it cannot be sold.
While the Dunedin event was vegan, Everybody Eats does use meat, but provides a vegetarian option.
Access to meat is through a relationship with Auckland store Farro and food rescue operations which have meat frozen once it cannot be sold, allowing it to then be passed on to charities.
Chicken is one of the more versatile proteins to be able to use, as it pairs with most vegetables they can be provided with, he says.
"Most foods are manageable. We get a lot of staples - carrots, potatoes, onions, things that lend themselves well to large-scale cooking and quite comfortable food - we need to make sure our menus are not polarising. We aim for rich, hearty food."
Everybody Eats' success has led to interest around the country, with many towns and cities hoping it will expand to other centres.
"Every city in New Zealand has got in touch asking when are we coming to them."
Loosley does not feel the need to expand for the sake of it. He is more interested in growing and making sure the organisation stays true to its core values, but he has plans for another restaurant in Auckland.
Coming to Dunedin for the Upcycled Food event enabled Loosley to build some more contacts here.
"There was certainly some interest when we were down there."
Loosley believes running a weekly "pop-up" would be the best idea for the city, then potentially expanding it to a permanent restaurant.
He was invited down to cater the meal for the International Science Festival by University of Otago Associate Prof Miranda Mirosa, a fellow member of food waste organisation Champions 12.3, co-chaired by Manning and Mirosa.
Prof Mirosa is the University of Otago food waste innovation research theme director, and leads a team which measures food waste, develops reduction strategies, applies innovative technology, and works to modify producer and consumer behaviour.
They saw an opportunity in the science festival to raise the awareness of food waste issues with a fun event.
Everybody Eats was a "win-win" concept which not only removed food from the waste stream, but also fed people who might not have access to good food in a dignified way, so it made sense to get them involved in the Dunedin event, she says.
University students involved with upcycling food waste were also trialling products such as crackers made from carrot waste and fruit leather from persimmons that would normally become pig food.
She was gratified the two sittings sold out quickly.
"Everybody feels strongly about food waste. It is something everybody agrees with."
As some 8% of greenhouse gas emissions come from food waste, it is one of the simplest things people can do to tackle climate change, she says.
"It's everybody's issue and everybody has a role to play in the solution."