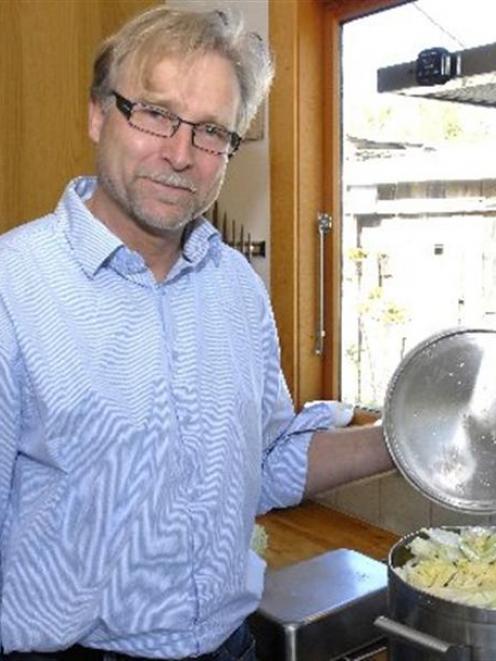 Flavours of home is a series of recipes from around the world cooked by people at home in Otago. This week, Bjorn Oscar Sollie, from Norway, shows us how to make farikal.
Bjorn Sollie came to New Zealand in 1989 and for many years has processed meat into Norwegian specialties such as salamis and speciality sausages, and cured and smoked salmon at his Konig Gourmet Foods factory in Green Island.
Farikal, mutton with cabbage, is Norway's national dish, Sollie says.
It may sound boring but it is delicious, and it's simple to make - you just assemble it and leave it to cook, and it can feed many people.
Traditionally made with mutton, it is often made with lamb these days, but hogget has better flavour, he says.
---
Farikal
To feed 6-8 people
3kg hogget forequarter in pieces
3.6kg cabbage
2-3 tsp black peppercorns
salt
a little butter (optional)
In a deep, heavy-based pot or Dutch oven, put a little butter if you like, then a layer of meat - use about half.
Cut the cabbage in quarters. Remove the thick stem and cut the quarters coarsely into 6 or 8 pieces.
Put half the cabbage on the meat. Season with salt and lots of peppercorns. Repeat with the rest of the meat and the rest of the cabbage.
Pour hot water about two-thirds of the way up the pot. Don't overfill as the cabbage will cook down. Put on the lid and leave to cook on a slow heat for about 1 hours.
Don't stir, but shake the pot a bit from time to time. Serve with potatoes and carrots.
---
Tips:
Some people like to put the peppercorns in a muslin bag which is removed before serving, but where he comes from in the southeast, they like the peppercorns throughout the dish and line them up on the side of their plate as they eat, he said.
The proportion of meat to cabbage is 1: 1.2
Thanks to Afife Harris