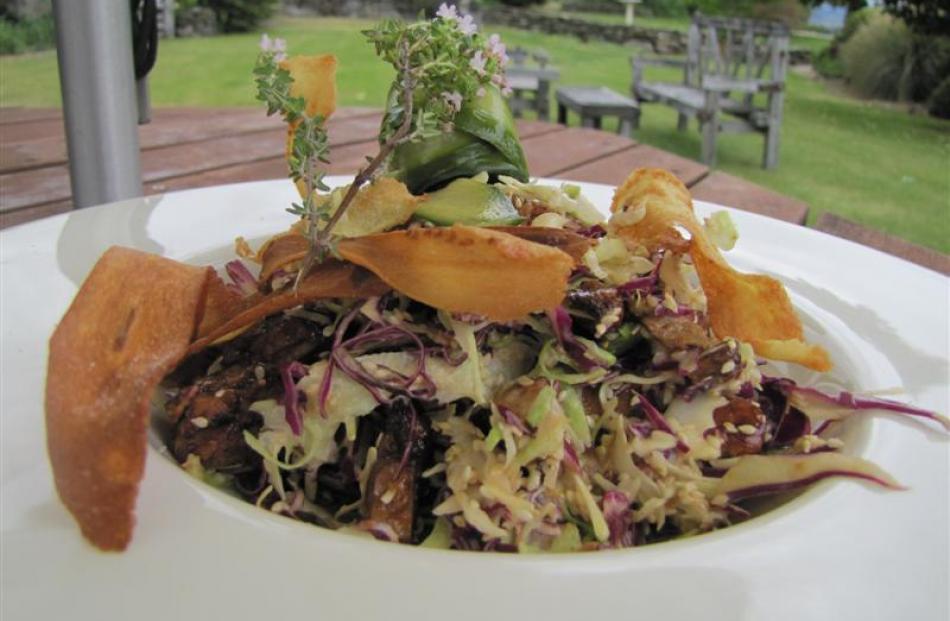 Rebecca Farrell
The Packing Shed Gallery and Cafe and The Courthouse Cafe
Alexandra.
Why and how did you become a chef? Food makes people happy and I love to do that through cooking. I used to make dinner parties for my parents when I was little, so having a restaurant was a natural progression after travelling and studying cookery in New Zealand and Europe.
Biggest professional challenge? Trying to keep one step ahead of the game. Everyone always thinks I'm chilled and relaxed, but my brain goes into overdrive from the moment I wake till when I go to sleep. Creating new dishes and looks for both cafes is my passion, and when just one person notices and appreciates something, it makes it all worthwhile.
Favourite ingredient? Olive oil and balsamic vinegar - they help lift a lot of dishes.
Best cooking tip? Always have a hot pan.
What type of food do you like to eat? Italian, because it's simple and fresh.
Who cooks at home? Baz, my husband - he's a natural in the kitchen. As he says, ''Happy wife, happy life.''
Favourite meal? One that someone else has prepared for me.
Favourite kitchen gadget? I don't really use gadgets, just blood, sweat and tears.
How have people's tastes changed? They are more willing to try new things.
Battle of TV cooks, Gordon Ramsay or Jamie Oliver? Gordon Ramsay.
---
Pork Belly Salad
RECIPE
Side of pork belly - salt belly, cover and refrigerate overnight, and then wash and dry completely.
Place in a deep dish and cover with duck fat or olive oil; cover with baking paper and tinfoil.
Cook in oven at 105degC for four and a-half hours.
Let cool and drain fat off.
Crunchy salad greens - red shredded cabbage, white shredded cabbage, toasted sesame seeds and mung bean sprouts.
Thai lime dressing:
Red chillies (finely chopped)
Fish sauce
Lime juice
Brown sugar
White wine vinegar
Olive oil
(mix altogether)
Shred pork belly and roast off with a sweet Asian sauce (such as hoisin), assemble salad, add dressing and a little aioli to bind.
---