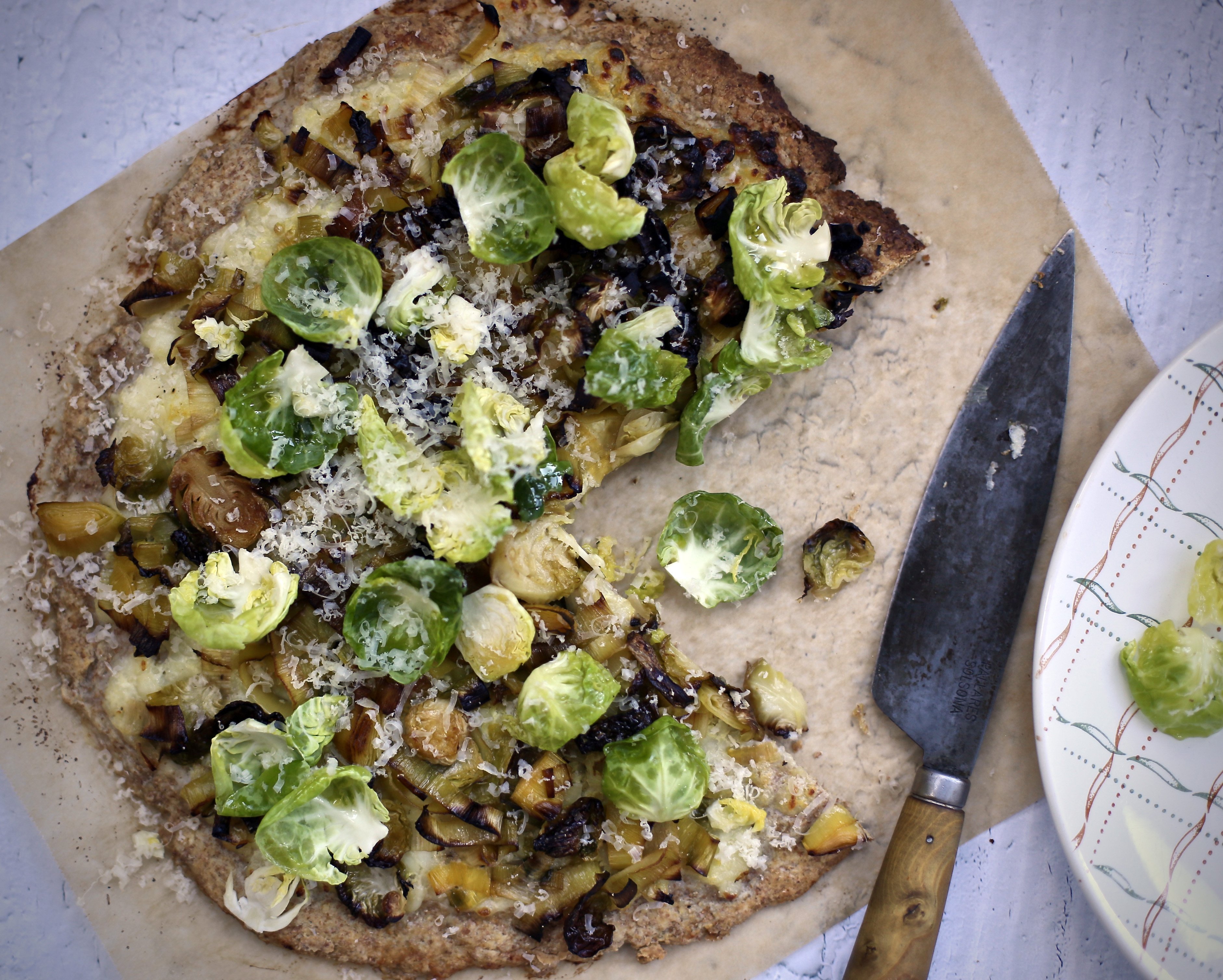 I love to create dishes out of what I have on hand.
Leeks are sweet and Brussels sprouts are crunchy and peppery. Both ingredients work together well.
I used cottage cheese as my go-to cheesy component but you could spread on sour cream or cream cheese if that is what you have in your fridge.
The base to this tart is fabulous and one that you could turn into a base for a quiche; it goes well with autumn's flavours and it only takes minutes to make.
Serves 12
Ingredients
Wholemeal pastry
200g wholemeal flour
2 tsp baking powder
½ tsp salt
100g butter
1-2 Tbsp cold water
Filling
1 Tbsp olive oil, plus 1 tsp
1 Tbsp butter
200g (1 leek), dark ends removed, sliced into thin rounds
200g Brussels sprouts
250g cottage cheese, excess moisture discarded
1 tsp Dijon or whole grain mustard
Sea salt and cracked black pepper
2 Tbsp freshly grated parmesan cheese
Juice ½ lemon
Method
Begin by making the pastry. In a medium-sized bowl add the flour, baking powder and salt. Mix to combine.
Add the cold butter and rub through with your fingertips until a coarse breadcrumb texture occurs.
Add 1 tablespoon cold water and mix through. If the pastry looks dry add another tablespoon of water and lightly knead the dough together. Wrap and chill in the fridge for 15 minutes.
Prepare the Brussels sprouts, by removing any discoloured leaves, set aside 3 sprouts for garnishing. Slice the remaining sprouts so they are roughly the same size as the leeks.
Over moderate heat add the butter and oil to a medium sized fry pan.
Add the leeks and sprouts and cook without colouring for 10 minutes, season lightly with salt and pepper. Set aside
Preheat the oven to 200degC
Roll the pastry into a large round 28cm diameter (you can make this smaller and use the remaining pastry another time).
Place the pastry on to a lightly oiled baking tray.
Mix the cottage cheese and mustard together and spread over the dough.
Scatter over the cooked leeks and sprouts, season lightly.
Bake for 25-30 minutes or until the tart is golden and the base is cooked.
Separate the leaves of the remaining sprouts.
Just before serving, toss the leaves through 1 teaspoon of olive oil, a squeeze of lemon and a sprinkle of sea salt.
Scatter the dressed leaves over the tart, grate over the parmesan, cut into desired slices and enjoy.