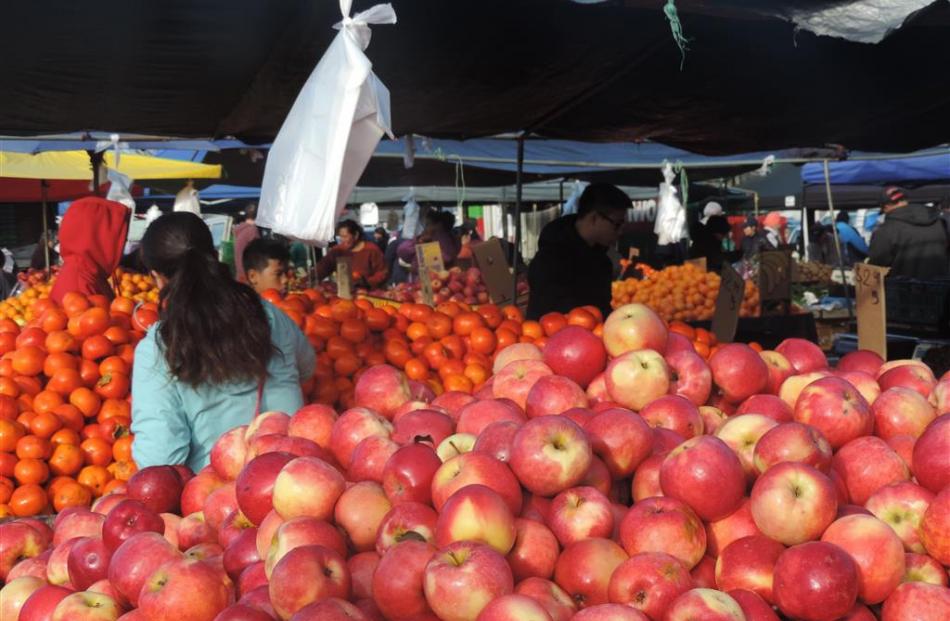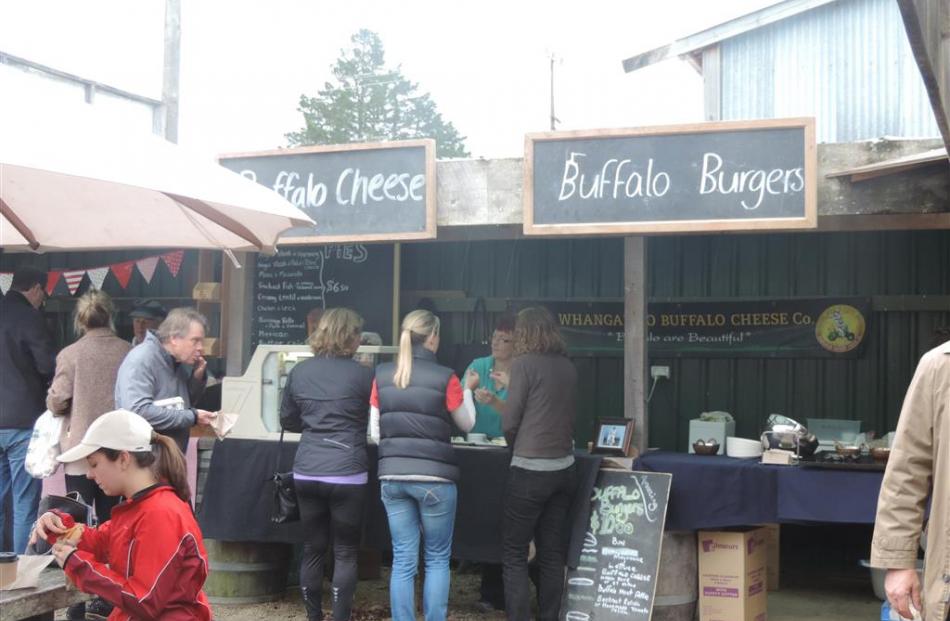 After retiring from the ODT early last year, Charmian Smith took a gap year to explore the North Island, discovering the history and scenery, and the local produce.
We came round a corner near Clevedon south of Auckland and screeched to a halt. We were excited by a sign announcing asparagus for sale at a roadside stall.
This was only the middle of September, about six weeks before we'd expect to find local asparagus down here in Otago.
Asparagus is such an ephemeral crop that the first of the season is always a treat, especially when it's as fresh and sweet as this was.
We relished it simply steamed and drizzled with good olive oil.
It's hard to explain the excitement of the first of any seasonal specialty, whether it's the first broad beans or asparagus in spring or the first strawberries or cherries or raspberries or apricots in early summer.
Even though imported food is available in supermarkets year round, it's never as flavoursome or exciting as the first, spanking fresh local produce of the season.
Enjoying regional produce by buying it at roadside stalls and farmers' markets is one way of exploring and getting to know the country, just as much as visiting museums or historic or scenic sites, something we were doing in the North Island most of last year.
And with our own kitchen in our motorhome we could enjoy both cooking it ourselves and eating in local restaurants and cafes.
Some regions have a cornucopia of produce, such as Hawkes Bay, Gisborne, the Bay of Plenty and the area south of Auckland.
Others appear to be surprisingly lacking in small growers and artisan producers, like Taranaki, despite its vast dairy industry and fertile volcanic soils.
We found farmers' markets and other food markets in most areas.
Farmers' markets allow only local produce whereas other markets also allow traders to sell produce from outside the area.
Sometimes there are several markets with many of the same stallholders in neighbouring towns on different days, like in Cambridge on Saturdays and Hamilton on Sundays.
Katikati has a small, friendly market late on Friday afternoons, many of the stallholders appearing again in the larger Tauranga market in the primary school grounds on Saturday mornings.
There, hours are strictly observed and shoppers queue outside until the gate opens at 7.45am.
Each market has its own personality.
Some are small and jewel-like, places you go for entertainment, brunch or coffee, to sit and enjoy the music and taste and buy a few artisan products, like salami and other cured meats, buffalo cheese or expensive preserves, rather than places to do the bulk of your weekly fruit and vegetable shopping.
Such markets tend to be in wealthy areas and housed in purpose-built premises, like those at Clevedon, Matakana, the Old Packhouse market at Kerikeri and the Black Barn market at Havelock North.
At the other end of the scale is the giant Otara market in a car park in South Auckland on Saturday mornings where there's a huge range of local and imported produce and crowds of shoppers.
This is the place to get fresh ingredients for Pacific, Indian or Asian meals.
Some vendors are producers such as the Chinese family which grew their own shiitake and oyster mushrooms and a range of unusual Asian greens and explained what to do with them.
However, many are traders selling imported produce like dragon fruit, bananas, taro and coconuts.
Clothes, accessories and electronic goods are also sold in a section of this market.
Some farmers' markets are in grassy, leafy spaces, like the Hastings market in the showgrounds and the Cambridge market on Victoria Square; others, like the busy Paraparaumu, Napier and Gisborne markets, are in car parks or closed-off streets.
Some markets are leisurely, not starting until 9am, but you have to be early for the Whangarei growers' market.
It starts at 6am and is sold out by about 10.
It's a big, busy market, full of fruit and vegetables, the sort where the locals do their weekly shopping.
At the end of June there were pumpkins, parsnips, swedes, as well as the last summer vegetables: decent tomatoes, cucumbers, courgettes and eggplant.
There were apples, but also kiwifruit, tamarillos, avocados, limes, lemons, mandarins, oranges and grapefruit.
In the north the seasons aren't as distinct as down here, with daffodils, camellias and fragrant gorse flowers appearing at the same time as autumnal leaves change colour and gold and orange citrus fruits hang decoratively on trees.
One of the exciting things for us as we moved around the North Island was discovering things that grow in warmer climates than ours.
In autumn there were feijoas everywhere.
At one place in Gisborne we were told to help ourselves.
Citrus of many types was for sale at roadside stalls in Gisborne, the Bay of Plenty and the Far North, mandarins early in the season, then oranges, grapefruit and lemons.
Limes were plentiful and cheap in many places, a treat for us as they are expensive down here in Otago.
We loved making fresh lime sodas: squeeze the juice of a lime into a glass, add a teaspoon of sugar or sugar syrup, top with chilled soda water and decorate with a twist of lime zest.
Tamarillos and persimmons were other inexpensive treats when bought from markets or roadside stalls.
In the Bay of Plenty and Gisborne avocados were plentiful and cheap.
Knowledgeable sellers would tell you how long it would be before they were ready to eat and how to check when they were ripe, and we couldn't help but pig out on them.
I was surprised by the kumara we found in northern markets.
It was smaller and thinner than what we are used to buying from supermarkets.
Then, when we got to Dargaville in Northland, we learnt that most of the country's kumara is grown there and large bags of the familiar fat red, beige and orange ones could be bought cheaply from farm gates.
However, I did have to laugh at the swedes we saw in a roadside stall near Kaitaia in the Far North in July.
Unlike the great crunchy "bog melons'' that we love from Southland, these were the size of large radishes and wouldn't have seen a frost to sweeten them, but a local woman who was doing her shopping there exclaimed with delight and bought them.
Interesting how we desire things that are exotic!
In Hawkes Bay in late November we came across the first cherries and apricots.
They looked lovely but had little flavour, unlike the delicious Central Otago ones that were in the Dunedin market when we returned home just before Christmas.
One of the delights of our travels was finding artisan cheesemakers and tasting their cheeses before choosing what to buy.
Each makes their own styles of cheese.
Mount Eliza of Katikati sells cloth-ripened hard cheeses like red Leicester and Cheshire at several markets around the Bay of Plenty.
Further north there are creamy, tangy buffalo milk cheeses from Clevedon Valley at the Clevedon market and from Whangaripo at the Matakana market.
At Hawkes Bay markets in Hastings and Napier, Origin Earth has the most wonderfully pungent washed rind goat's cheese called Pink and White Terraces, and Hohepa makes biodynamic cheeses, including gouda and a lovely white mozzarella ball.
In Putaruru in south Waikato, Over the Moon Dairy has a cheese room kept at about 13degC and staff like to explain the finer points as they lead customers through a tasting of their range of mostly soft cheeses.
Across the other side of the Waikato, at Mercer just off the Auckland expressway, is the Mercer Cheese shop with firm Dutch-style cheeses made by Albert Alferink. Surprisingly, Taranaki, with its huge dairy industry, doesn't have an artisan cheesemaker although you can buy Kapiti, Galaxy and other brands cheaply from the giant Fonterra factory's cheese bar at Eltham.
As with fruit and vegetables, different species of fish are caught in northern waters. You won't find blue cod but there is kahawai and snapper, and you can buy oysters at farms in the Bay of Islands near Russell, the Hauraki Gulf near Matakana, and eastern Bay of Plenty at Ohope.
One of the highlights was eating fish and hand-cut chips for lunch at the shop at the end of the Raglan wharf, watching a fishing boat come in and unload, then buying fillets of the freshly landed fish for dinner.
Travelling always makes you appreciate coming home and it was lovely to return to the Otago Farmers Market at Dunedin Railway Station, with its busy crowds and numerous stalls, including several new ones.
It has a good balance of basics such as vegetables, fruit, fish, meat and eggs that you need to buy every week, as well as specialist artisan products and food to eat on site.
It is certainly one of the best markets for variety and bustle I've come across, even if the weather isn't always kind.