Karen and Murray Turner at River-T Wines in the Waitaki have sold "lock, stock and barrel" (as they put it) to Paul and Alisa Nicholls. The transition took place in late January. The couple have relocated from Bannockburn to take over the winery.
With its busy cafe and cellar door, which acts as a sales point for many of the local wineries, River-T has become a very visible part of the Waitaki wine scene.
Karen will stay on initially to help during the handover.
A new chapter for Carrick
The news surrounding Carrick Wines in Bannockburn in the latter part of 2020 was rather gloomy. Having been on the market for some time, the business was put into receivership, followed by the grisly (unsolved) demise of its owner, Elizabeth Zhong.
However, a bright, new chapter began at the end of January with Kiwi couple Tony and Alison Cleland purchasing Carrick.
Having previously built a significant dairy business in Southland, alongside specialist farm management investment company FarmRight, the couple (already Carrick fans) were keen on a new challenge and plan to move onsite to work alongside the existing team to drive the business.
They are eager to promote Carrick's onsite accommodation offerings, utilise opportunities around the long-anticipated cycle trail and host events at the winery.
'Wine Spectator' top 100 wines
Each year, US wine magazine Wine Spectator releases a list of its top-100 wines, which it regards as some of the most exciting available. Scores are based on quality (score), value (price) and availability.
Four New Zealand wines have made the 2020 list: 2018 Felton Road Bannockburn pinot noir (No 14), 2020 Allan Scott Marlborough sav blanc (23), 2019 Invivo SJPX Marlborough sav blanc (66) and 2019 Spy Valley Marlborough sav blanc (73).
It's great to see New Zealand represented!
2020 Rabbit Ranch
Bright Eyes
Central Otago
white pinot noir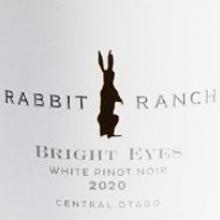 Price: $23
Rating: Very good to 
excellent
A sense of volume to the 
nose, stonefruit, musk, 
spice/anise notes, a little 
funkiness with aeration. 
The stonefruit theme 
continues on the palate 
adding orange zest, this 
is nicely balanced with a 
refreshing lick of acidity 
on the close. Not super 
complex but perfect for 
a sunny afternoon with 
friends.
2020 Hawkshead
Central Otago
pinot blanc 
Price: $29
Rating: Very good to 
excellent
Powerfully fragrant and 
aromatic nose, rose petals 
leaping out of the glass, 
dominating a backdrop of 
peach and nectarine. Rich 
palate entry, sweetly 
fruited with peach, 
nectarine, honey and 
musk, cashew nut as well, 
fat and finishing just off-
dry, the acidity coming 
through on the finish to 
add zestiness. Sweeter 
with aeration and 
distinctively different.
2020 Aurum
Port Molyneux
Central Otago
fortified dessert wine 
Price: $38 (500ml bottle)
Rating: Excellent
Bold nose of candied pear, 
almond paste, spices and 
dried fruits. Sweetly 
fruited with peach and 
pear, spices and 
nuts, the sweet fruit 
carrying through to 
the finish. While 
dense and rich, 
there's freshness too 
with a core of acidity. 
 This would be lovely 
paired with a 
cheeseboard.