Time often creeps up on me and with the calendar having ticked into March, it's a rude reminder that some of this week's wines, tasted at the end of last year, are long overdue their moment in the sun.
A 50:50 Hawke's Bay-Central Otago combo today with a focus on chardonnay, and an uncommon outlier in a rare Kiwi Marsanne-Viognier blend, though given the weight and richness its inclusion is appropriate.
The five chardonnays show the wonderful mix of flavours that this grape can offer.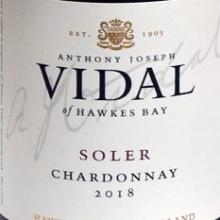 2018 Vidal Soler Hawke's Bay Chardonnay
Price: $34.99
Rating: Very good
Bonfire smoke & struck match lead, peach and nuttiness growing. A sweet and sour-like tanginess here, coolness swelling through the wine lending this racy freshness. Builds in depth as notes of nuts and toffee/caramel reveal themselves yet the citrusy undercurrent and acid drive keep this bright.
That zesty acidity makes this a great food match.
2017 Trinity Hill Gimblett Gravels Marsanne Viognier
Price: $39.99
Rating: Excellent
Freshness, reminiscent of water flowing over rocks, lime, herbs, green banana, perfumed peach and spice with time. The palate develops silken texture as it opens up yet there's structure here too, with notes of peach, greengage plum, cream and nuts building.
Fatness here, yet the charge of acidity keeps this bright, with a delightful, long, cooling freshness on the close.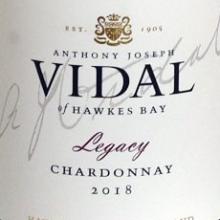 2018 Vidal Legacy Hawke's Bay Chardonnay
Price: $59.99
Rating: Outstanding 
Powerful struck-match notes, the white peach, citrus and oak perfume bubbling up. Depth and richness on entry, warm baguette and nuts, peach and oak, with a charge of citrusy acidity. Real breadth of flavour fills the mouth with chewy structure too. Class, intent and density of flavour with so much palate interest. Wonderful long finish.
Leaves me salivating and wanting more.
2018 Domain Road Defiance Bannockburn Chardonnay
Price: $28
Rating: Very good to excellent
Perfumed nose, nutty elements, hints of bonfire embers. Medium bodied, there's a cool undercurrent to this, a lick of grilled nuts and sour cream marry with the nectarine and white fruits, while fresh acidity and a little grainy chewiness give it backbone.
This one creeps up on me; tasted twice, a month or two apart, this is building on the early promise.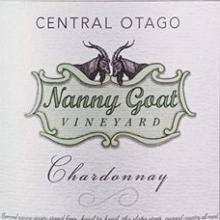 2018 Nanny Goat Central Otago Chardonnay
Price: $36
Rating: Very good to excellent
A short blast of Juicy Fruit gum quickly shifts to peach, nuts and wet stones, bran biscuit coming with aeration. Nectarine and stonefruits, a hint of yellow plum and a grassy/green herb note fill the palate. Bright and zesty acidity, the cool and racy finish ends with nutty hints.
Opens up very nicely with aeration, so splash this well into your glass.
2018 Lamont Central Otago Chardonnay
Price: $32
Rating: Excellent
Attractively fragrant nose, perfumed oak meets ripe peach and grilled nuts; an almost brooding quality withtime. Creamily textured entry, the oak nuances and nutty elements matched by the ripe fruit with nicely judged acidity keeping this in line. A bold and quite powerful style with a long finish.
Lots of appeal here for chardonnay lovers.