I've had a soft spot for Hawke's Bay syrah since stumbling upon the Stonecroft cellar door some 30 years ago and discovering the 1989 syrah: the inception wine of our modern syrah category in New Zealand.
Thirty vintages later, a combination of vine age, new clonal material and a wealth of experience garnered by the wine-makers is seeing some thrilling offerings.
The vintage of 2018 was warm, yet not totally trouble-free, but these labels have risen to the occasion with wines of depth, interest and potential.
2018 Smith & Sheth Cru Heretaunga syrah
Price: $40
Rating: Excellent to outstanding
Fragrant nose, dusty, riverstones, white pepper, earth/forest floor, red fruits.
A cool feel,  fresh  and vibrant, ripe yet not over-sweet, with deceptive tannins that build up.
Garners a silkiness as it opens; I could plump for northern Rhone here.
Complex, interesting, lovely balance,  drinking superbly, yet potential too. Elegant.
2018 Smith & Sheth Cru Omahu syrah 
Price: $60
Rating: Excellent to 
outstanding
Subtle yet refined nose with 
earthy touches and a herbal 
influence, gathering florality 
as it grows perceptibly. Fruit 
richness (blackberry, 
boysenberry, raspberry) 
along with spices, 
earthiness and powerful 
tannins, crisp, fresh, the 
fruit hanging in the 
mouth.
For now,  this is 
wound up and tightly 
structured and all about 
the potential. 
2018 Stonecroft
Gimblett Gravels Reserve
syrah 
Price: $60
Rating: Excellent
Boldly fruited nose, a wisp of 
brown paper evolves to fruit, 
savoury notes and a musk/
dark flowers nuance. Density 
to the dark fruits, adding 
cedar, savoury notes, 
spices and black pepper. 
Chewiness  as the tannins 
build. With aeration, a 
tight core of mineral/iron 
develops as the wine 
becomes tightly coiled. 
Excellent carry and great 
promise.
2018 Trinity Hill
Homage
Price: $150
Rating: outstanding
Boldly expressive perfume, 
shifting to ink, blood, iron, 
tar and savoury elements. 
Richness yet refinement, 
lovely balance, purity of fruit 
and layers of flavour. 
Powerful yet rounded, ripe 
tannins with a long zesty 
carry that is almost 
cleansing. 
Approachable, but gas 
in the tank for the future. 
 Wonderful complexity 
and poise. Compelling.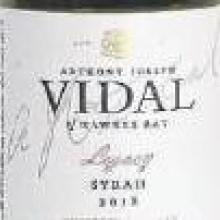 2018 Vidal Legacy Gimblett Gravels syrah
Price: $79.99
Rating: Excellent
Wild & funky nose, struck 
match, earth, growing 
perfume, fruit in support. 
Juicy and crunchy,  bright 
acidity lending a zesty 
tang to the close. This 
grows with aeration,  ripe 
fruits mixing with toasty 
and savoury nuances 
before growing tannins 
add a lightly chewy note 
to the close.  Its 
approachability makes 
this easy to overlook yet 
there's deceptive 
interest here.
2018 Elephant Hill Stone syrah
Price: $120
Rating: Excellent to outstanding
Vibrantly fragrant nose, 
herbs, jam/berry compote, 
raspberry and spices 
evolving.  Powerfully fruited 
palate adds gravel, tar, 
charcuterie/savoury 
nuances and a little hint of 
salinity. This is a bit of a 
bruiser for now, lots of 
complexity but it  is a big, 
dense wine crying out for 
some age. Time will be a 
friend here.