Readers will well understand that this column has a deadline some days before publication.
This gives the editorial team time to check for errors or grammatical faux pas, assemble photos, and then begin the job of formatting the column into the Fresh section.
Given this time lag, I cautiously (for fear of jinxing myself) mention that it really has felt like rose weather recently.
The influx of students to Dunedin brings a sense of vitality to the city.
The evenings have been warmer, and there seems to be a relaxed buzz out there.
Just the time for some refreshing rose!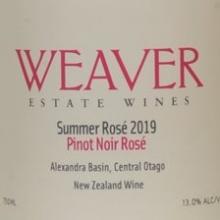 2019 Weaver Estate Pinot Noir Summer Rose
Price: $20.95
Rating: Very good
Hubba Bubba gum, subtle hints of strawberry and white flowers, something darker too.  There are strawberries and clotted cream on the palate, fruit essence and confectionery and gum and spice too as this builds rather nicely in weight.
The touch of sweetness becomes more evident with time, yet the acidity on the close adds freshness.
2019 Weaver Estate Autumn Gris Pinot Gris Rose
Price: $20.95
Rating: Very good to excellent
Fragrant nose, floral aromas, orange blossom, peach and rock melon. The palate is drier than the nose might intimate, adding just ripe apricot, apricot kernel and some fruit pith chewiness. The fruit sweetness builds over time, however a little sour apple on the finish keeps this zesty.
Fascinatingly different, crisp and bright.
2019 Lamont Central Otago Pinot Noir Rose
Price: $27
Rating: Excellent
Perfumed florals, glace cherries savoury notes, fruit dusted with icing sugar; the nose leaps out of the glass. Raspberry and cherry lead the palate, supported by savoury elements, chocolate and wild herbs and there is good structure here too.
Richly flavoured with a delightful tangy close, this has the power to pair well with richer foods like pork.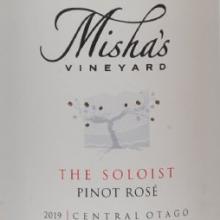 2019 Misha's Vineyard The Soloist Pinot Rose
Price: $27
Rating: Very good to excellent
Bright and complex nose offering strawberries and cream, musk perfume, melon smoke and a whisper of herb. Relatively dry and rather more subtle on the palate, built on the creamy, silky front palate with fruit cordial and spices flowing to a hint of citrus peel on the finish.
Very easy and appealing drinking.
2019 Maori Point Single Vineyard Central Otago Pinot Noir Rose
Price: $24.99
Rating: Very good
A sweet rush on the nose of boiled sweets and bubble gum, shifting to potpourri and dried roses. Sweetly fruited entry, dried strawberry, gum and hard candy, flirting with spicy hints. Definitely a little sweetness, but finishes off-dry with a bittersweet fruit kernel note giving contrast on the close.
Open up nicely.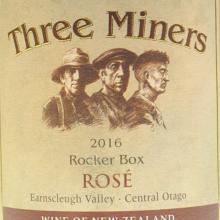 2019 Three Miners Rocker Box Earnscleugh Pinot Noir Rose
Price: $26
Rating: Excellent to outstanding
Attractive strawberries and cream accented nose, savoury and spice notes, too. A delightful raciness and juiciness, fruit sweetness from the ripe fruit, yet closing dry. Lovely texture in the mouth, spicy and long with great carry of flavour. Stylish yet with broad appeal.
Leaves one salivating and wanting more.