Something old, something new, something from Bannockburn and Bendigo too.
This week's collection mixes the old and the new (sometimes both at the same time).
Burn Cottage, Coal Pit and Wooing Tree are labels that I have enjoyed for many years, while Mt Difficulty and Domaine Thomson's first-time releases are a new single vineyard bottling and a sub plot of their home vineyard respectively.
Finally; a newcomer for me in Stewart Town from Bannockburn, who debuted with the 2014 vintage.
On the basis of this showing, a label worth watching.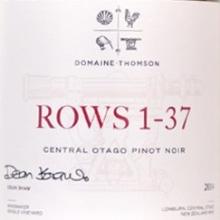 2014 Domaine Thomson Rows 1-37 Pinot Noir
Price: $68-72
Rating: Excellent to Outstanding
Beguiling nose, savoury, earthy with roasted beetroot, developing oak and wilder nuances. Deceptive power within the subtlety, the sweet fruit countered by an earthy, brambly core with an almost bittersweet quality to the long, fruit-driven finish. Powerful tannins and crisp acidity make a statement for future potential.
Complexity and considerable potential here.
2013 Wooing Tree Sandstorm Reserve Single Vineyard Pinot Noir
Price: $85
Rating: Excellent
Rich, raspberry-tinged fruit leads the way, adding cherry and spice hints. Relatively tight at first, the intensity masked by the structure. with a vein of acidity adding freshness.
This blossoms in the glass, building in intensity and depth, adding brambly touches to the sweetly fragrant raspberry fruit, flowing to a long and salivating close.
2016 Stewart Town The Bounder Pinot Noir
Price: $55
Rating: Outstanding
The nose sings with red fruits, plum, smoke, tea leaf and thyme, a little funk with aeration. Sumptuous and rich palate moving into cherry fruit, the wild herb elements growing.
Some edgy tension and lovely clarity here that works beautifully, giving a salivating, lip-smacking quality, the wine building in power and structure with tactile chewiness on the long finish.
016 Coal Pit Tiwha Pinot Noir
Price: $49
Rating: Excellent to Outstanding
Juicily bright and alluringly cherry-driven, fragrant nose. Initially bold and sweetly fruit forward, this gains layers of flavour and detail in the glass. The fruit sweetness subsides building marvellous depth and structure, darker fruit notes, savoury and wild herb nuances along a supple palate with flavour filling the mouth.
A massive improver in the glass.
2016 Burn Cottage Burn Cottage Vineyard Pinot Noir
Price: $65
Rating: Outstanding
Perfumed nose, delightful florality (violets?), hay, and umami/savoury nuances. A lightness of being, yet deceptively powerful intensity playing on a core of red fruits, earth, black tea and savoury notes framed by fine grained tannins.
This hits that marvellous balance point between finesse and elegance vs restrained intensity, and clear potential vs dangerous drinkability.
2016 Mt Difficulty Single Vineyard Ghost Town Bendigo Pinot Noir
Price: $75
Rating: Excellent to Outstanding
An intriguing soy/balsamic note starts the ball rolling, adding perfumed notes and a melange of red fruits. This plays in the sweet and sour spectrum: licorice and black tea-accented, a sweet-cherry-and-plum-driven palate matched by a zingy tang that adds brightness.
A feeling of cool mountain stream over stones in the mouth, leading to a delightfully chewy close.