As time goes along and vineyards, wine-makers and the industry mature, there is growing understanding and confidence as to what each vineyard will express.
This is leading some wineries down the path of single-site/vineyard pinot noirs, others are releasing reserve labels, while a smaller number are dabbling in single-clone expressions - all in the aim of a broader palette of flavour and nuance.
Today's collection comprises a group of single-vineyard wines, which manage to show their subtle differences.
2017 Mt Difficulty Single Vineyard Packspur Lowburn Valley Pinot Noir
Price: $75
Rating: Excellent
Attractively perfumed and floral nose accenting raspberry, dark cherry and wild herbs. Powerfully expressed palate with darker fruits, herbs, savoury and spice elements: integration that makes this approachable already, yet a fine tannic backbone too.
Bright acidity, a lovely chewiness and lip- smacking freshness with the wild herb note hanging on the long finish.
2017 Mt Difficulty Single Vineyard Pipeclay Terrace Bannockburn Pinot Noir
Price: $110
Rating: Outstanding
Smoke, wild thyme, cherries,  with savoury notes building. Rich and mouth-filling, the sweetness of the dark cherry fruit complemented by tamarillo-like tanginess, along with smoky and savoury elements. Lovely texture and flow, vibrancy, fine tannic structure all flowing to a long, dry, complex and lip-smackingly fresh finish.
Delightful.
2017 Mt Difficulty Single Vineyard Ghost Town Bendigo Pinot Noir
Price: $75
Rating: Excellent to outstanding
Perfumed and floral, violets perhaps with spice and a little struck match. Excellent fruit depth, mouth-filling; plums at first moving to cherry with peppery spices and an appealing dustiness. Zesty acidity provides a fine foil to the fruit sweetness with a long finish that hangs in the mouth. 
A powerful and rich style, with lovely balance and integration.
2017 Chard Farm The Tiger Central Otago Pinot Noir
Price: $79
Rating: Excellent
Savoury and wild herbs, a little spice, delicacy rather than a fruit bomb, becoming floral with rose petal hints. Sweet fruited palate sways from strawberry to cherry, to plum, adding stalk nuances and black tea.
A juicy crunchiness underpinned by fine tannins becoming more savoury as the fruit swells, developing a supple, slippery mouth feel.
2017 Chard Farm Mason Vineyard Central Otago Pinot Noir
Price: $79
Rating: Very good
Fragrant nose with musk, brambly underbrush savoury notes and a wisp of balsamic. Playing in the sweet and sour spectrum, time brings in raspberry with sweet fruit and a woody note hanging on the close. Black pepper and tea emphasise the taught and dry palate, with the firm tannins and texture making this tough going for now.
Time needed here.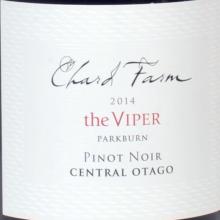 2017 Chard Farm The Viper Central Otago Pinot Noir
Price: $79
Rating: Excellent to outstanding
Attractive raspberry-tinged fruit, subtle at first but grows, adding smoke and charcuterie. Powerful raft of sweet fruit leads, with clove, spices, bacon fat, wild herbs and a little charry note in support. Nice complexity here, building an appealing slinkiness with aeration; a tangy note adding brightness to the long close.
Deceptive power on an elegant frame.