I love Christmas cake, particularly the dense and intensely fruited variety. Although not traditional, this delicious slice has many of a Christmas cake's desirable attributes.
The plus for the time-strapped is that it is fabulously simple to make and does not need to be baked weeks before eating. Bake today and eat tomorrow!
Chopping the fruit is the worst part and that is not really an arduous task - it just takes a few minutes. The fruit is warmed before cooking, absorbing the brandy to become lusciously plump and aromatic.
The beaten eggs, marmalade and ground almonds are stirred into the fruits and seeds, binding all together.
Then it is baked very gently in a low-temperature oven for about an hour.
Try this delectably delicious slice as an after-dinner treat, accompanied by a glass of liqueur.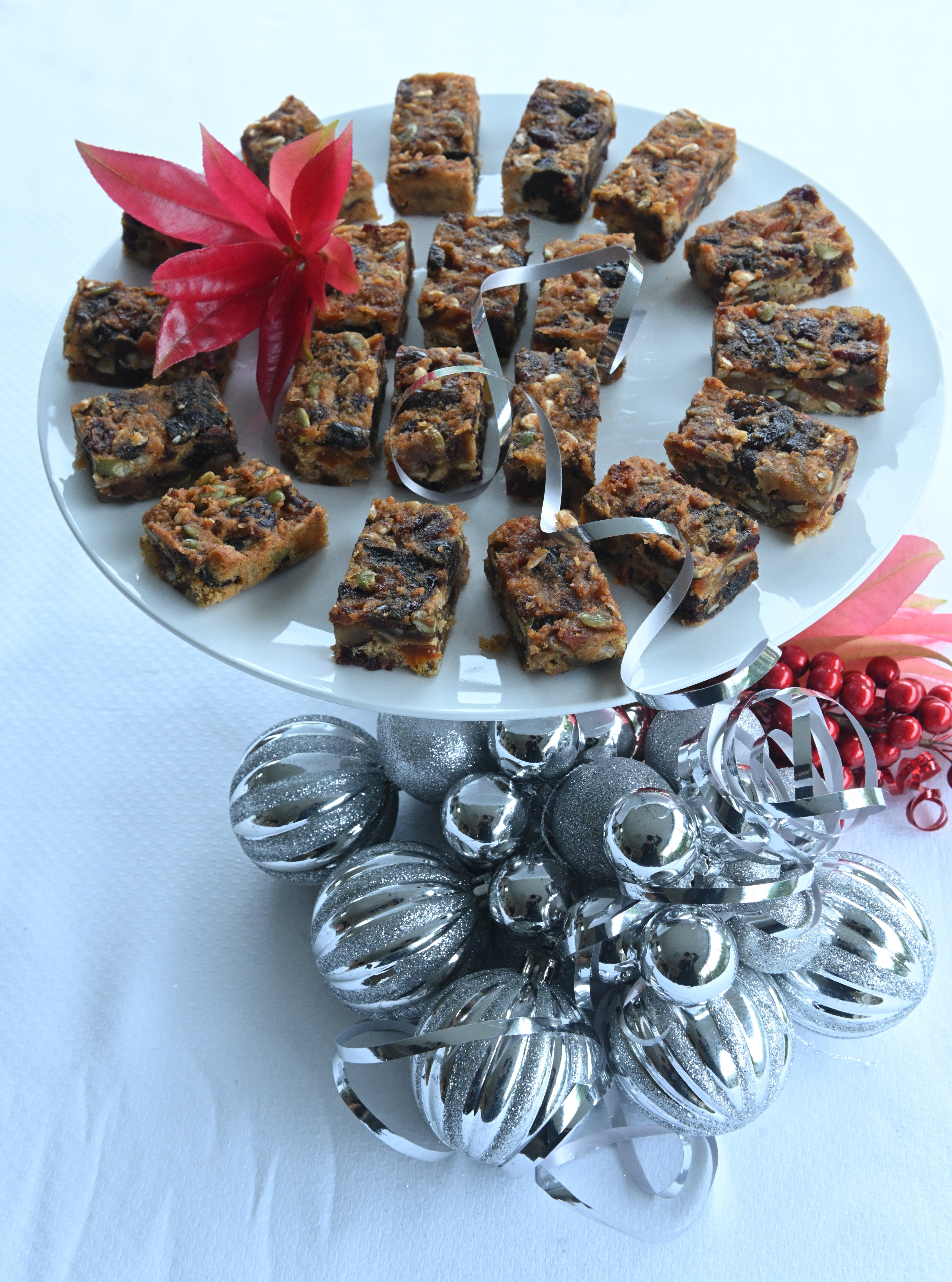 Almond fruit and seed slice
MAKES 40-44 SLICES
250g dried pitted dates chopped
150g prunes pitted, chopped
130g NZ dried apricots, chopped
130g crystallised ginger, chopped
130g dried cranberries
1/3 cup brandy or rum or orange juice
2 Tbsp lemon juice
90g sunflower seeds
90g pumpkin seeds
3 large eggs, size 7
1/3 cup marmalade
200g ground almonds
1/2 tsp baking powder
1/2 tsp ground nutmeg
1 tsp ground cinnamon
METHOD
Line a 20cm x 33cm slice tin with non-stick baking paper, taking the paper above the sides of the tin.
Position an oven shelf one rack below the centre of the oven.
Heat the oven to 150degC.
Chop the dried and crystallised fruits into pieces of similar size — about the size of a raisin. I often use kitchen scissors rather than a knife to cut the dates, prunes and  dried apricots, simply because I find it easier.
Combine the fruit, brandy and lemon juice in a large heat-proof bowl. Mix well. Cover and heat in a microwave on 50% power for 4 minutes. Set aside to cool.
Stir in the sunflower and pumpkin seeds. In another bowl and using an electric beater, beat the eggs on high speed until thick and creamy. Add the marmalade and continue to beat until well incorporated. Turn the speed to low and gradually beat in the ground almonds.
Stir the ground almond and egg mixture into the bowl with the fruits and seeds and mix all together very well. This is quite a stiff mixture.
Spread the mixture evenly into the prepared tin.
Bake in a low oven, 150degC for about an hour until the slice is golden and firm to the touch. Do not overcook.
Remove from the oven and allow to cool completely in the tin. If time permits, leave overnight before slicing.
Using the baking paper edges, lift the slice from the tin and place on a chopping board. Cut into squares or oblongs as desired.
This will keep in an airtight container in the fridge for about five weeks. It freezes well, too.