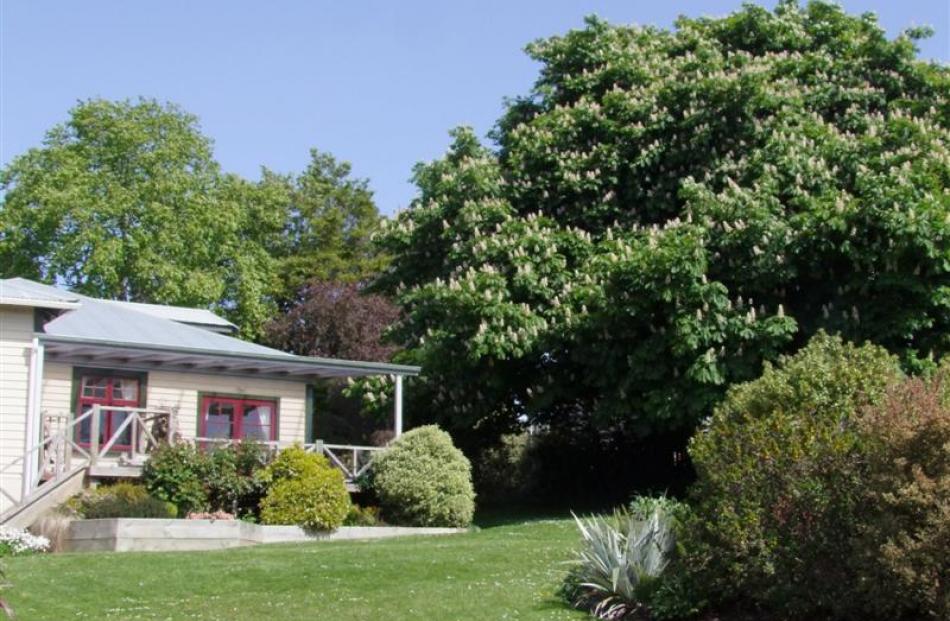 A Waikouaiti small garden is big on trees. Gillian Vine reports.
Who planted them no-one knows, but Kay and Bill Lang's Waikouaiti garden has some extraordinary trees, from a giant horse chestnut that could be 130 years old to a South American beech, eastern dogwood and Concordia oak.
Mrs Lang admits she took one look at the horse chestnut and decided she and her husband had to buy the place.
"It's mid to late 1880s," Mr Lang says of the massive chestnut, which is a bit of a mystery as the house was not built until the 1920s.
However, at the lower corner of the property, the Mounted Constabulary once had its headquarters and perhaps a constable planted a conker. There was also a sequoia, taken out years ago, that appears a giant in old photographs. But the beech (probably Nothofagus antarctica), the splendid Concordia oak, eastern tulip tree and tall pink-flowered dogwood (Cornus florida) raise questions as to who planted them and when, and where they obtained exotic trees rare in Otago.
Mr Lang has a theory that the garden was planted in two stages, the first before the house was built, the second in the 1920s when an English joiner-cabinetmaker had the house built.
It would seem that the man, a Mr Preston, loved the trees from eastern North America, including the tulip tree (Liriodendron tulipa), oak and dogwood. He may even have dreamed of using them in his work.
Other old trees include a Japanese maple, crab apple and weeping cherry.
"A 1947 aerial photo by V.C. Brown shows the chestnut, sequoia and other trees since missing," Mrs Lang said.
What the couple suspect from the stumps they have found is that, in a common practice decades ago, trees were initially planted quite close together with fast-growing types always earmarked for removal when the more desirable specimens had grown to a reasonable size.
Old photographs show their property and others nearby surrounded by hawthorn hedges.
"There were hawthorn hedges everywhere," Mr Lang said, adding that a local nursery specialised in them and at one time offered 36 different varieties.
"You'll still find most of them growing wild around Waikouaiti."
Although most of the flowers are found on shrubs and trees, spring brings a drift of colour under the chestnut, initially with daffodils, then tulips and bluebells. Many of the bulbs may be very old.
Mr Lang said there was a third stage, about 40 or 50 years ago, when a selection of rhododendrons was added.
Whoever planted them had an eye to their colour spectrum and also chose a selection to bloom in succession.
Mr Lang is reducing the number of pittosporums planted in recent years but complains it is difficult: "When I use a chainsaw, it's hard to do it with one hand because Kay's swinging on the other."
---
See it
• Kay and Bill Lang's garden is one of six that will be open tomorrow from 11am-4.30pm as a fundraiser for the Waikouaiti Presbyterian parish.
• Tickets are available on the day at the church hall, Kildare St, Waikouaiti.
• Tickets are $10, which includes Devonshire tea in the church hall, where there will be plant, produce and cake stalls.
---