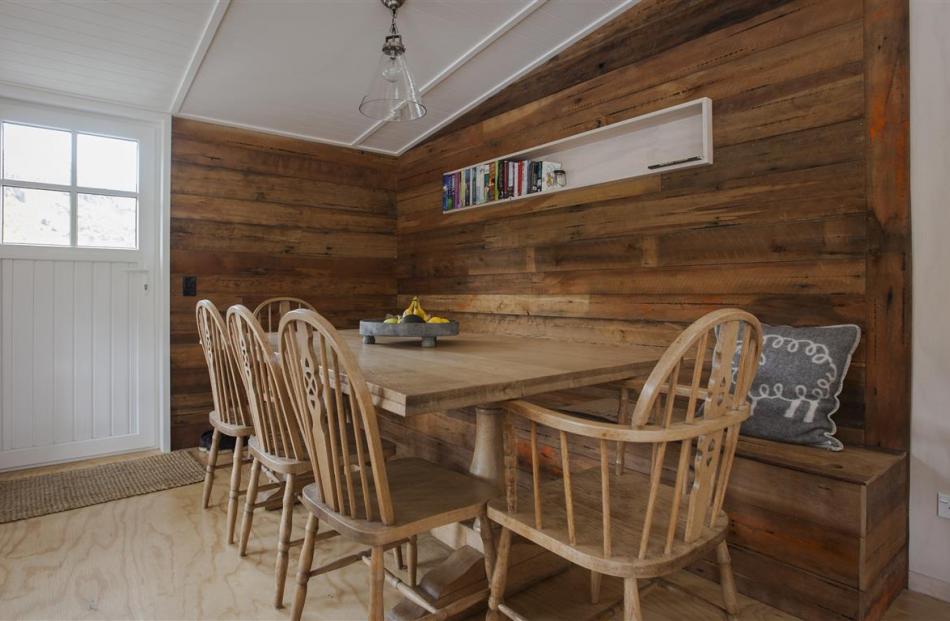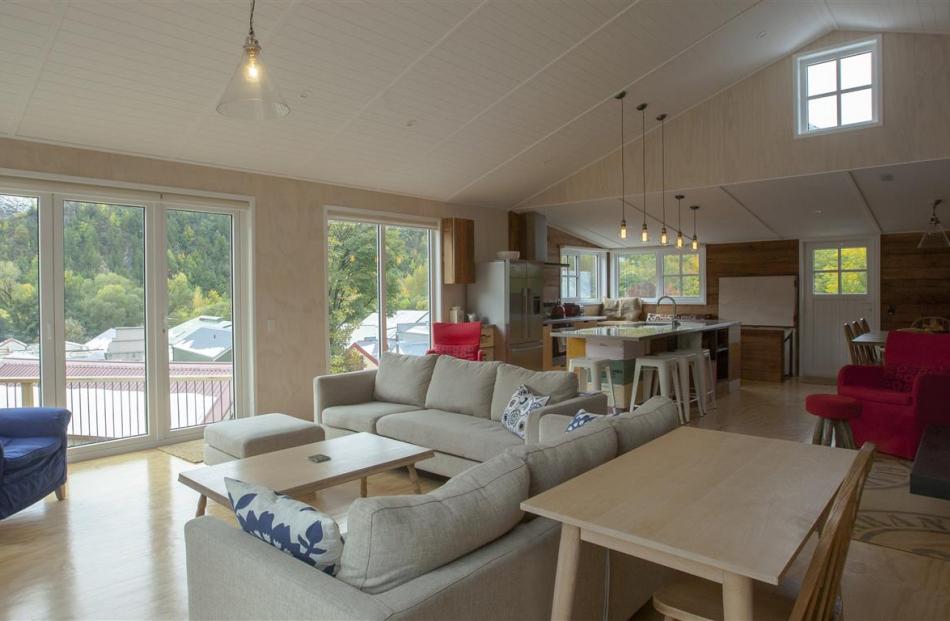 The owners of this holiday home used inexpensive materials to create a modern rustic look. Kim Dungey reports.
Debbie Fraser was on her father's forestry block when she saw them. They were old, rustic and exactly what she needed.
The Christchurch woman had been collecting packing cases to use in the Arrowtown holiday home that she and her husband were building with other family members.
But it was the wall of colour from the bee boxes at a neighbouring apiary - pinks, blues, creams and yellows - that caught her attention.
Soon she was persuading the owner to sell her the oldest of them for $10 and $20 each and stacking as many of them as she could into her vehicle.
Once home, she used sugar soap, steel wool and an old paint scraper to remove dirt and honeycomb from the boxes and to prepare them for their next role as kitchen shelves and bedroom storage.
Feeling that some houses built on a budget are bland, the owners were determined to use materials with their own history and character.
Blonded plywood walls, distressed plywood floors and salvaged rough-sawn rimu sarking, still splashed with orange primer, all add texture and variety.
The furniture is mostly second-hand, either repainted or decoupaged, and several items have family connections, including a dining table and chairs from the 1950s and patchwork bedspreads made by a relative.
Ms Fraser says she, husband Dermot Martin, his Auckland-based brother Michael Martin, and Michael's wife, Susan Archer, wanted the three-bedroom cottage to be fun and informal.
Built on a sloping site behind Arrowtown's village green, the home won Form Construction Queenstown Ltd a gold award and the new homes $300,000 to $400,000 category in the southern region of the Registered Master Builders 2015 house of the year competition.
Its simple square shape was dictated by the difficult gradient and the 3m setbacks required by local regulations. Below the main house, they positioned three purpose-built sleepouts, that each has its own small bathroom and means the property can sleep up to 14 people.
The owners wanted compact spaces that worked well so the main house designed by Arrowtown architect Maarten Hofmans, is cosy enough for a couple to stay in but its open-plan living area works equally well when the house and the sleepouts are full.
"Simplicity was important for us,'' Ms Fraser says.
"The aim was to create a classic Kiwi-style, user-friendly holiday home compatible with the distinctive Arrowtown environment and easily shared and cared for by all family members.''
The corrugated iron on the exterior was chosen because it is easily maintained, while the pitched roof-line echoes those of Central Otago's older houses and woolsheds.
Raked ceilings enhance the sense of volume in the lounge, while the kitchen shelves and drawers built from the bee boxes are topped with a stainless steel bench that is reminiscent of their original tin lids and naturally sealed with their own beeswax.
The second living area downstairs, which has underfloor heating, a toilet, TV and fridge, is popular with the owners' adult children and their friends.
The basement is usually reached from outside but on rainy days, they lift a hatch in the floor above and access a steep internal stairway.
Like the sleepouts and the use of peg-rails rather than wardrobes, the nautical-style hatch gives the property a relaxed feel that fits with family holidays.
But the easy-living style of the house is supported by modern features, including excellent Wi-Fi (boosted to include the sleepouts), LED lighting, wool insulation, a heat-pump and European double-glazed PVC doors and windows.
Ms Archer says the "meticulous'' work and creative skills of the builder and his team are evident throughout.
"The house has quickly become a wonderfully welcoming and comfortable second home for all of us ... and the base for new experiences and memories with family and friends.''