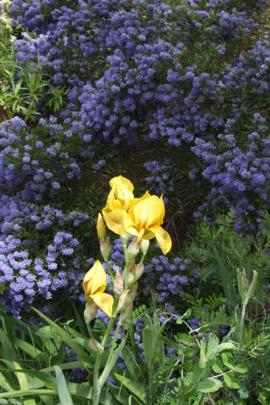 The Otago Iris Group is holding its first show tomorrow. Gillian Vine reports.
Most specialist garden clubs have annual shows but after something like half a century in existence, the Otago Iris Group is about to have its first public competition.
"Bob and Alva Macfarlane, who are among our oldest members, say there hasn't been a show in the 40 years they've been involved in the club - so we're saying this is our first," convener Laurol Chadwick, of Waikouaiti, says.
They have had displays each year, usually in Dunedin's Centre City Mall, with top-class blooms from Waimate grower Brian Harris always attracting plenty of attention.
Mrs Chadwick and Elaine and Robert Fisk, also from Waikouaiti, decided it was time to go further.
Other committee members agreed and so show day is tomorrow at Dunedin North Intermediate School, 34 North Rd, Northeast Valley.
Because the intention is to encourage people to come along and see how varied and beautiful irises can be, entry is free, although a gold-coin donation would be appreciated, Mrs Chadwick says.
She also hopes people will support the show in another way, by bringing along irises of any kind - but not other kinds of flowers - tomorrow morning to compete in the show. It costs $2 each for one or two entries, $5 for three and there is no extra charge for any further entries.
"If you know what your iris is called, that would be good, but that's not essential," Mrs Fisk says.
"Above all, we want lots of entries."
Don't worry if you've never showed a flower before, Mrs Chadwick says.
"We'll have stewards on hand to help. Just bring your irises along between 9am and 10am [tomorrow]."
With a Queen of the Show prize of $150 at stake, there is a great incentive to enter, Mr Fisk adds.
At the show, there will be displays of irises by Mr Harris and Noel Lapham, of Mossburn, as well as floral art presentations by Marilyn Fleming, of Invercargill.
The Fisks have a fine selection of irises, including many tall bearded varieties, some of which are very old as they are keen members of a national group devoted to saving heritage irises that are not now available commercially. These are important, not just for sentimental reasons but because their toughness makes them sought after for modern iris breeding programmes.
The Fisks also have lots of setosas, Siberian and other types, including delicate lemon-flowered Iris forestii, discovered in China in 1910.
Libertia grandiflora, the largest of the four New Zealand libertias, which are members of the Iridaceae (iris) family, thrives in the Fisk garden, demonstrating its tolerance of the same dry, sunny conditions that suit their bearded cousins.
Along with other natives, perennials and roses, they have been integrated into an attractive whole - and all this in just eight years.
---
See it
• The Otago Iris Group show, at Dunedin North Intermediate School, 34 North Rd, Northeast Valley, tomorrow, Saturday, December 1, is open for entries from 9am to 10am, then opens to the public from 11am to 3pm. Entry is free but a gold-coin donation would be appreciated.
---