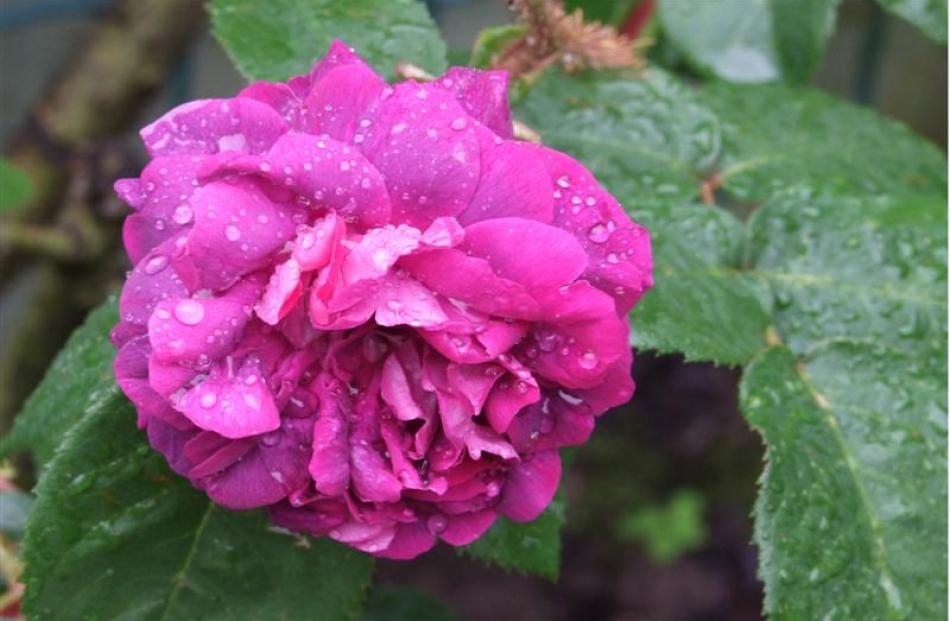 Tuberous begonias have the reputation of being difficult to grow but a Mosgiel couple assures Gillian Vine that the tender corms are "not too tricky".
From midsummer, tuberous begonias make a brilliant display of bright scarlet, citrus yellow, white and soft pinks for Sylvia and Ron Lobb, of Mosgiel.
An area between the house and garage, roofed by the previous owners with opaque corrugated plastic, is the perfect environment - warm with diffused light - for begonias.
"They like it warm but direct sunlight burns the leaves," Sylvia says.
Tuberous begonias are also fussy about moisture.
"They will rot quite readily because they like lots of water and there's a fine line between enough and too much. I keep them about halfway between too dry and too wet," Ron says.
He achieves that balance with the aid of a water gauge.
Begonias tend to have single and double flowers on a plant and some gardeners remove all the singles but Sylvia likes the mix, as each type has its charm.
She and Ron say names are unimportant; it's the colours that matter.
Plants should be repotted every two years.
The corms are lifted after flowering and the Lobbs keep theirs in mesh onion-bags until the first shoots appear in September or October.
For those who want to try these colourful corms, buy them now, either as dry-looking lumps or showing the first shoots.
Put them into potting mix - adding 50% river sand or perlite helps drainage, Sylvia says - and keep them damp, not wet.
Although growing these lovely flowers sounds complex, Ron says: "It's not too tricky. If it was, I wouldn't be doing it".
Outdoors, as with many gardens developed virtually from scratch, "before" photos the garden bear little resemblance to what the Lobbs now have.
"There was almost nothing here," Sylvia says.
From that almost bare section 11 years ago, the couple has created a garden whose roses are the envy of their neighbours.
One climber is guaranteed to stop passers-by in their tracks when its cream blooms cover the front of the house in November.
There are several dozen other roses, with climbers such as Albertine planted where they can cover fences or wander up a cherry tree, making the best use of limited space.
One rambler, whose name is unknown, came from a friend's crib at Naseby and, like many of the Lobbs' roses, was grown from a cutting.
Trained along a fence, it is smothered with small, reddish-pink blooms in November.
Although the section is not large, Ron has a productive vegetable patch, as well as gooseberries, currants, a small glasshouse for his favourite tomato varieties, Trusty Tom and Super Sweet, and a thornless blackberry grown from a cutting brought from Rotorua.
Draped along a fence, the blackberry is a reliable cropper, its slightly tart fruit perfect for jams and pies.
Although they miss some aspects of gardening in Rotorua, where they grew tangelos and lemonade (a type of citrus) bushes, gardening in the South has its own advantages, such as being able to grow a favourite flower, the paeony.
"In Rotorua, I couldn't grow them for love or money," Sylvia says.