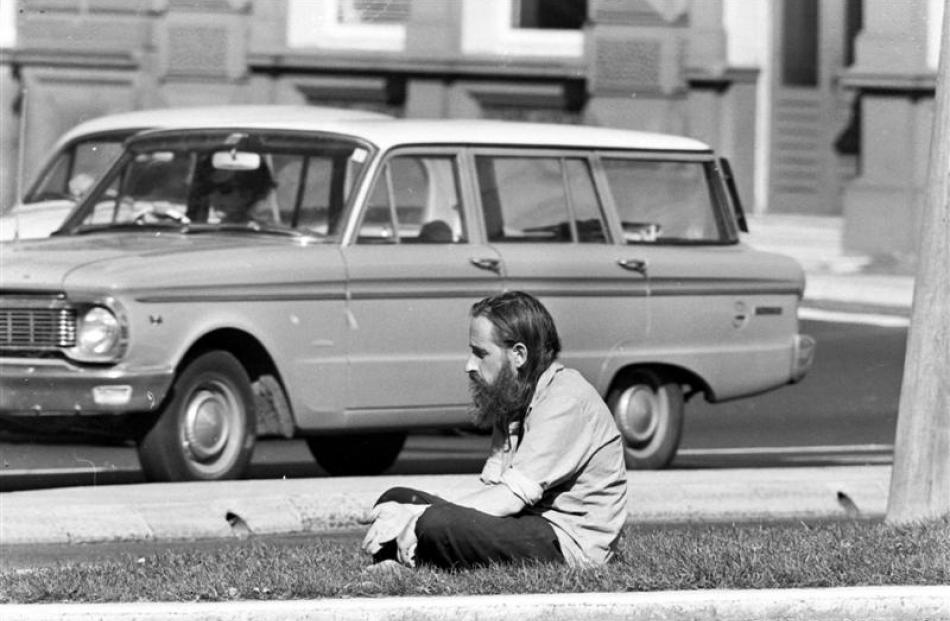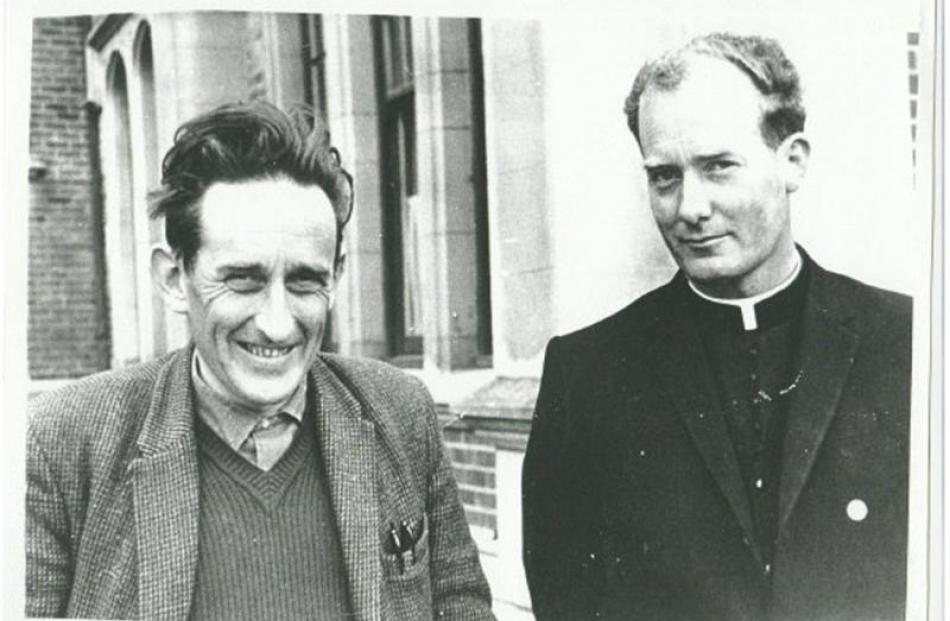 The life, thoughts and deeds of James K. Baxter have been chronicled via his prose rather than his poetry, by a man who has been both friend to and scholar of the New Zealand literary great, writes Shane Gilchrist.
A profoundly religious man, a defender of human rights and a friend to those who lived on the margins of society, James K. Baxter was a poet whose work often reflected a deep and largely unchanging morality.
Yet he was also an accomplished writer of prose, brandishing its various forms with power, says Baxter expert John Weir, who has completed a four-volume anthology, Complete Prose by James K. Baxter, offering other windows into the New Zealand literary giant's life, his views of society and, significantly, of himself.
''As Baxter said to one friend, `the poems keep crawling up my back and I can't stop writing them'. But in his later years he wrote much less poetry and more prose,'' Weir says via telephone from his Christchurch home.
Spanning four volumes, comprising more than 2600 pages, including an extensive introduction, notes and references, Complete Prose is, Weir believes, a specialist work and thus unlikely to become a bestseller.
But that's not to say it lacks significance.
It documents Baxter's ancestral origins, childhood and entire prose career, from his first draft of Before Sunrise as a teenager in 1942 to his Confession to the Lord Christ shortly before his death in 1972.
There are reviews, essays, lectures, journal articles, drafts and rough notes, meditations, fables, stories, a short novel, interviews, letters to the editor, correspondence with friends and critics, diary entries ... the list goes on.
''Baxter has become an icon in this country. His face has appeared on a postage stamp. Go to a pub quiz and his name is likely be among the questions. He has changed the lives of some people,'' says Weir, who befriended Baxter in 1961.
''Baxter's first calling was to be a writer, and because of his wide-ranging concerns and unconventional ideas virtually everything he wrote is of interest to some reader. In the context of writing ... he was a poet first, a prose writer second.''
As Baxter explained in an interview he gave in Dunedin in 1966: ''I'm not just a poet, although the best writing I have done is verse ... I like to feel I have more than one horse in the field because verse tends to be too narrow.
''My best verse is like a liqueur. A good poem may affect 300 people at the most, but the effect will be considerable. Short stories are more like wine.
"They are taken in more quantity by more people. An article would be like beer. It's shallower. It might affect 3000 but the butter is spread thinner.''
As Weir notes, sometimes Baxter's words came with ''great simplicity and power''.
Much of that had to do with the beliefs that underpinned the words.
For Baxter, words alone weren't enough.
He needed them turned into action.
''His compassion was not merely notional. He adopted a hands-on approach to matters such as poverty and addiction,'' Weir says.
''When he'd meet an alcoholic on the street he'd call a taxi and invite the person home and provide a meal and a bed for the night.''
Born in Dunedin on June 29, 1926, Baxter inherited pacifist and other ideals from his parents, Archibald and Millicent (nee Brown).
He became involved with anti-nuclear and anti-Vietnam War movements as well as advocating for the mentally ill, unmarried mothers, educational dropouts, the unemployed, Maori and Pacific Islanders.
''His family is part of the history of the province,'' Weir says.
''They were people of great integrity. It doesn't surprise me that Archibald Baxter, Jim's father, became a conscientious objector in World War 1.
''His ancestors were entirely Scottish. They came to New Zealand with nothing. But they believed the country they would help build would be greater than the country they had left behind.
''And Baxter wanted to be involved in community building, too.''
Given his Scottish ancestors' educational values, it's perhaps inevitable Baxter developed an early love for the written and spoken word. When he was a child his father would recite Robert Burns and other poets and his mother would read him fairy tales and children's literature.
Having attended Brighton Primary School, then Quaker schools in Wanganui and the English Cotswolds, and, from 1940, King's High School, Dunedin, Baxter enrolled at the University of Otago in 1944.
That year he won a literary prize (for Convoys) named after John MacMillan Brown, his Scottish grandfather, who was invited to New Zealand as a founding professor of Canterbury University.
It was a significant time for the 18-year-old Baxter: his debut poetry collection, Beyond the Palisade, attracted critical acclaim; and six poems from the book were selected for Allen Curnow's A Book of New Zealand Verse 1923-45.
Yet, against his parents' wishes, Baxter refused to return to university the following year. He had passed just two of his four end-of-year exams and was drinking heavily.
In a letter Baxter wrote to Weir, he ruminates that he was an active alcoholic from the age of 18 to 28, after which it was ''merely latent''.
''Effects of alcoholism on writing: direct effects not much, except occasionally on subject matter ... I never wrote verse when I was drunk. But some qualities of violence and tension in my work no doubt derive from my having the explosive qualities common to alcoholics. I'm not in the slightest degree shy about this matter.''
Baxter then began an extended period of moving between factory and farm work.
In 1947, following a failed relationship, he met his future wife, Jacqueline Sturm, before heading to Christchurch to renew his university studies.
However, his attendance was sporadic.
At various times he held jobs as a sanatorium porter, freezing worker and copy editor for the Press.
By 1948, Weir notes, Baxter's alcoholism was such that at times he felt suicidal.
Seeking to change his life, he turned to religion and was received into the Anglican Church.
He and Jacquie were later married at St John's Cathedral, Napier.
Having undertaken a range of jobs (freezing worker, postie and, more significantly, teacher), joined Alcoholics Anonymous (in 1954) and graduated with a bachelor of arts degree from Victoria University (in 1955), Baxter then converted to Roman Catholicism, a move that prompted he and Jacqueline to separate in 1957.
Awarded a Unesco Fellowship to study educational publishing in Japan and India, Baxter left for Japan in September 1958. Yet the move gave the couple the chance to reconcile, his family joining him later in India.
Significant, too, was the poverty Baxter witnessed, his experiences laying the foundations for his later attempt to form a commune at Jerusalem, near Wanganui.
In the meantime, Otago beckoned.
''Sometime in 1965 he applied for the Burns Fellowship at the University of Otago for the following year,'' Weir writes in his introduction to Complete Prose.
''He needed an income to support his family and was tired of manual work ... he had not lived in Dunedin for 20 years. He was no longer a helter-skelter rumbustious bad young man, but a 39-year-old converted alcoholic, a Catholic convert, a mild-mannered man, a family man, a famous citizen.''
Baxter was well aware of the ironies, Weir says, pointing out that 20 years earlier, the poet had been a critic of status and the status quo.
''Now he had a desk, an office and a salary which guaranteed comfort.''
Early in 1968, Baxter's thoughts turned to Jerusalem, a mission station on the Whanganui River.
Following his family's return to Wellington in December that year, Baxter sought to establish a community structured around key ''spiritual aspects of Maori communal life''.
However, according to The Oxford Companion to New Zealand Literature, ''Baxter could not regulate numbers or behaviour; the media sensationalised his activities; and the locals became increasingly uneasy. Problems compounded because he was often away.''
The commune's first phase ended in September 1971 and Baxter returned to Wellington, but in February 1972 the Jerusalem land-owners allowed him to return with a smaller group.
However, by August 1972 a physically and emotionally drained Baxter sought refuge in a small commune in Auckland.
He died of a heart attack on October 22.
Therein lies one of the key tenets of Weir's long-held project: to honour the legacy of his friend by unearthing everything from unpublished and obscure notes by Baxter, to more celebrated aspects of his prose, such as his 1970-1972 Jerusalem Day Book entries, which are in the form of a journal or diary.
''But I discovered many more items and manuscripts, either completed or in draft form and written with enormous power, about society and responsibility.''
Complete Prose is also an attempt to show that although Jerusalem was an important part of Baxter's life, the period actually encompassed a relatively short timeframe.
Thus the enduring public image of a bearded, dishevelled Baxter needs revisiting, Weir believes.
''That's how he is widely remembered, but it isn't how he is remembered by people like me.
''There is a photograph of me and Baxter - it's the only one I have - and it shows him two years before he went to Jerusalem, dressed in the standard fashion of the time, wearing a collar and tie and so on, clean-shaven.
''He decided in 1969 that he would dress like people on the margins, so he became scruffy in the sense that middle-class New Zealanders would judge him. He grew his hair long so he could appeal to the youthful fringes, who were more likely to reject a clean-shaven middle-aged man.
''The popular notion of Baxter was based solely on the last few years of his life and what these books attempt to do is, via a chronological sequence, show a full life of this man.
''For most of his adult life he was a man in employment, a married man, a father of two children who did jobs around the house, writing his poetry and prose at night, or sometimes during day-time intervals.
''He paid his taxes, was involved in the community and ... went to church with more regularity than anyone I knew.''
---
The poet and the priest
''He was my friend. He was a great writer. I just had to do something about it.''
So says James K. Baxter scholar John Weir, whose explanation for his motives in researching and compiling a four-volume overview of the prose of the New Zealand literary giant barely scratches the surface of a project that took hold on the day of Baxter's funeral, on October 25, 1972, three days after the poet died of a heart attack.
As he was driven to Baxter's tangi, held at the Jerusalem commune established four years earlier, Weir and Frank McKay, Baxter's biographer, discussed how best to honour Baxter's many words.
The fact Baxter had died at 46, leaving a raft of unpublished work, both of poetry and prose, led to a ''determination to keep available to the public the writing of this man who had died young and suddenly'', Weir reflects.
''It began on that day.''
Actually, the genesis of Complete Prose by James K. Baxter had begun more than a decade earlier.
While studying to be a Catholic priest, Weir had posted Baxter a poem he wanted to dedicate to him, the 1961 letter setting in motion a correspondence that lasted the remainder of Baxter's life.
''He wrote back, saying, 'dear John Weir, your poem came to me like water from the dry ground'. He explained to me that he'd become a Catholic in 1958 and since then his literary friends had no interest in his religion, and his religious friends had no understanding of literature.
''Thus to receive a poem from someone training to be a priest ... he wrote to me and asked me to begin communicating with him. So I did. And that resulted in about 50 letters in his lifetime, and a very close friendship.
''I felt greatly honoured that we'd become friends and that the letters had led to this friendship,'' Weir says, adding, ''To receive any letter from Baxter was a moment of great joy and expectation.
''In his very first letter he said to me, 'when we write to each other, let's not just write about this and that; let's write about things that really matter to us'.''
A three-time winner of Canterbury University's Macmillan Brown Prize (established in memory of Prof John Macmillan Brown, Baxter's maternal grandfather), Weir has edited a number of collections of Baxter's poetry, including 1980's Collected Poems. He has also completed a master of arts thesis on Baxter (Man without a Mask), a doctoral thesis (as one of five poets), and co-compiled a bibliography of Baxter's published material.
Add in the fact Weir was a friend of Baxter and an impression looms: perfect man for the job?''It was Jim's custom to include poems and pieces of prose and odd writings in the letters he'd write, including those he sent to me, so I had a lot of material that I knew was either published or unpublished. It went from there.''
Concurrent to the prose project, Weir has been working on Baxter's Complete Poems.
''The edition I edited for publication in 1980, Collected Poems, contains something like 774 poems ... the forthcoming collection comprises more than 3000.''
Having finished collecting them and written the notes, Weir says there's still a ''little work to be done''.
But wait, there's more: a collection of ''about'' 30 plays is planned, as is a two-volume edition of Baxter's letters.
At 80, Weir says he is in reasonable health. Certainly, he is confident his long-held plans will come to fruition.
''I've made great progress with the forthcoming works.
''One of the great things about living a long time is you can get a lot done.''
---
John Weir: fact file
• Born in Nelson in 1935, John Weir was ordained a Catholic priest after training at Mount St Mary's Seminary, Hawkes Bay.
• After graduating MA with first-class honours in English and completing a PhD in English he became a lecturer in English language and literature.
His area of specialisation was New Zealand literature.
He has published poetry, bibliographies and critical monographs and edited a number of collections of James K. Baxter's poetry, including his Collected Poems (1980).
---