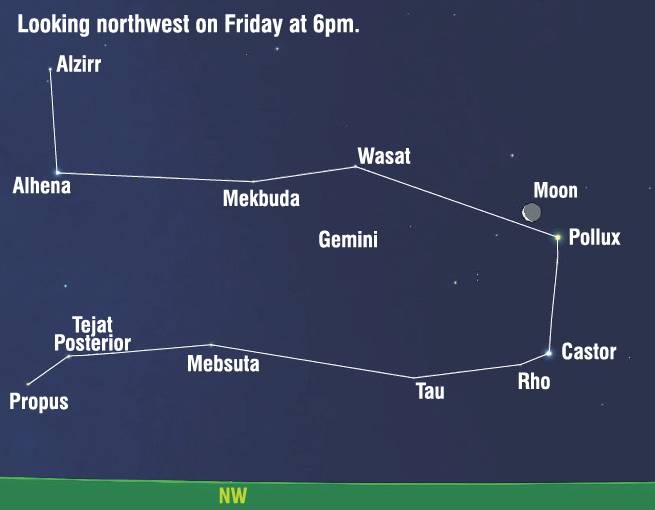 While the morning sky is interesting, we must not ignore the evening, writes Ian Griffin.
This week I would like to encourage you to head out after dark on Friday to view a wonderful waxing crescent moon.
Our closest celestial neighbour will be 12% illuminated and just more than three days past new. An hour after sunset the moon will be about 10 degrees above the north-western horizon.
As darkness falls, the moon will appear quite close to Pollux, the brightest star in Gemini. Pollux will be twinkling madly due to its low altitude.
Although Gemini will be low in the sky, you should be able to pick out the two distinct lines of stars that represent the bodies of the twin sons of Queen Leda of Sparta. Pollux is the 17th brightest star in the sky. It is a red giant star whose distance astronomers estimate to be just under 34 light years.
The speed of light is 300,000km per second. The light you see when looking at Castor began its journey to your eyes back in 1988.
Castor is the second brightest star in Gemini. Look for a white star directly below Pollux.
Take some time to gaze at Gemini. The sun is moving into the constellation which means that, for a few weeks, sunlight will hide its stars.
Don't worry though. Gemini will be visible again in the morning sky in a month or so as the sun continues its annual apparent journey across the heavens.