Sadly for Game of Thrones fans, we don't have many medieval castles, churches and cathedrals in New Zealand as a background for any gothic fantasies, but we do have numerous dark, brooding structures with pointed "spires", "turrets" and "battlements" looming large over much of the New Zealand countryside.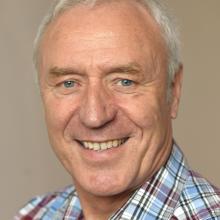 How so? writes Mark Clark.
Consider, if you will, the countless thousands of hulking, swarthy green "macrocarpas" and "macrocarpa" hedges that tower ominously over farm fence lines, paddocks and homesteads from Bluff to Kaitaia, as well as on some of the smaller islands.
There are plenty of these impressive conifers in our towns and cities, too. They somehow manage to keep looking rudely robust and healthy even though they are usually growing on little more than bare rock - like the remnant of the old Bell Hill in Dunedin where First Church stands.
Planting these trees beside First Church was an inspired decision by an early landscaper. Their dark shade and sideways-pointing branches are a perfect foil for the graceful, light grey, skyward-soaring spires. Who would have thought that the dour, conservative early settlers of Dunedin would have chosen American trees to dominate the setting of their traditional European church?
What we often disparagingly dismiss as "macrocarpas" are actually Monterey cypresses (Hesperocyparis macrocarpa - previously Cupressus macrocarpa) from the Monterey Bay area of California south of San Francisco. I'm with those who reckon that they're one of the most handsome members of the cypress clan.
For trees that do so very well in New Zealand, it seems strange that the remaining natural Monterey cypresses are clinging for dear life to just a few locations on the coast of Monterey Bay. They're so tough and adaptable here, but so vulnerable over there.
Kiwi farmers have embraced the Monterey cypress so enthusiastically since the 1800s that you could call it an honorary native. It loves New Zealand conditions and we love it (or at least we used to). Murray Ball even drew them in some Footrot Flats cartoons. You would be hard pressed to go to any part of rural New Zealand and not see a Monterey cypress tree or hedge somewhere. I've seen self-sown seedlings at a few places on the coast near Dunedin, so the tree is clearly quite happy in its adopted home.
You could actually call an awful lot of (maybe even most) farmed areas in New Zealand "Californian tree-scapes". This is because the ubiquitous Monterey pine (Pinus radiata) also comes from the coast of Monterey Bay in California.
Like its Monterey cypress cousin, Monterey pine is a tall, dark and handsome conifer which hugs the coastline at only a few spots in its native habitat. However, Monterey pines and Monterey cypresses form endless stretches of dark green borders around fields and paddocks throughout New Zealand, as well as vast swathes of sombre green carpets in forestry blocks.
Looking at a row of Monterey cypresses brings to mind Tolkien's Mirkwood and the darkest fairy-tales of childhood, rather than the California of the Beach Boys - sun, sand, surf and fluffy blondes. They are more Transylvania than Malibu.
Like fortresses bristling with pointy weapons, they would look quite at home around remote medieval castles in eastern Europe, despite their Californian credentials. Driving under avenues or rows of mature trees on Upper Junction Rd and Highcliff Rd transports you instantly to a gloomy, mysterious world of darkness. They truly are "gothic" trees - at least in the literary sense.
As if good looks, wind-resistant leaves and general toughness weren't enough, Monterey cypresses offer beautiful golden-brown heartwood with a fine grain which is naturally borer-resistant. One website claims that it "looks and works like kauri". When I think of the wasteful use and destruction of nearly all of New Zealand's big kauri trees over the last couple of centuries, I'm glad that we now have an "honorary kauri" for the wood merchants to use - a "win-win" for greenies and carpenters.
What's in a name? 
DNA research regularly throws up surprises these days.
Monterey cypresses look as though they'd be closely related to wild Mediterranean cypresses (Cupressus sempervirens - the tall, thin stricta variety does not have the usual spreading habit). However, plant boffins have decided that they deserve their own new genus: Hesperocyparis.
The Hespero- part is a reference to the Hesperides, who were minor Greek goddesses associated with evenings, sunsets and, by extension, things in the west, (such as the Americas in relation to Europe, and the west coast of the Americas).
The -cyparis part is another way of rendering the Greek "kuparissos" for a cypress tree.
Although the macrocarpa part means "big fruit", Monterey cypress cones don't seem to be all that large when you compare them with the cones of pine and fir trees.
It's just that many other cypresses have even smaller cones.