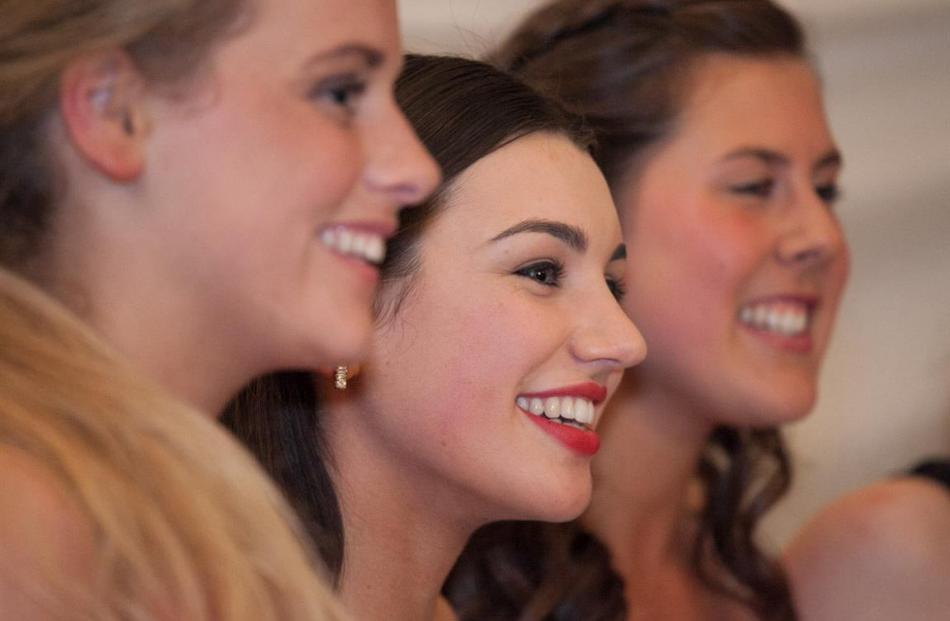 As this year's high school formal season gets into full swing, Shane Gilchrist talks to some teens for whom it seems the big night is more about resourcefulness and respect than romance. 
In the world of school formals, Sun Dean is often required to step forward for an important dance, one involving a series of manoeuvres that have her metamorphosing from retailer to counsellor.
As fashion stylist at Dunedin clothing shop Refined Rig, Sun is both a facilitator of fantasy and a pragmatist, a fairy godmother whose powers lie in a discerning eye and a sympathetic ear for those who browse the racks festooned with ball gowns in various shades of shimmer and shine (as well as subdued, elegantly understated examples).
''I'd like to think I'm a good listener, but I'm also experienced,'' Sun says.
''I've been there. Nine out of 10 girls who come into the shop don't really know what they want. And their mums might think they know best, but that's not always the case.''
In fact, she often tries to separate mothers and daughters in order to better evaluate a girl's personality, her concerns and hopes.
Sometimes the process can be quite emotional, she notes.
''There are times when a girl will come out of the dressing room and there will be tears. Sometimes it is the mums who start crying.
''I see my role as not just about selling a dress. I like to give a girl - any girl - confidence. Some girls are scared, so I try to make them happy.
''It's important to be able to talk about things. That's how you get to find out about a girl. Some girls are very shy; others are very confident,'' Sun says, illustrating her point by grabbing a hot-pink halter-neck bohemian-style full-length dress off a rack.
''Last year a head girl bought this. Her mother said the girl had worked so hard at her studies that she deserved to stand out a little from the crowd.''
However, Sun won't find Alice Jones among her customers.
The Columba College head girl has made her own gown for her school's senior formal, to be held next Saturday.
The 16-year-old year 13 student says the event is a big deal, part of the high school experience, although she emphasises it is mainly about having a good time with friends, as opposed to more traditional notions of romance.
''We have strong relationships with John McGlashan College and Otago Boy's, so there are always friends of brothers or family friends. It works out fine. Also, girls can go by themselves or with a friend. Quite a few girls go as a group.
''It's a really nice evening and it's always nice to have those lovely photos. I don't think there is a pressure to look a certain way or anything like that.''
Alice's mother, Philippa Wilson, agrees.
''I suppose today's youth are critical thinkers. And we live in a diverse community now so I don't think they feel too much peer pressure. People wear what they want to wear and generally feel good doing that.
''Often these students earn their own money - not all of them, sure - but they are able to think outside the cube. Having a sense of style doesn't necessarily mean having money. I have seen them sharing ideas and I don't see them putting that pressure on one another,'' Mrs Wilson says.
''I don't think it is all about what you look like. It is more about the social occasion and connection.''
That extends to pre-formal rituals, says Alice, who prefers to forgo professional hair stylists and makeup artists in favour of catching up with friends and doing it herself.
''Lots of girls do like to splash out. It does add up for some people, but others - particularly those going to more than one formal - will rent dresses. People share dresses and shoes with friends. Otherwise it could get pretty expensive.''
Alice and her fellow Columba College formal committee members have adopted a user-pays approach to ticket prices.
After organising a venue, catering, entertainment and photography, they divide the cost by the number of pupils attending.
''Generally, the tickets are around $80-$90 and that gets a student full dinner and dessert as well as formal photos [more on photography later].''
Alice's partner for the Columba formal, Sam Dippie, is getting good use out of the suit he bought last year.
As well as attending next weekend's event, the 17-year-old is off to Otago Boys' High School's year-13 formal tonight.
''My sister went to Columba with Alice and my mum sort of knows her mum,'' Sam explains, adding he is taking a St Hilda's girl to the Otago Boy's event.
''I'd say about 60% of the boys who are eligible to go are attending. There is duck-hunting on this weekend so some of the rural guys are turning down the chance to go to the formal and are going hunting instead.
''I've been to quite a few formals since year 11. I've been to four so far and am going to three this year. This is the first year I've had to pay to go to a formal.
''I see them as an opportunity to put on a suit. You meet a lot of people from other schools, people you might not normally get to talk to. Or you might see an old mate from primary or intermediate school. I like that social aspect of it.
''I don't really see it as a rite of passage or anything. I don't take it that seriously. It's more a case of being involved in a more formal occasion. As a young person that doesn't happen too often.''
Sam believes it is more difficult for those attending single-sex schools to find partners.
''I think going to an all-boys school ... you don't typically associate with girls unless you make an effort, and a lot of guys don't really try. So in that regard, a formal can be a new, scary thing for some guys.
''There is a large group of guys in our year who haven't associated with women yet. So they don't actually have anyone to take. Also our school doesn't have formals in year 11 or year 12, so it is sort of dropped on us suddenly. Guys can be put off by that.''
Electronic modes of communication have helped lessen the difficulties of finding a prospective dance partner for some, according to William Creighton, a member of the John McGlashan College formal committee.
''You can look people up on Facebook and introduce yourself, although I think most people would have met their formal partner before they go.
''It depends. A lot of people get set up. For example, a friend might have a partner who has a friend. It works that way. There are others who might be in a social group that includes girls and they'll go with one of them.
''I don't have a girlfriend but I am taking one of my friends from St Hilda's. I went with a family friend last year,'' Michael says, adding about 80% of year-12 and year-13 boys are attending the school's May 21 event.
''There are other people in my year at school who don't have someone they necessarily want to go with. But going alone is not a problem.''
Photographer Kerry Crosland has been privy to a long-focus view of school formals.
The principal photographer, manager and partner (with husband Barry Kelk) of Dunedin firm Kelk Photography, has been capturing teens in all their finery for more than 30 years. And despite changes in fashion, many aspects remain the same.
''It's a special night for many of them. I just love photographing them. It's a real privilege to witness.
''As a business, we might have photographed the same kids in their netball or rugby teams and in class photos, but I struggle to recognise them at a formal. The kids just look so gorgeous.
''The young men will definitely stand taller. They look good in their suits, some of which they might have borrowed from a dad or brother. Or they might have bought or hired one. In my day, it wasn't uncommon for someone to turn up in the school pants and their dad's lodge jacket or whatever.''
Typically, the cost of photography is included in a school's ticket price.
And instead of viewing physical proofs, files are available online.
''For parents, particularly those of boarding students, that's fantastic,'' Kerry says. 'For instance, boys are unlikely to say, `hey, Mum, I look great', so being online really helps parents.''
Formal photography offers another benefit, too, she believes.
''Although I'm very aware that while they are waiting for photos they aren't on the dance-floor, queuing up can provide a comfortable environment, in that students can talk away together whereas they might be less inclined to do so on a face-to-face basis.
''Having 300 kids in a queue is really stressful if you're the photographer, but they'll happily stand there and chat away as a group. It also means they don't have to dance or do anything else their mothers might have told them to do.''
Kerry has noticed differences in how teens interact, depending on the school.
At a single-sex school's formal, boys are more likely to clump together with their mates; in contrast, co-ed schools are more relaxed in that regard.
''There is less of that tension if kids know each other better. But I don't think formals have changed that much over the years.''
She also talks of the ''magic hour'', the time between when formals end and, in some cases, after-parties begin.
''These kids have spent a lot of money and at 10.30pm or 11pm they head away and change into something else for the after-party. That's when a lot can happen. I think that's why organisers try to keep that changeover time to a minimum.''
Jane Johnson, Logan Park High School principal, says her school actively discourages after-formal parties.
''They are difficult to control. We ask students to keep them small, supervised and private. We are happy to talk to whanau about our position on this.
''The hours of the formal are usually 7.30pm-11pm. If students leave the event, they are not allowed to return. Security staff are employed to stand on the main entrance to make sure that the event is not open to people without tickets. Senior managers help with this as well and year 11 students volunteer to help with the looking after of attendees' coats and bags etc.
''A code of conduct is required to be signed by all students attending. If there are outside-of-school partners, then the Logan Park student is responsible for their partner's behaviour. Any outside partner has to provide a parental signature or an employer referee contact. I follow up on students attending the formal as outside partners.
''The event is alcohol and drug-free. Senior managers warn students they may be turned away if they breach any of the rules associated with the formal.''
One parent, speaking on condition of anonymity, says it's ''a bit of a joke'' that her child's school officially distances itself from the formal after-party when it has ''quasi-oversight'' of the event.
''The after-party has assumed a huge significance, especially for boys. And, of course, the real problem is the time between the formal and after-party when everyone gets tanked. It's a minefield.''
One school pupil suggested after-parties offered a different way to socialise on the night.
''There can be alcohol involved; there is that risk, but there are security guards involved. And the school has nothing to do with it; it is organised separately.''
Otago Boy's High School rector Richard Hall is adamant: his school does not tolerate after-parties.
''We don't have after-parties. I brought back the formal [after a one-year break] on the condition that we don't have an after-ball. It was the first thing we discussed with pupils.
''As for the formal, I think boys do rise to the occasion. And they do need that opportunity to learn how to behave in a more formal setting. It's an important life skill as different social occasions require different standards of behaviour.
''Last year, we invited parents to attend the school formal for the first hour. It raises the expectation of behaviour. And parents love seeing their young man dressed to the nines with a partner who is also dressed up.
''The boys are all right with it. They pretend they don't enjoy it, but they do.''
---
'Your night to get dressed up'
Alexandra teenager Sarah Vilela has set, and met, a self-imposed formal challenge.
"I have tried to do the formal for under $100 this year. That's what Mum and I decided to do,'' the Dunstan High School year 12 pupil explained.
"I have borrowed a dress. I'm doing my own makeup and nails. I've got a friend doing my hair and, because I'm half-Portuguese, I'm very tanned so I don't need the spray-tan.
"The only thing I've had to spend money on is shoes. They cost $60.''
However, the 15-year-old is doing the makeup for three of her friends.
At $20 each, it means she's breaking even.
"It's working out really well,'' Sarah reflected earlier this week as she made final preparations for the school's formal, to be held tonight.
"Ever since I was little, we'd go along and watch everyone walk into the formal. That's something I've looked forward to since I was a little girl'' she says.
"It's your night. You have all those people watching you. It's your night to get dressed up.''
Sarah says formals can be an expensive event.
"One girl spent $600 on her dress last year. I know a lot of girls who have spent around $200 on a dress, then more on makeup, which seems to be around $65, and hair, which can vary upwards from $60 depending on what you get done. I think a spray-tan is about $60. All of those things add up.''
Other financial factors include the formal ticket (around $80, doubled if buying another for a partner), a corsage (around $20-$25), the after-party ticket (around $25) and an after-party outfit.
"I'm making my after-party outfit,'' Sarah says.
"The theme is 'throwback', so me and some of my friends are going as cavewomen. I sew a bit, so it's easier to make an outfit than to buy or hire one.''
Sam Dippie, of Otago Boys' High School, says dressing up is a "lot cheaper'' for the boys.
A guy generally only needs a suit, which you can get for $150-$200.''I got a suit in year 11 and had to replace it in year 12 because I outgrew it, but the new one still fits me.
"I think guys can get away with wearing the same suit to every formal, whereas girls would get called out for wearing the same stuff. They might feel more pressure to mix it up.''
---