Once again, books editor Rob Kidd has read the 10 finalists in the fiction category of this year's Ockham New Zealand Book Awards. He casts his eye over one of the strongest fields in years. The winner is announced on Tuesday.
SHORTLISTED
THE NEW SHIPS
Kate Duignan
Victoria University Press
It has been more than 17 years since Kate Duignan's debut but, even for the impatient, this was worth the wait.
The New Ships is beautifully told.
The complex relationships between characters morph and flex as Duignan slowly reveals more about the past.
Wellington lawyer Peter Collie is coming to terms with the death of his wife Moira.
His son does not seem overly concerned and his career appears to be unravelling.
Added to the turbulent emotional mix is the unresolved sorrow Peter harbours for the child he lost while slumming it in Amsterdam with his French girlfriend in the 1970s.
Last year Sally Rooney's Normal People won just about every award but the Man Booker Prize.
In almost every way The New Ships is its equal, while obviously dealing more with middle-age rather than youth.
Duignan seamlessly flits between past and present as Peter spirals to what seems like an inevitable breakdown.
The twist though, when it comes, is both devastating and reassuring for the protagonist, and takes the novel to an unexpected conclusion.
The author explores the problematic nature of family; the blood that ties people does not mean all differences can be reconciled.
As much as the past may be intentionally buried, the insecurities, grief and frustrations that stem from it inevitably manifest in the present.
Peter, a flawed character, may not be fully redeemed, but who in life is?
We make mistakes, we pretend to move on and we get on with things.
THE CAGE
Lloyd Jones
Penguin Random House
After so much success, Lloyd Jones could have played it safe with his latest novel.
But The Cage, a stunningly symbolic and atmospheric piece of writing, is anything but.
Jones has said the book was inspired by seeing the conditions of refugees at a Budapest railway station in 2015.
In the book, two men come to an unnamed town after having experienced some sort of catastrophe.
Their presence initially prompts fascination among the locals - the pair's otherness is the source of great intrigue.
Then something changes.
The public wants answers; the puzzle of their existence must be solved.
The imprisonment of the men is driven by the people's fear and prejudice of the foreign.
Once inside the cage, people come to view them and marvel at how they live together in the confined space.
"At the zoo, we see only our differences. That is not the case with the strangers. Visitors see themselves - as they imagined they would be - after a disaster. But what happened? That is what everyone wishes to know. And, how the steps taken might be avoided in the future.''
The narrator, known only as "Sport'', is enlisted to document the prisoners' lives and anything unusual they do or say.
As public interest in the living exhibit wanes, the "trust'' of locals, who have bestowed on themselves the responsibility for the men's freedom, come up with novel ways to justify the incarceration.
This is a brilliant exploration of power, fear and the human propensity to distrust what it does not understand.
It is a brave endeavour indeed to tell a story when the ending has already been written.
THIS MORTAL BOY
Fiona Kidman
Penguin Random House
For Fiona Kidman, there could be no reliance on an unexpected twist to prop up This Mortal Boy.
In 1955, young Irishman Albert Black was the second-last man in the country sentenced to death after being found guilty of murder at trial.
Kidman tells his story from life as a Protestant in Belfast to the voyage to New Zealand where he eventually settles in Auckland.
Black's circle of friends are mainly drunks and semi-transient types.
Through them he meets Johnny McBride, a hulking bully of a man.
After Black is given a beating by him, the pair meet again in a bar and the fatal incident occurs.
Where Kidman is at her best is telling the intricate story of the trial.
The inconsistency of witness testimony is laid bare, as is the fact many of those giving evidence have their own agendas to push.
That combined with a clearly prejudiced judge, who paints Black as an "outsider'', leads to a very unsafe guilty verdict.
While the justice system is now more robust, Kidman shows just how problematic jury trials can be, especially when a life is at stake.
Although the story's climax is pre-written, it is beautifully told.
The back drop to all this was the controversial "Mazengarb Report'' which, at the time, created hysteria around "juvenile delinquency'' and placed the blame on promiscuous women.
Other authors will be kicking themselves that this story evaded them.
ALL THIS BY CHANCE
Vincent O'Sullivan
Victoria University Press
How is this only Vincent O'Sullivan's third novel?
The prolific poet and short-story writer has taken on a huge task with All This By Chance - a multi-generational epic spanning three generations and nearly 60 years.
It is not the longest book among the finalists but it felt it - in the best possible way.
O'Sullivan's poetic credentials are obvious when reading his prose, which is so densely packed with unique imagery.
It is not something that can be skimmed.
Stephen leaves New Zealand in 1947 to become a pharmacist in post-war London, where he meets his wife-to-be Eva.
"All this by chance ...'' they marvel as they fall in love after a chance meeting at a church social event.
But the spiraling storylines that stem from their union have anything but the inadvertent about them.
Eva's Jewish heritage, which she forces into the background, continually resurfaces, particularly when they return to New Zealand with her aunt.
While her son David grasps that shunned side of the family background with vigour, his sister Lisa does not.
Her story - possibly the most engrossing - sees her working as a doctor in a remote African village.
O'Sullivan's storytelling is bold and confronting and he excels when describing her eventual demise.
Recounting the many threads of the plot would be futile.
The author manages to span decades and continents, grounding the reader wherever he chooses yet always drifting back to that meeting in London between two people.
It would be trite to say the novel was simply about fate or destiny - it is so much more.
A classic.
LONGLISTED
THE MAN WHO WOULD NOT SEE
Rajorshi Chakraborti
Penguin Random House
Of all the finalists, this is the one that haunted me longest.
Family politics are always complex, but when siblings are forced to spend their childhoods apart and end up raising their own families on opposite sides of the globe, complications increase tenfold.
Indian-born writer Abhay and his wife Lena are living in Wellington with their 4-year-old daughter when they are visited by his half-brother Ashim with his own young daughter.
Ever the obliging host, Abhay does his best to show them the beauty of his new home.
But the past hovers over everything that is said and done.
Abhay blames himself for his parents sending his siblings off to boarding school following a pivotal and dramatic incident in their young lives.
He was not responsible, but his guilt pervades their entire relationship.
Sensing the unspoken stresses, Ashim seizes on his brother's insecurities and gently exacerbates them.
It all feels horribly insipid and Lena's dislike of her visiting brother-in-law increases with each day.
The beauty of Rajorshi Chakraborti's story is that we have all been there.
Passive-aggressive conversations with extended family members, painfully awkward visits, desperately trying to keep the peace for the children's sake; it happens the world over.
Told predominantly from the perspective of the Wellingtonians, Ashim is quickly demonised in the reader's eye.
But when Abhay makes a trip to India, we are forced to reconsider our stance.
There he finds something he was not looking for.
There is plenty to read into Chakraborti's conclusion.
On a basic level, it exposes the intricacies of family and the often problematic ideals of unconditional love that come with it.
THE LIFE OF DE'ATH
Majella Cullinane
Steele Roberts
This is very much a novel of two halves.
Theodore De'Ath grows up in Wellington with his siblings, mother and oft-absent father.
When tragedy strikes, he begins to spend more time with his German grandparents in Otago.
His grandfather - a university professor - has an obsession with the depiction of hell in classical literature.
It is not long before Theodore also adopts this fascination with the underworld and his studies follow his grandfather.
Majella Cullinane adeptly paints a picture of New Zealand in the early 20th century.
The story meanders, Theodore develops an interest in a fellow student and then the narrative shifts.
World War 1 arrives.
The protagonist reluctantly joins the army and the bookish, thoughtful young man soon finds himself on the front line.
This is where Cullinane truly excels.
It is not as though the horrors of warfare have not been well covered by literature over the past century, but the author makes Theodore's experiences new and vivid.
Of course, he eventually realises this hell he has mused over for so long is right before him.
"If there really was a place such as Hell, it was not just the worst of ourselves magnified a thousandfold, but fear and despair embodied. In Theodore's opinion, Hell was not to be found in any imagined underworld, but in this one. Not the domain of devils and demons, but of humanity looking for an excuse for its cruellest actions.''
After wrestling with his conscience, he finds there is no such excuse.
Theodore's disintegration is painful and beautiful.
CAROLINE'S BIKINI
Kirsty Gunn
Faber & Faber
Like Catherine Chidgey's The Beat of the Pendulum last year, Kirsty Gunn has provided the wild card this time.
Chidgey toyed with the idea of realism by almost transcribing a year in her life, mixing the meaningful and the mundane.
Caroline's Bikini, though, is dominated by the mundane.
Gunn's bold critique of the realist form will probably not win her droves of new fans.
A huge portion of the book is made up of footnotes, which painstakingly explain the author's intention behind the words, rather than leaving it up to those brainless readers.
References to Petrarch's poetry and "courtly love'' are demystified - if you're willing to trawl through the 70 pages of "further material''.
The plot sees corporate high-flyer Evan return from the United States to London where he is set up as a boarder in the city's outskirts.
He falls immediately and comprehensively in love with his landlady Caroline, despite her being married and emotionally brittle.
Evan convinces his childhood friend Emily to document this burgeoning love story, which removes her from the drudgery of writing promotional material for a pet-food company.
The pair meet regularly at bars for gin and tonics - lots of gin and tonics.
Gunn tests the reader's patience, suggesting something will happen between Evan and Caroline.
At best, the dynamic of the relationship between novelist and her subject is intriguing.
At worst, nothing happens, repeatedly.
Finally, the eponymous bikini makes a late and fleeting appearance.
Its disposal is a bizarre and puzzling highlight.
In a novel of false-starts it was, at least, a deliciously definite act.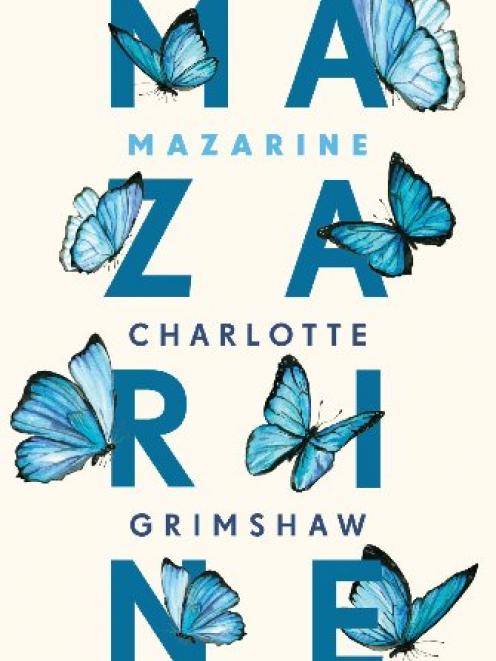 MAZARINE
Charlotte Grimshaw
Penguin Random House
Mazarine refuses to be pinned down.
At times, the novel reads like a thriller, but just as you expect Charlotte Grimshaw to drag you down that page-turning rabbit hole, she pulls back.
There is as much time spent exploring the make-ups of the enigmatic characters as there is advancing the mysterious plot.
Frances, an Auckland writer, loses touch with her daughter Maya, who is travelling and working in Europe with her boyfriend Joe.
A violent brush with an ex-partner pushes Frances to take extreme action, leaving her home and seeking Joe's mother for potential clues as to her daughter's whereabouts.
Discovering Mazarine - graceful yet awkward; intelligent but painfully obfuscating - sends the plot into a spin.
The pair, separately, decide to go to London to search for their kids, then join forces.
The mystery blooms and there is a suggestion Maya might have been working, in her role at a publishing company, on a potentially explosive book.
Added to that is Mazarine's other son's possible extremist religious links.
Grimshaw nudges various conspiracy theories forward as she progresses the unlikely relationship between the two mothers.
Ultimately, the book suffers an identity crisis and the climax fails to live up to its preamble.
THE ICE SHELF
Anne Kennedy
Victoria University Press
Wouldn't it have been brilliant if a book so scathing of the country's literature and art scene had won its premier prize?
Alas.
Usually when a novel is described as "funny'', or worse "laugh-out-loud funny'', it is a prelude to failure.
Anne Kennedy bucks the trend.
I really laughed out loud. Honestly.
Protagonist Janice is a Wellington-based author who has just won an Antarctica Residency.
All she has to do is get to an award ceremony at the National Library.
The problem is, she has broken up with her boyfriend, been kicked out of her friend's house and needs somewhere to spend the night - oh, and somewhere to store her fridge.
Beneath the sometimes slapstick elements of the humour there is a bruising seriousness.
Janice's parents were alcoholics.
Her father abandons them and her childhood and she lives a wildly transient life with her mother.
Told in Janice's idiosyncratic way, these deeply tragic moments come across as only further quirky hurdles.
The darkest humour is employed when the narrator goes to live with her father and his new family in a filthy commune.
Janice is sexually abused by one of the leaders in the bush while other children work nearby.
Kennedy confronts the blinding trauma the man inflicts but even in the bleakest circumstances finds a spark of the comic.
There are numerous digs at literary elitism and the emerging role of social media in self-promotion.
Janice is a treasure. Hang on to your fridges.
THE IMAGINARY LIVES OF JAMES PONEKE
Tina Makereti
Penguin Random House
When James - or Hemi - Poneke is orphaned, he has to rely on his sharp wit to survive.
An infinitely likeable character and one with a yearning for adventure, he meets an English artist who is travelling the country documenting the lives of Maori.
James makes himself indispensable to the man and quickly considers it his destiny to travel to England and ensconce himself in "civilised'' society.
The reality is less utopian than his imagination led him to believe.
Once in gloomy London, James is struck by the social deprivation and greyness of it all.
His benefactor accommodates him at his salubrious digs, where he resides with his sister and father.
Conflict gradually builds when James is enlisted to be a living part of the artist's exhibition, alongside the drawings and items the man gathered.
At first he revels in the showmanship of the role, but soon becomes uncomfortable with the cultural appropriation it entails.
His rebellion leads him into friendship with others who, like himself, find themselves on the fringes of society.
However, he has a secret which threatens to turn even them against him.
Tina Makereti has created a sweeping historical piece, bridging colonial New Zealand and Victorian England.
Most importantly she raises questions about identity, both cultural and sexual, which have as much relevance today as they ever have.
Like Fiona Kidman's This Mortal Boy, this is brilliantly researched.
Any other year, this would have surely made the shortlist.