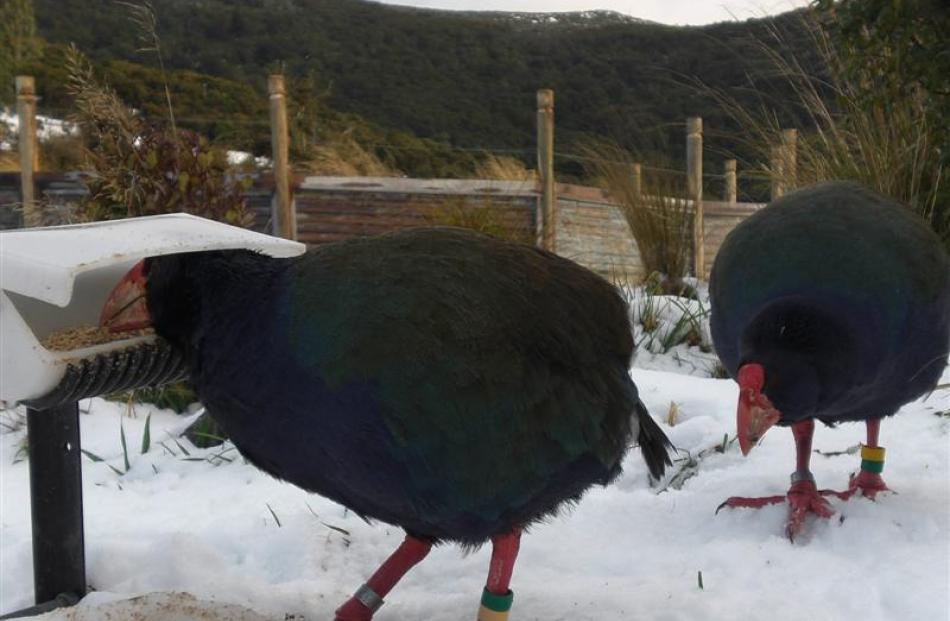 Saddleback farming is going on at Orokonui Ecosanctuary, as conservation manager Elton Smith reports.
It's the end of May and there's been a major snow event. Most main roads are closed and most workers are staying indoors. But the Orokonui Ecosanctuary fence needs checking and some of its precious wildlife - our stock - needs to be fed.
Thankfully, like any good farmer, the modern conservationist is kitted out with the usual hardware: a Hilux and a good ATV, so it's off to work we go!Much of the work we do at Orokonui is akin to farming; it's just that our livestock are a bit rarer and some of their numbers relatively low. We have just as many weeds to manage as your typical coastal Otago sheep or beef farm and at the core of our ''farm'' is also a fence, a rather expensive and special 2m-high one at that. Even our clobber is farm-like. Any Orokonui staff member looks just like a polar-fleeced version of the southern man or woman.
And yes, in the worst of weather Orokonui staff will be out in the thick of it. We worry a lot about our animals, too. How many robins are over there? What condition are the kiwi in? Are the jewelled gecko breeding? Our two takahe have just been declared overweight and have been put on a diet. We supplementary-feed nuts to our kaka, sugar water to our tui and bellbirds and bugs to our tuatara and Otago skinks. Species like saddleback, however, have to fend for themselves, but we are still very much interested in their health, their breeding and ultimately, their numbers.
Orokonui fulfils many roles for many people; a deep part of me sees this land as a type of farm for native wildlife and that we are simply here to keep them safe and act as their guardians.
The South Island saddleback is one of our more scrutinised species. The first transfer in 2009 failed to establish a self-sustaining population, so a second transfer, involving 50 saddlebacks from Breaksea Island, took place last September.
Two months after this release no more than half of the new birds called Orokonui home, but this was an expected outcome. An Orokonui volunteer, who is also a great local farmer, once told me a hard truth about working with animals: if you have livestock then you will have dead stock. As harsh as it sounds, working with native animals is no different. It's wise to expect and be prepared for some disappointments during the journey.
By the start of the breeding season in November we knew of nine adult saddleback pairs, well up from our previous record of four. There were also a handful of marauding juveniles present and a couple of single males lurking with intent. The Orokonui team managed to monitor the nesting success of seven pairs. Twelve nests were found and 22 chicks banded. There were also at least another four fledglings that eluded our hunting. Twenty-six fledglings for one season is a very good result. Our previous record in 2009-10 had been just nine and we are now confident that our population will establish. We think we currently have somewhere between 35 and 50 saddlebacks.
Within our fence, the new Orokonui-raised saddlebacks are starting to pair up and the takahe are reluctantly adapting to their new diet. The human caretakers are proud of their achievements.
The term guardianship is an ethos we all must share and embrace if we want an earth with any wildlife at all. As our recent visitor, the inspiring Dr Jane Goodall said: ''Every individual matters. Every individual has a role to play. Every individual makes a difference.''
On face value it may seem surprising that farmers and conservationists have a lot in common. But both work and care for the whenua and both witness up close and personal the highs and lows of what mother earth and her guardians can accomplish. It's been a wonderful experience to see how much a few individuals - conservationists as farmers - have achieved at Orokonui thus far.
- Elton Smith has been the Orokonui Ecosanctuary conservation manager for eight years. He is also a tree, dog and worm farmer and is a fifth-generation Otago man.
- Wild Ways appears in the Magazine section on the first Saturday of the month.