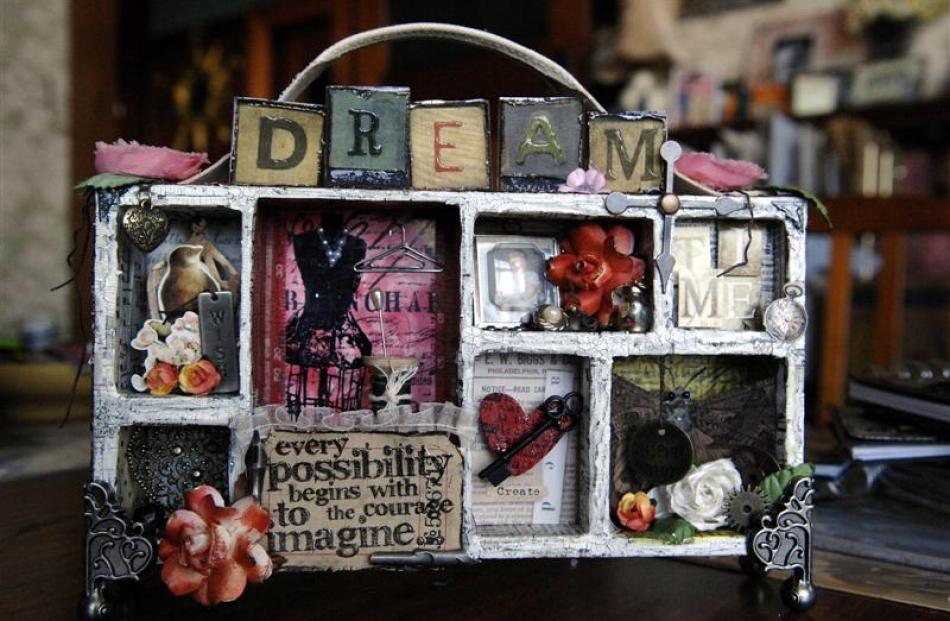 Donna O'Leary has no fear her children will complain they have no record of growing up - she has documented every milestone of their lives in scrapbooks.
The devoted craftswoman has been creating scrapbooking pieces for about six years and loves the idea of preserving history.
It is also something she can do with her six children.
"We have a box of photos of my partner's dad, but there is no information on them ... the kids are never going to have that problem," she said.
The hobby started as "one pizza box with some paper, pens, and a sticker maker", and turned into an immense supply of paper, ink, machines, decals, and accents, not to mention scrapbooks.
"I didn't used to have a space, and it was all over the house," she said.
Three months ago, a bedroom freed up and she transformed it into a studio.
She could spend up to nine hours a day working on various projects in there and "just playing", she said.
However, it was not always easy to find time during the day, so evenings, once the children were in bed, were her most productive time.
"It's my time. I'm not a TV person - I come from a very creative family.
"I often have black hands or white hands and multi-coloured fingernails."
When people walked into her home, they often said: "Whoa! That's pretty cool".
Along with scrapbooking for her family, Ms O'Leary sells cards and "off the paper" work, joins regular scrapbooking events, and takes part in online challenges to create pieces using a set "recipe" of items.
"It's an excuse to scrap," she said.
Ms O'Leary also works and teaches classes at Scrapbook Paradise.
The store is like her "second home" and she enjoys seeing different stock coming in and teaching everyone from beginners to the more advanced a range of cutting, staining, layering, and finishing techniques.
Ms O'Leary said her favourite style, at the moment, was "distressed", while other people enjoyed "shabby chic", which used a lot of lace and flowers, or a more simple, clean-cut, technique.
"There are so many different styles of scrapbooking. Papers are a big thing. I obsess over my inks and anything grungy."
Scrappers were also a varied lot, with people from "all walks of life" involved in the hobby, Ms O'Leary said.
"There are guys who are scrapbookers [and] we've got kids who come to Scrap Saturdays."
---
Tips for beginners
• "Anyone can be a scrapper - there are no hard and fast rules - but knowing colours and good photos helps."
• "If you know a scrapper, go and play with them and see what they like, because there are so many different things."
• "Talk to other scrappers. They love showing off their own stuff, and they are a pretty friendly bunch."
• Beginners' classes are available.
• The internet and magazines are great ways to find out what is going on.
• Donna's blog: http://midnightscrapper.wordpress.com
---