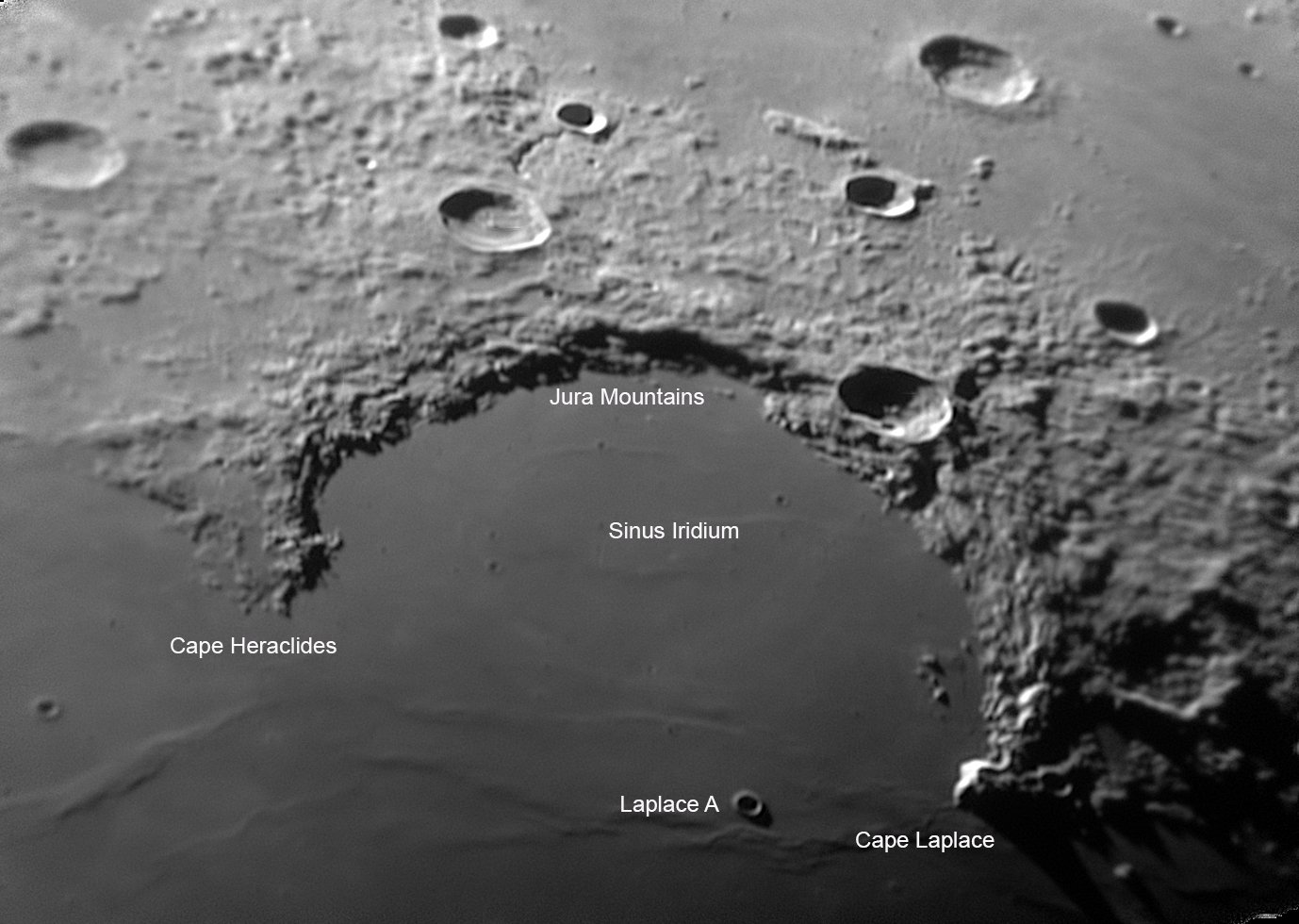 Did you know that you can see a rainbow on the moon? asks Ian Griffin.
Of course, our closest celestial neighbour doesn't have an atmosphere, so the thing I want to describe isn't anything like the optical effect we see on Earth. Sinus Iridium is actually a rather beautiful place in the northwestern quadrant of the moon, which is well worth looking out for. It was named by 17th century Italian lunar cartographer Giovanni Riccioli during an era when astronomers thought the moon had seas. The distinct crescent shape of the region reminded him of a rainbow-shaped bay.
Of course, there are no lunar oceans. Sinus Iridium is the result of a giant impact that occurred roughly 3.9 billion years ago. This impact was enormous: astronomers think an asteroid 200km across ploughed out Sinus Iridium before exploding inside the adjacent Mare Imbrium (Sea of Showers). The legacy of this impact is the Jura Mountains, towering 4km above a basaltic plain below.
If you study this part of the moon when the sun is rising or setting over it, the views can be truly spectacular. I was lucky enough to turn my telescope towards Sinus Iridium last Sunday morning. I captured some fantastic details, as can be seen in the accompanying picture.
The best time to catch sight of the sun rising and setting over Sinus Iridium is 2-3 days after first quarter and 2-3 days after last quarter. If you have a telescope or binoculars, as the sun rises over the mountain peaks after the first quarter moon, you can sometimes spot "the jewelled scimitar effect". This is a stunning string of bright points of light caused by reflected sunlight. If you are interested in trying to spot this, look at the moon on June 2 from midnight to 3am. You won't be disappointed.
The jewelled scimitar is one of the most well known clair-obscur effects on the moon; it is caused by the interplay between "light" (clair) and "shadow'' (obscur). No matter what time of the month, the moon is always a fascinating object to study!