Tarras International Airport — genius or madness? The answer depends on our vision for the future of New Zealand and the world, writes Bruce Munro.
Malcolm Johns is a man on the move, heading for the future.
Yesterday the chief executive officer of Christchurch International Airport Ltd (CIAL) was in Tarras having "a couple of meetings with a couple of people" following the revelation the company wants to build an international airport on 750ha of land it has bought in the rural Central Otago community.
Today, he is in Auckland for meetings with "a couple of ministers", but makes time for a phone call to answer questions and outline his vision for an airport at Tarras, halfway between Cromwell and Wanaka, on the eastern side of the Clutha river.
Johns says CIAL has looked at tourism forecasts and concluded another airport is needed to meet demand from people wanting to visit Central Otago. That realisation has been married with a desire to build an airport that will help air travel reduce its environmental damage. The result, he says, would be Tarras International Airport.
"If we were to go ahead and build at Tarras, I can give you a cast-iron guarantee that airport would be at the cutting edge of New Zealand's drive towards a lower-carbon future," Johns says emphatically.
Johns envisages a reborn and resurgent global tourism industry within three years. But admits it is a bit of a stab in the dark.
"If you'd asked me three months ago, I might have had a shorter timeframe on that.
"Right now, it's three years. I don't think we'll really know until Christmas or even February or March next year. But our feeling is that tourism will start to come back from the end of 2021 and will take one or two years to recover."
If the airborne flood of overseas visitors does resume, the forecast number of passengers wanting to fly to Central Otago will be double what Queenstown Airport can manage within two decades, Johns says.
"We've been really clear that we see Queenstown reaching a ceiling — it was close to it pre-Covid — at some point in the future. Then demand will exceed supply in terms of airport infrastructure. It's really that growth on top that we are most focused on."
His figures are within cooee of government and tourism industry pre-pandemic predictions of South Island foreign tourist numbers. A 2018 NZ Transport Agency report said international visitors came to the South Island primarily to see four attractions — Queenstown, Milford Sound-Piopiotahi, the West Coast glaciers and Aoraki-Mt Cook. Each of those destinations was getting about one million overseas visitors a year, the report said. If tourism continued to grow at 4% a year, those attractions would be getting twice that number in 20 years. On that basis, the total number of international visitors to the South Island would double to four million annually by 2040 and would reach six million a year by 2045.
In addition to those burgeoning passenger numbers is the urgent imperative to decarbonise all aspects of life, including air and land travel, Johns says.
"What we've started with is a series of ideas that cascade from the fact that there is insufficient airport infrastructure for the future in that region. We know that all of us are going to have to live in a lower-carbon future. We believe strongly that new infrastructure in terms of airports, aeroplanes, fuel technology and ground transport are going to be essential components of that."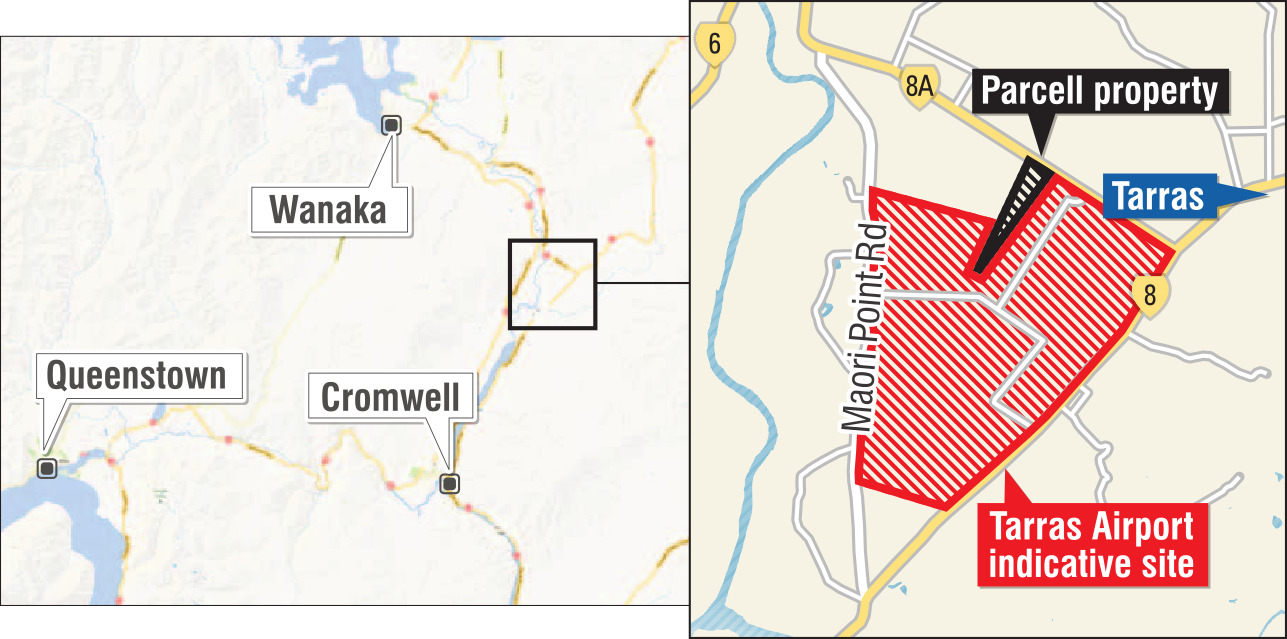 Larger planes, such as Boeing 787s and Airbus A350s, are quieter and more carbon-efficient than smaller planes. A longer runway, such as the 2.2km one mooted for Tarras, would allow larger planes into Central Otago and would not need the same fuel-thirsty acceleration and steep climb required for takeoffs from Queenstown's mountain-bound runway.
Johns says Christchurch Airport has been doing much to embrace a sustainable future and promises Tarras airport would lead the way in New Zealand. He follows developments at 24 environmentally responsive airports globally and says the Scandinavians are at the forefront of integrating low-carbon air and land transport infrastructure. He would like to see Tarras International Airport serviced by a suspended railway network ferrying passengers to and from destinations including Alexandra, Queenstown and Wanaka.
"Not only would they create some of the most spectacular rail journeys in New Zealand, but they would follow the existing roading system and would allow us to electrify our land transport system."
It is visionary. And it hinges on a few crucial "ifs".
If there is a vaccine that allows post-pandemic tourism to continue its previous trajectory. If Tarras locals buy into the idea of their valley becoming an international tourist hub. If South Islanders tolerate escalating visitor numbers.
Economist Anthony Byett agrees with some of Johns' assumptions but questions whether Tarras is the right site for an international airport and fudges his answer on whether the proposal is genius or madness.
The Taupo-based economist was lead author of the NZTA's 2018 tourism forecast report.
Byett believes it will be five years before the country is back riding the pre-Covid overseas-visitor juggernaut.
If a vaccine is developed that will certainly happen, because people like to travel and will want to get their passports stamped as soon as they have been immunised, he says. And the entire travel industry, with all its now-underutilised hotels, planes, restaurants and attractions, will also be chomping at the bit.
"They need to fill those beds, fill those planes, to recover the money," Byett says.
He also endorses predictions the airport at Frankton will not be able to expand to meet demand, "given the local reaction".
But Byett believes other airport options might trump Tarras.
"The choices on the table at the moment are Wanaka ... Tarras ... and there's also this possibility raised and investigated some years ago down at Five Rivers [near Lumsden, Southland]."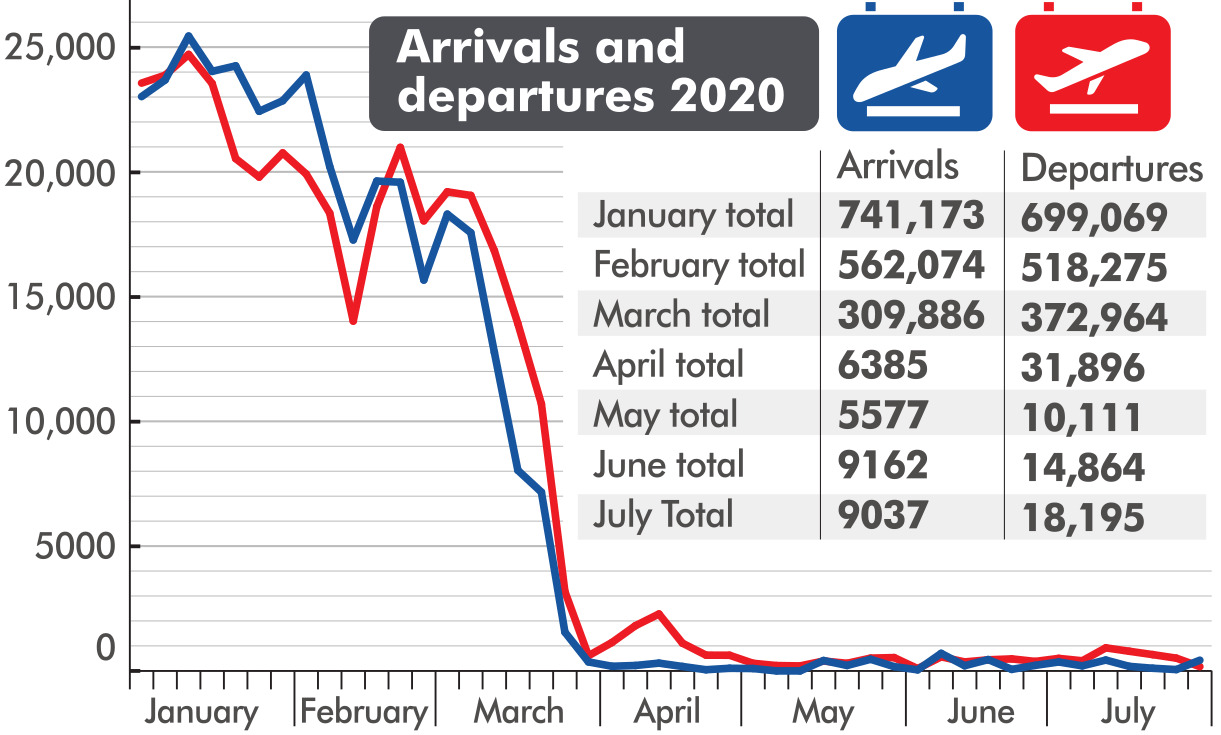 The biggest hurdle CIAL faces with its Tarras plan, Byett believes, is obtaining social licence.
"Locals accepting the number of flights and the noise ... No-one wants an airport in their backyard."
On that count, an expanded Wanaka airport has the advantage. It already has zoning in place that will restrict new activity around its boundaries, reducing the chance of new neighbours who might object to increased noise and activity at the airport, he says.
Byett says decarbonising the economy will impact air travel, but not as quickly as the impulse to get back to travelling.
"I guess I've seen enough major events over the past 40 years to see that we usually revert to behaviour quickly and that we adapt and improve gradually."
The speed of that adaptation will depend on technology and government policy, he adds.
"The fuel planes use has a huge impact on emissions. For the last 10 years there's been talk of biofuels being used. But it really hasn't come to much ... The very low price of oil in recent years hasn't helped that transition.
"That's where policy might kick in."
Pressed on whether an international airport at Tarras should be lauded or derided, Byett looks for the positives without committing either way.
Buying the land is a prudent move by Christchurch Airport. It can always be sold later if the plan does not come off, he says.
"It's put more options on the table. And, if anything, it's highlighting the issue that in time we have to make a choice about, if we want more tourists in that area, how they are going to enter and exit."
Everything has already irrevocably changed, making the Tarras airport notion madness, Prof James Higham says.
"The reality is that there will be a massive post-Covid redirection of tourism. We are going to live through some fascinating times," the University of Otago sustainable tourism researcher says.
Prof Higham predicts that the world saw "peak tourism" in 2019. The past decades' relentless pursuit of volume-based growth is over, and good riddance, he says.
He points to Air New Zealand statements that there will be far fewer planes and passengers for the foreseeable future. And to Qantas suggestions that its entire fleet of A380 super jumbo jets, parked up in California's Mojave desert, might never fly again.
"So, the new normal is going to be very, very different from the past normal."
Prof Higham believes the future of tourism will be "less volume and more value".
Air travel will still be part of the mix for a small island nation at the bottom of the world. But emerging transport technologies will provide plenty of alternatives, particularly domestically, he says.
Electric vehicles, including automated vehicles, both land and air-based, will play a big part in tourism.
"In the near future, we will have technologies available that we have not even imagined yet.
"Air New Zealand is talking about drone technology.
"This is what I'm foreseeing. Wanaka to Queenstown, Queenstown to Dunedin ... Queenstown to Christchurch on these short-haul, fast, drone-based, perhaps automated, helicopter-like vehicles."
Prof Higham thinks the number of international airports in New Zealand might reduce, possibly leaving Auckland and Christchurch as the gateways for a reduced number of tourists who spend a longer amount of time and travel more widely while in the country.

This revolution is likely to be driven, or at least given wings, by two government reviews of tourism that are likely to highlight the negative environmental impact of high-volume tourism and the urgent need to decarbonise the travel industry.
In December, Simon Upton, the Parliamentary Commissioner for the Environment, produced a report warning that "increasing numbers of tourists — both domestic and international — are putting our environment under pressure and eroding the very attributes that make New Zealand such an attractive country to visit".
This is important, Prof Higham says.
"We need to ask ourselves why we value Central Otago, and what makes it unique and special.
"Part of that is its stunning naturalness, vast landscapes and relative emptiness.
"An airport brings a lot of infrastructure and superstructure ... that, I think, would contribute quite significantly to destroying part of the reason why tourists value Central Otago."
Upton's second report, outlining policy recommendations, is due before Christmas.
In June, Minister of Tourism Kelvin Davis set up the New Zealand Tourism Futures Taskforce. The six-person public-private task force, assisted by a 30-person advisory group, has been charged with advising the Government on changes "so that tourism enriches both New Zealand and the wellbeing of New Zealanders".
The task force will deliver its initial report on the future of tourism for New Zealand in December.
The task force advisory group includes Prof Susanne Becken, of Griffith University, Australia, who is also an adjunct professor at Christchurch's Lincoln University. Asked about the Tarras airport proposal, Prof Becken diplomatically said aviation faces "several headwinds".
These include its heavy carbon footprint, a reliance on buoyant economies and exemptions from taxes and other regulations.
"If you add all this up, plus potentially permanent shifts in demand or travel behaviours, then I would say that we may well have seen 'peak aviation' in 2019," Prof Becken says.
For Prof Higham, despite many unknowns, it all paints a picture devoid of an international airport at Tarras.
"I think we are on the cusp of a low-carbon transport revolution. And I can't see an airport at Tarras playing a logical part in that new future for tourism.
"For me, it seems mad."
Johns, however, is in no hurry to count chickens before they have fully fledged.
The 750ha of land had to be bought before it was worthwhile talking about the idea, he says.
Now is the time for plenty of conversations with locals, iwi, industry and government.
"We want to listen first and then form up the proposal.
"We're pretty confident that sometime over the next five to15 years an investment case will stack up to go ahead and develop that site."
So, genius or madness?
"Why don't we get together in 2030," Johns says with a laugh.
"You choose the pub in Cromwell or Tarras. If it's madness, I'll buy you a beer. If it's genius, you buy me a beer."