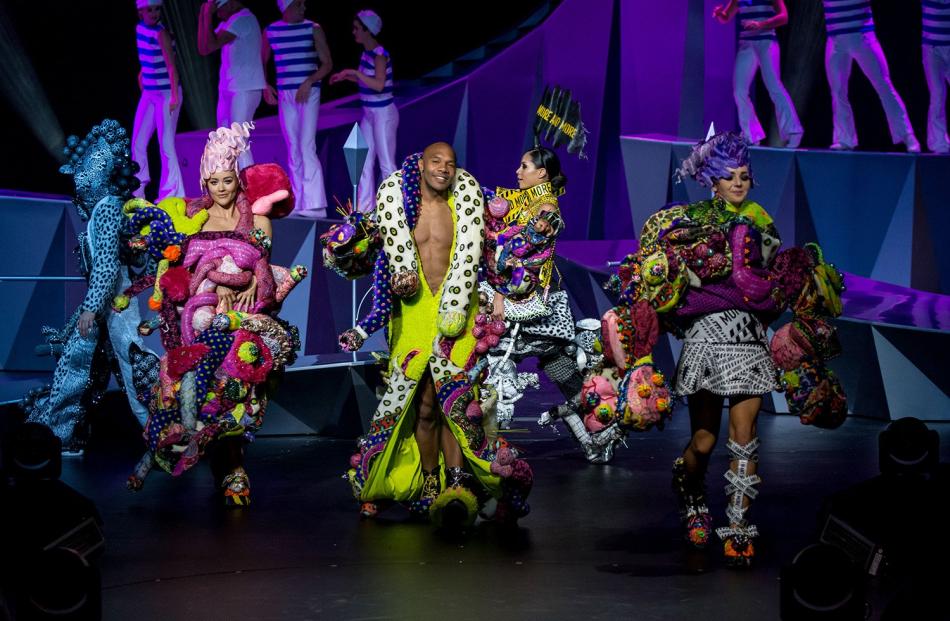 Given the turbulent conduct and aftermath of the general election, one might be excused for thinking first of politics when it comes to Wellington, but as Rebecca Fox discovers, there is much more going on.
Going to Wellington a few days before the general election, I expected the country's capital city and seat of power to be buzzing with political fervour. It was buzzing, but not with political fervour.
Instead, it was the shops, cafes and restaurants, hotels and tourist sites that were buzzing, as the city prepared for its annual fashion extravaganza: Wow, or the World of WearableArt.
With 16 shows over three weeks (it runs until October 8) to be attended by 60,000 Kiwis and international guests, it is one of the biggest theatrical productions in the country, involving more than 300 people plus the 104 finalist garments by 122 designers from 13 countries.
It was my first time  at the show and, until I watched it unfold, I had not realised it was so much more than a fashion show: dancers and theatre performers led by Alison Bruce carried a storyline while the models in weird and wonderful outfits marched around them displaying their creativity.
I soon learned Wow is very aptly named, as I sat spellbound, trying to absorb as much of the colourful action as possible.
More than 70% of those attending the show come from outside Wellington,  many attendees making the yearly pilgrimage with friends and family.
The numbers stretch Wellington's hotel capacity to bulging point but I have to say, being hosted by QT Museum Hotel right in the central city you did not notice.
Under new management and having recently undergone a $12 million renovation - don't worry, Chris Parkin's collection of contemporary art works are still there - the hotel has a slicker look and a new, more casual, Asian eatery, Hot Sauce, which has been built in the hotel's car park. Its award-winning restaurant, Hippopotamus, is still operating on the third floor.
The visit for Wow  was a great opportunity to have a look around the city, investigate its latest hot spots and check out its restaurant scene.
I was lucky enough to be treated to dinner  at Noble Rot, a small wine bar with a great menu and service, just off Cuba St.
It was the perfect start to our Wow night out and they even offered to package up our truffles to take to the show.
Tip: Make sure you have enough time to enjoy dessert before the show but if not, I can recommend the truffles for that sweet finish.
There is always somewhere new to try out in Wellington and at the moment the cool up-and-comer is Taranaki St's Mr Go's, named for Chinese market gardner from the 1880s, Ah Go, from Tasman St.
Its aim is not to be a Chinese restaurant nor a Western one but a ''harmonious in-between'', offering small plates and a range of bao buns to choose from.
It has become popular after its Wellington on a Plate dish - ''Kiwi China, China Kiwi'', a Chinese-style braised beef cheek with pickled kiwifruit, kumara crisp and chilli jam mayonnaise in a house-steamed milk bao bun with Go's salted fries - won the burger section.
I discovered to my delight they still had the burger on the menu. There is also plenty to do when not eating, such as the tours offered by Weta Workshops in Mirimar.These are a must-do for any movie, Lord of the Rings or Thunderbirds fans, young and old: it was a 5th birthday treat for one tour member, while two elderly sisters  were absorbing information to pass on to their great grandson.
They provide fascinating insights into the Kiwi ingenuity behind a surprising number of international movies, including the upcoming and much  anticipated Blade Runner sequel.
If you are a hoarder, the Thunderbirds tour is a great validation for never throwing anything out, as everything from old screws, pens, circuit boards, computer monitors and model ''sprues'' have been reused to recreate the Thunderbird scenes.
Thankfully, Larder is just a short stroll up the road from Weta's Cave (the merchandising around the movies is amazing: a Bilbo cookbook anyone?) for a restorative coffee, wine or tasty bite to eat. Tip: Book on a Friday lunchtime as the waiting list was six long for a table.
No trip to Wellington is complete without a visit to Te Papa or City Gallery Wellington. The gallery has an exhibition on called ''Occulture: The dark arts'' (until November 19), which features work by a Dunedin-born ''witch'', Rosaleen Norton, that aims to get people thinking about different interpretations of the occult.
Te Papa will celebrate its 20th anniversary next year so is undergoing some renovations. Two floors are being transformed into a new art gallery showcasing New Zealand art works, which will open in February.
The ''Gallipoli: The Scale of Our War'' exhibition is still running and yesterday the museum opened a major new exhibition, ''Ko Rongowhakaata: The Story of Light and Dark'', which showcases the dramatic stories, histories, treasured taonga and the exceptional artistry of the Gisborne iwi.
With a few minutes to spare I popped into Wellington Museum in the historic 1892 Bond Store to check out its tribute to conscientious objectors such as Archibald Baxter.
The museum featured images by Wellington artist Bob Kerr based on Baxter's book We Shall Not Cease, which had been transformed with the help of animation into a short film  projected on to the museum's void.
A great way to finish off your stay, weather permitting, is a walk along Wellington's waterfront and if it is a Saturday morning, a relaxing browse around the underground market, full of jewellery, art, homewares and clothing near Frank Kitts Park.
- Rebecca travelled courtesy of the Wellington Regional Economic Development Agency.