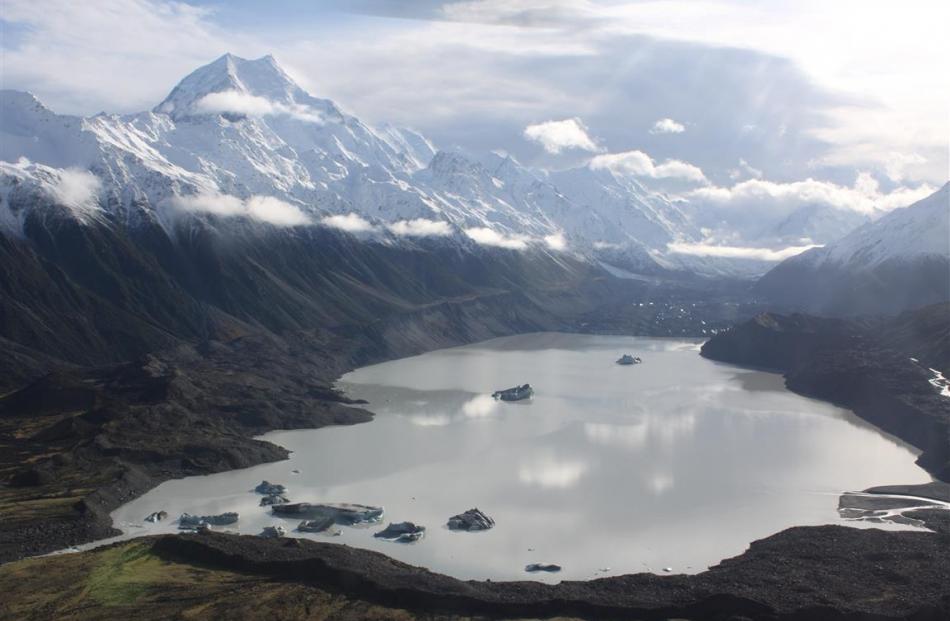 A weekend away in the Mackenzie Country was just what the doctor ordered for motoring writer Catherine Pattison.
I am not a spiritual person in a religious sense but it was hard not to feel the presence of something divine after a weekend in the Mount Cook Village and the Mackenzie region.
Perhaps it was the peace and quiet, combined with the majesty of the surrounding peaks, including New Zealand's highest mountain, the village's namesake.
The tiny settlement has long held an appeal for tourists and mountaineers alike - enticed up the remote access road by the promise of stunning scenery or epic adventure. Nowadays the adventures are to be found within the thriving tourism industry operating from Mount Cook village. In the past, just reaching the destination was a feat of endurance. Displays at the Hermitage Hotel's Sir Edmund Hillary Alpine Centre describe the tourists who made the journey in 1906 as "arriving jolted almost insensible after a two-day coach trip from Fairlie''. The same journey 110 years later is a comfortable 90-minute car ride.
In the early 1900s the Hermitage would have been the sole accommodation and food provider for travellers. Now the village has a number of options, including studio apartments, a lodge and a backpackers, plus a holiday park 15km down the road at Glenntanner.
To eat, you can't beat the Old Mountaineer's Cafe, Bar & Restaurant. Built 14 years ago by Mount Cook identities Charlie and Mary Hobbs, after a lengthy resource consent battle, it is rustically charming with a menu that will fuel climbers and hikers alike.
The Hobbs have well and truly earned local status - clocking up 30 years living in Mount Cook - and we were fortunate to have Mr Hobbs as our heli hike guide on a cloudy but clearing Saturday.
"I'm the pioneer,'' he announced, with a grin, as we headed to meet the helicopter, which will fly us up on to the 29km Tasman Glacier.
An international qualified mountain and ski guide with 35 years' experience, the "40 plus 20, going on 25'' year old is a ball of enthusiasm. This is a man who genuinely loves his job.
It is easy to understand why as we strap on crampons and explore the ever-changing frozen landscape. Turquoise holes whorl down into deep crevasses and although caves form and disappear, there is always, always, ``the peace of the mountains'', as Mr Hobbs puts it.
Up on the ice we are indeed far from the maddening crowd, with only the occasional overhead buzz of an aircraft doing a scenic flight to disturb our icy wanderings. Surrounded by snow-covered peaks, we walk around examining the glacier's formations, which can remodel themselves on the surface in as little as two weeks. This is part of the allure for Mr Hobbs. His "office'' is never the same.
"I love working in the mountains. I don't like a lot of people around. You get up there and there's no-one around. It's a special place,'' he says.
He and Mary have evolved their businesses as tourism has changed. In 1989 they started their guiding company and took clients on multi-day climbing trips into the all the big mountains that the area hosts.
Then as people's lives got busier and clients didn't have the time to spend a week climbing, day visits got more popular. Now they can head out for a couple hours, or up to a full day of snow-shoeing, climbing, mountaineering or skiing with the Hobbs' Southern Alps Guiding company.
Mrs Hobbs is a writer and photographer, plus she and her husband are both marriage celebrants, which opens up the whole alpine wedding market for them.
"You have to keep reinventing yourself to keep up with the changing face of tourism,'' Mr Hobbs says.
Further changes for the couple include building a 12-room inn attached to their Old Mountaineer's cafe, plus a health spa in the Mount Cook village. Although one factor that looks set to remain steadfast in the future, is their love of where they live.
"We are into the mountains. It speaks to us. We are lucky we can share it with people,'' Mr Hobbs says.
Later that day we see the glacier from a different viewpoint courtesy of the Tasman Valley 4WD and Argo Tours. In contrast to our morning, it is noisy and (as we were pre-warned) bumpy but a fun way to travel up the valley's four-wheel-drive track with the moraine wall to our right. The eight-wheel all-terrain vehicle makes short work of rocks and puddles and we even enjoy a couple of doughnut-style burnouts in designated spots.
The Argos are just one of a number of tourist activities based out of Mount Cook. The adventurous can go heli-skiing or glacier kayaking, while those who just want to get out and about in the stunning scenic environment can avail themselves of the eight walks on offer. Ranging from the one-hour return Governors Bush Walk to the more strenuous three to five-hour Mueller Hut trek, there is something to suit all fitness levels.
If rain threatens to ruin outdoor plans, the Sir Edmund Hillary Alpine Centre at the Hermitage is a wonderful place to while away a few hours. The 3D theatre and planetarium screens movies continuously, including an informative documentary on the facility's namesake, who famously ``knocked the bastard off'' over in Nepal/Tibet.
After the day's exertions it was a treat to travel back to Twizel where we were accommodated at the luxurious Matuka Lodge. Following a warm welcome from our host, sampling her homemade pre-dinner snacks and pouring a stiff one from the drinks cabinet, it was blissful to have a soak in the ensuite's spa bath. The room overlooked a river-fed pond, with a view beyond it of the Southern Alps in all their winter splendour.
Peter and Jo Johnstone own the lodge and have been busy accommodating bikers, hikers and fishermen as the small alpine village continues to grow in popularity with tourists.
"You could be here for months if you were that way inclined,'' Mr Johnstone says, referring to the abundance of trails, tracks, rivers and lakes that provide a drawcard for a town which was essentially founded in 1968 to house construction workers on the Upper Waitaki Hydro-electric Scheme.
While Queenstown might be New Zealand's Mecca for adventure tourism, Twizel and the Mackenzie region are quietly drawing in the tourists because of, well, the quiet.
"Less people is becoming quite an attraction,'' Mr Johnstone says.
Shell and Stu Paterson shifted to Twizel for a breather after 17 busy years running a cafe and gift shop in Timaru. They set up The Jollie Biker two summers ago and have a fleet of 40 bikes made specifically for the 300km Alps to Ocean trail that starts at Mount Cook and ends up in Oamaru.
Their customers are mainly New Zealanders, Australians and a few Americans and tailor-made trips are their forte.
Shuttles, food, accommodation in one of their three Twizel cottages, airport to airport packages - you ask and the affable Patersons will make it happen.
"Boutique is exactly what we want to do,'' Mrs Paterson says.
For our Sunday ride they drop us at Lake Pukaki, as we have decided to bike 50km through to Lake Ohau lodge. First we meander along trails, in the presence of pine trees on our left and the surreally beautiful blue of the alpine lake on our right. At the information centre we opt to ride along the canals instead of looping through Twizel. A persistent head wind ensures it is a workout for my adventure-racing partner and I spend the blustery kilometres trying to find the ultimate drafting position behind him.
Once we reach Lake Ohau the wind is gone, the sun is out and once again we have an incredibly scenic stretch of water on our right, mountains in the background and wintry but warm rays on our faces. The trail is well-formed and not at all steep - making it accessible for all levels of bikers. I swear we did not see another rider the whole bike trip - adding to the quiet appeal which seems to permeate the whole Mackenzie Country.
Lunch at the Ohau Lodge was a welcome finale to our bike journey and a stunning location to stretch out the tired muscles by the fire. Seated in the dining area looking out across the expanse of glacial water to the white peaks beyond, it was easy to agree with a quote by Sir Edmund Hillary.
"It is an act of worship just to sit and look at a high mountain.''
---
Checklist
 •How long does it take to get to Mount Cook
from. -
Balclutha
4 hours 13 mins (364.8km) via SH8
Dunedin
3 hours 35 mins (308.9km) via SH83 and SH1
Oamaru
2 hours 19 mins (201.3km) via SH83
Timaru
2 hours 22 mins (201.6km) via SH8
Wanaka
2 hours 17 mins (199.5km) via SH8
Queenstown
3 hours (254.6km) via SH8
Where to stay?
Mount Cook Village
Aoraki Court. Clean, spacious apartments (which look out towards the mountains) at an affordable price.
Twizel
Matuka Lodge. For a lot of luxury, gorgeous views and delightful hosts.
Where to eat
Mount Cook Village
Old Mountaineer's Cafe, Bar & Restaurant
Twizel
Poppies Restaurant
---